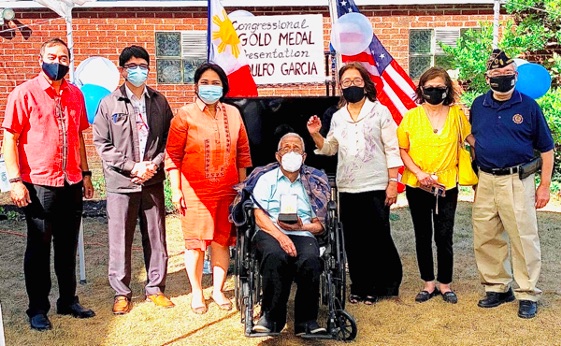 The Philippine Consulate General in Chicago and the Filipino Veterans Recognition and Education Project (FilVetREP) organized the awarding ceremony in honor of Mr. Erdulfo A. Garcia, a Chicago-Based Filipino World War II Veteran, at his home in Berwyn, Illinois, a suburb in Greater Chicago.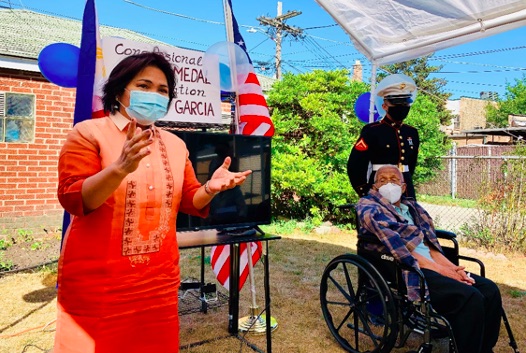 Philippine Consul General to Chicago Gina A. Jamoralin thanked Mr. Garcia for his invaluable service, bravery and sacrifice for the Filipino and American people. In normal times, his heroism would have been recognized during a more formal ceremony at the Kalayaan Hall of the Consulate in commemoration of Araw ng Kagitingan (Day of Valor). Consul General Jamoralin stated the importance of continuing to honor World War II (WWII) veterans through the special ceremony, held despite the pandemic and in observance with the current protocols, noting that her own grandfather was also a war hero.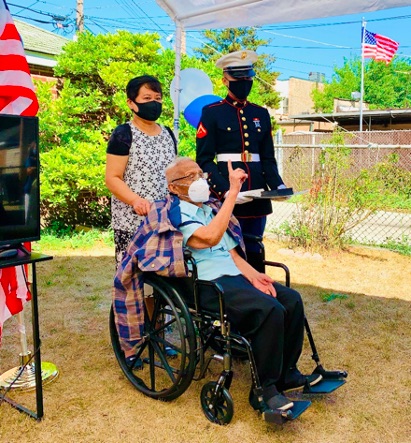 Consul General Jamoralin also thanked FilVetREP, led by its Chairman, Ret. Maj. Gen. Tony Taguba, and its Regional Director, Ms. Jelly Carandang, for their leadership in recognizing Filipino and American soldiers of the Second World War (WWII) who fought in the Philippines in 1941-1946, particularly through the Congressional Gold Medal. The Congressional Gold Medal is an award bestowed by the United States Congress to honor recipients from the military. Together with the Presidential Medal of Freedom, the Congressional Gold Medal is the highest civilian award in the United States.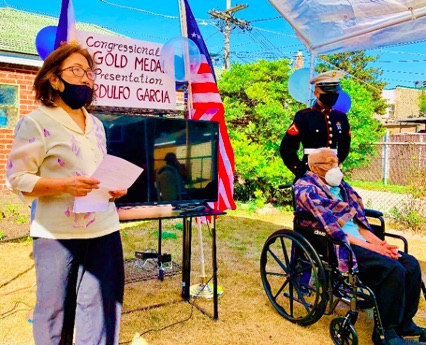 Regional Director of FilVetREP Jelly Carandang served as master of ceremonies and introduced the guest of honor.
Mr. Garcia was born on December 29, 1919 in San Antonio, Zambales. He and his wife migrated to America in 1992, under the veterans program. His wife died in 1993, and together they have three daughters and four sons, whom he petitioned as children of veterans. He fought alongside other Filipino and American soldiers from December 1941 to May 1946 as part of the USAFFE Guerilla Unit in Zambales and was a prisoner of war (POW). For his sacrifices, Mr. Garcia receives veterans benefits and the Filipino American Equity Benefits.

Mr. Garcia, together with his daughter Imee, accepted the award and expressed utmost appreciation to the United States Congress, FilvetREP, and the Consulate. They shared that the Congressional Gold Medal is the culmination of Mr. Garcia's long and storied journey as a soldier and veteran, and thanked FilVetREP and the Consulate for honoring him. Mr. Garcia, a centenarian, was visibly overjoyed and upbeat during the ceremony.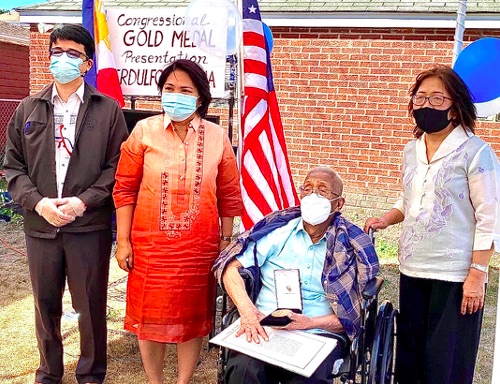 FilVetREP Regional Director Carandang also acknowledged the presence of the National Federation of Filipino American Associations (NaFFAA) Illinois Chair Edward Brotonel and Filipino American National Historical Society (FAHNS) Midwest Vice President Annie Brotonel.
—
For more information, visit https://www.chicagopcg.dfa.gov.ph, 
https://www.chicagopcg.com, or https://www.facebook.com/PHinChicago.