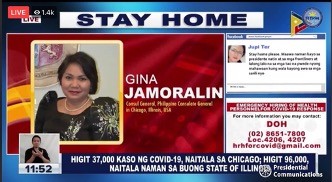 During a live Philippine broadcast interview on May 20, Philippine Consul General to Chicago Gina A. Jamoralin reported on the status of the Filipino community in the U.S. Midwest—assuring the public that the Philippine Consulate General in Chicago continues to provide emergency and other available services while personnel are working from home, and taking comprehensive planning measures in preparation for re-opening.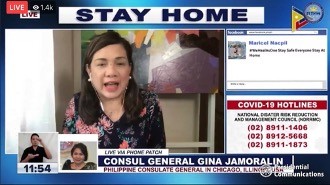 Consul General Jamoralin reported that there were more than 90,000 confirmed cases of COVID-19 in Illinois, and nearly 300,000 in total in the Midwest. She noted that of the more than 328,000 Filipinos and Filipino-Americans in the region, there were 42 reported cases, 17 in Illinois and 18 in Michigan. Healthcare workers born in the Philippines comprise the largest ethnic group in the United States. Of the 42 cases, 17 are medical front liners and eight of them have passed away, bringing the total number of fatalities to  17.
Consul General Jamoralin also shared that the Consulate has been assisting distressed Filipinos in the region, including participants of the Exchange Visitor Program. She also provided details on the #MidwestBayanihan initiatives of the Filipino organizations, restaurants, and individuals across the Midwest that have fostered greater unity, generosity, and selflessness within the community.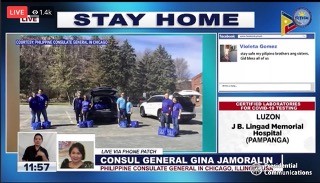 "They have continuously provided food and Personal Protective Equipments (PPEs) to front liners, made and distributed face masks to the community, and provided much-needed assistance to hospitals and communities in the Philippines. Front liners have also provided testimonials on their fight against the disease and provided sound advice for members of the community to stay home, wear masks when outside, and practice social distancing guidelines. She expressed appreciation for the efforts and urged them to continue collective efforts and vigilance amid the pandemic," Consul General Jamoralin said.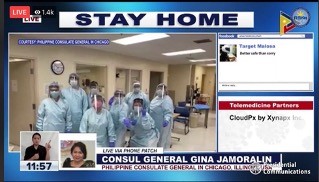 Despite working from home due to the Illinois Stay-at-Home Order, the personnel of the Consulate continue to serve the public by promptly responding to queries and requests, processing civil registry applications (e.g., report of birth, report of marriage, and report of death) submitted through mail, and providing assistance to distressed nationals. She also assured the public that the Consulate is preparing to gradually re-open the Consulate office in line with Restore Illinois, which is currently in Phase 2­ – Flattening.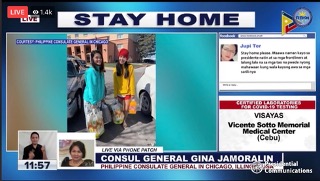 The Consulate General will be able to gradually provide more services once Illinois moves up to Phase 3 – Recovery and beyond, with proper social distancing and other protocols to ensure the health and safety of the public and its personnel.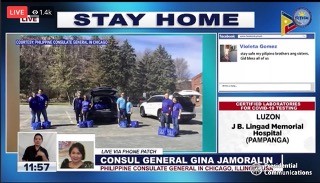 For more information, the public is advised to visit: www.chicagopcg.com and follow the Facebook and Twitter accounts of the Philippine Consulate General in Chicago: @PHinChicago. Those with urgent concerns or emergencies may call the Consulate Duty Officer at: 312-800-3106.
—
For more information, visit https://www.chicagopcg.dfa.gov.ph,
https://www.chicagopcg.com, or https://www.facebook.com/PHinChicago.