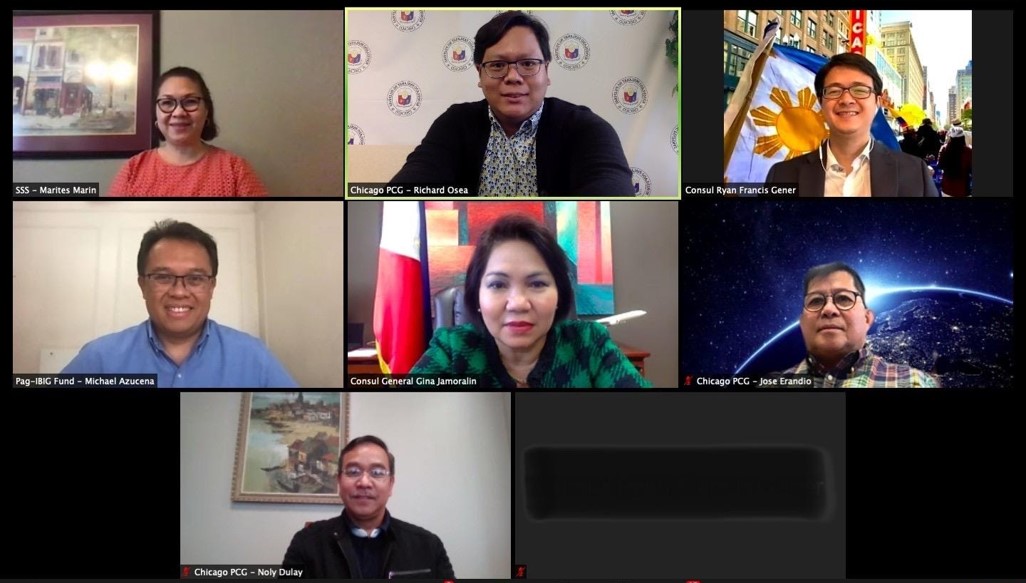 The Philippine Consulate General in Chicago organized the second Philippine Retirement Summit in the U.S. Midwest through a virtual webinar entitled "Forum on Social Security and Pag-IBIG Services" on 26 September 2020.
The webinar was broadcast over Zoom and Facebook Live, with more than eight hundred participants and viewers at the beginning of the broadcast.
In her welcome remarks, Philippine Consul General to Chicago Gina A. Jamoralin noted that the event was a follow-up to the first Philippine Retirement Summit held on 08-10 August 2019 in Chicago. Last year's whole-day event was held in person and with on-site SSS and Pag-IBIG services, a luncheon, a forum for the Filipino-American community, and participation of top-level executives from the Philippine Retirement Authority, Social Security System (SSS) and private sector partners from the real estate and banking sectors. Although the pandemic has limited this year's program to a virtual webinar, the forum was nonetheless intended to address the SSS and Pag-IBIG queries and concerns of the Filipino community in the Midwest.
Mr. Michael Azucena, Pag-IBIG Member Services Officer based in New York, made a presentation on the investment and financing opportunities for overseas Filipinos (OFs) looking for a loan or have savings and are planning on retiring in the Philippines. Ms. Marites Marin, SSS Foreign Representative II, expounded on the contributions, benefits and loans for OFs in the country's pension fund.
After the presentations, there was an open forum moderated by Consul Ryan Gener. The speakers replied to 25 questions from participants and received a similar number of mainly positive comments and messages of gratitude.
Those who were unable to attend may still view the recording of the webinar which was posted on the Consulate's Facebook Page, "Philippine Consulate General in Chicago" (@PHinChicago). Those with additional questions may wish to contact the Consulate, SSS-San Francisco or Pag-IBIG-New York through the information below: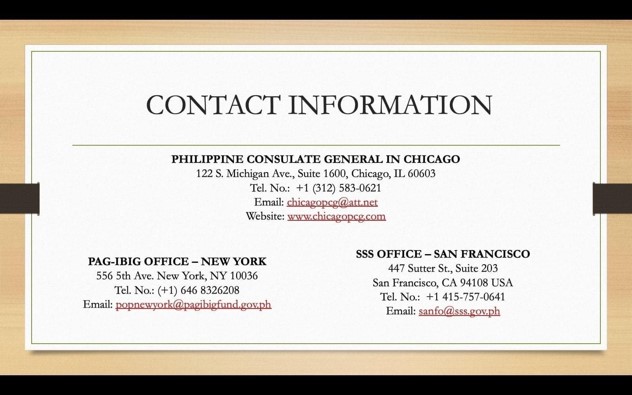 —
For more information, visit https://www.chicagopcg.dfa.gov.ph,
https://www.chicagopcg.com or https://www.facebook.com/PHinChicago.