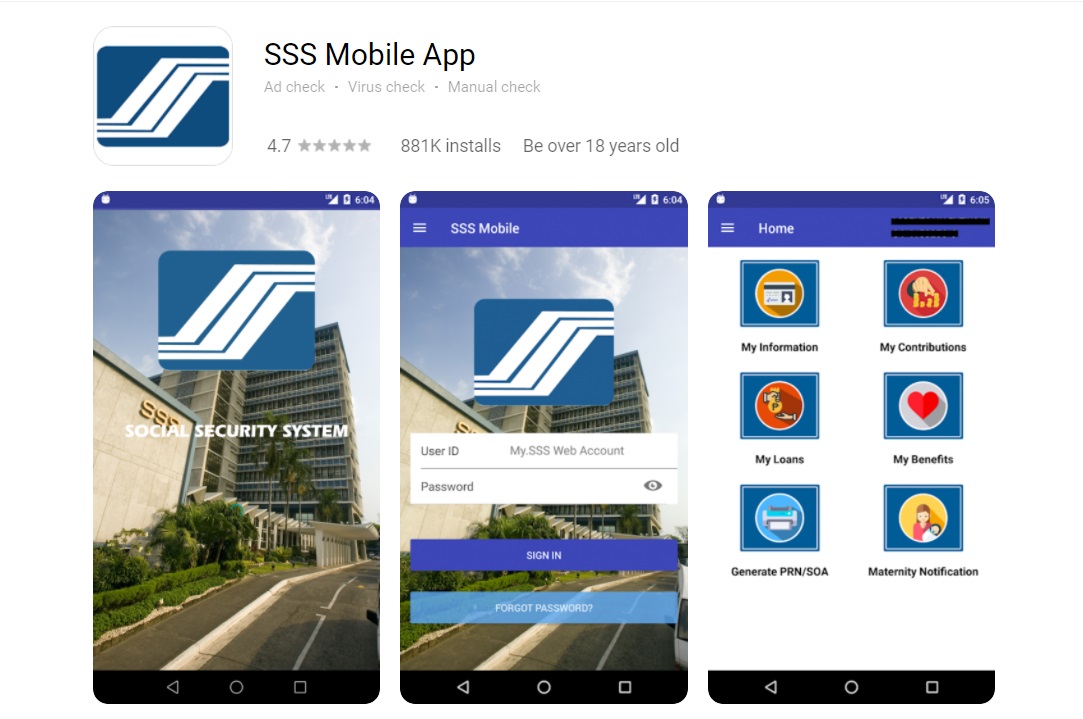 The Social Security System (SSS) disclosed that the SSS Mobile App recorded nearly 22.4 million transactions from its members for the first half of 2020.
SSS President and Chief Executive Officer Aurora C. Ignacio said that the pension fund's mobile application facilitated 22,363,413 transactions from January to June 2020, with an average of 124,24 transactions daily.
Launched in 2018, the SSS Mobile App is a free downloadable app for smartphone users. It is designed to provide a more convenient way for members to transact with SSS without the hassle of queuing in the branches. In 2010, SSS also had implemented the Text-SSS facility for members to obtain information on their contributions and loan records.  A member may register in Text-SSS by sending their SSS number and birthdate using the format "SSS REG <SS Number> <MM/DD/YY>" to 2600.
"We are delighted that our members and employers have been using this app with their various SSS transactions, which is user-friendly and easy to access. Members can now view their contributions record, membership information, and SSS branches' location. They can also check the status of their benefit claim and salary loan applications, their remaining loan balance, and update their contact information as well. Through the years, we have incorporated other services in the SSS Mobile app, like the generation of Payment Reference Number (PRN) needed for SSS contribution payment and filing of maternity notification for female SSS members. They can also pay their contributions using PayMaya through the SSS Mobile App," Ignacio added.
"Among the transactions on SSS Mobile App, checking member's salary loan status garnered the highest number of transactions. From January to June 2020, the SSS Mobile App recorded 7,628,068 transactions on salary loan status," Ignacio added.
Meanwhile, Ignacio revealed that the SSS Mobile App is among the most downloadable applications in its category on Google Play Store, Apple's App Store, and Huawei AppGallery. As of July 2020, SSS Mobile App accumulated 7,485,817 downloads in the three mobile app markets.
The SSS Mobile App ranked as the most downloadable free app in Google Play Store under the productivity category, with 6,032,977downloads from Android phone users. It is among the top three most downloadable under the utilities category in Apple's App Store, with 726,840 downloads from iOs phone users. Likewise, the mobile application is the third most downloadable app under the finance category among Huawei users, with 726,000 downloads.
"With the use of modern technology and with SSS' digitalization efforts, we further encourage all our members and the employers as well to use this mobile app to enjoy a simple, fast and easy way of conducting your transactions with SSS," Ignacio concluded.
—
Stay updated with news and updates from the Philippines Social Security System by visiting their website at https://www.sss.gov.ph.