Philippine Ambassador to the United Arab Emirates (UAE) Hjayceelyn M. Quintana led the inaugural rites for the establishment of the Office of the Philippine Defense and Armed Forces Attaché (OPHILDAFA) in the UAE on February 21.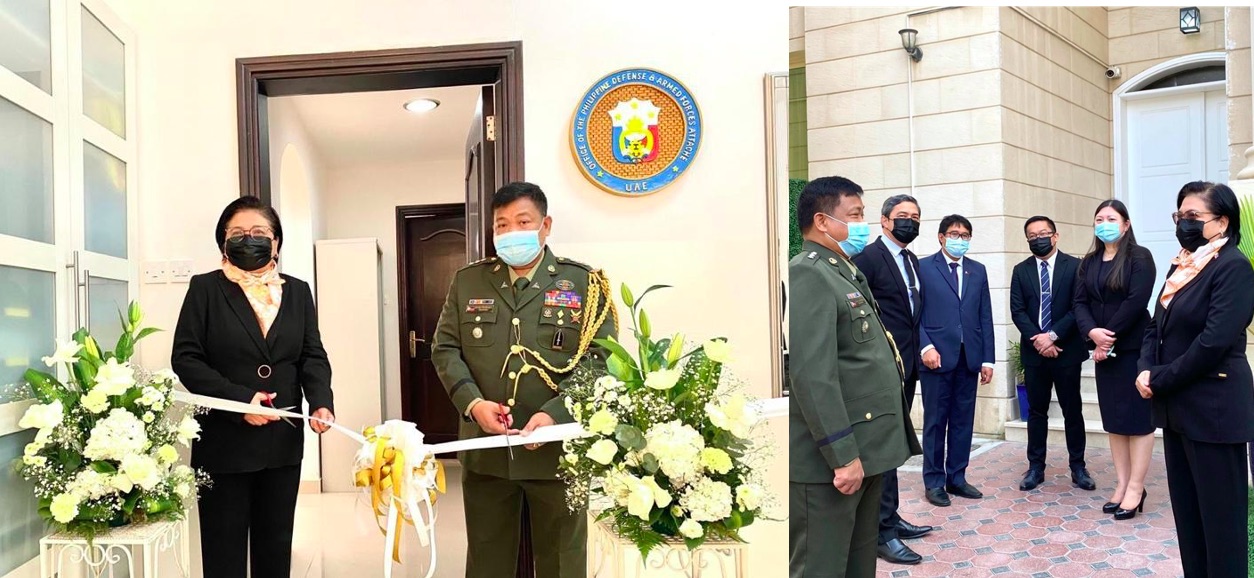 In her remarks, Ambassador Quintana said, "The Philippines recognizes the UAE as an important partner in the region, playing a strategic role in maintaining peace and stability in the Middle East. The OPHILDAFA in the UAE provides a new channel of communication that further manifests President Duterte's independent foreign policy and adds a new milestone to the 46-year old diplomatic relationship between the Philippines and UAE."
The OPHILDAFA in Abu Dhabi is the first in the Gulf Cooperation Council (GCC) and second in the Middle East (the other one is in Israel). The establishment of the OPHILDAFA in the UAE was approved by President Rodrigo Duterte on 19 February 2019 and accepted by UAE on 02 August of the same year. Defence Attache Col. Cesar Fernandez assumed his post on 24 December 2020. The OPHILDAFA is housed in the Philippine Embassy in Abu Dhabi.
The opening of the new office coincided with the International Defence Exhibition (IDEX 2021) and the Naval Defence Exhibition (NAVDEX 2021) in Abu Dhabi in the year of UAE's Golden Jubilee. In August 2020, the Embassy met and established linkages with the EDGE Group, UAE's defence conglomerate.
In marking the occasion, Philippine Defence Secretary Delfin Lorenzana sent his message saying, "The establishment of the OPHILDAFA today provides a greater opportunity for the Philippines and the UAE to accomplish more in the areas of defence and military cooperation." The UAE is a regional hub for the global defence industry, therefore there is much opportunity for a closer partnership between the Philippines and the UAE."
—
For more information, visit https://www.abudhabipe.dfa.gov.ph or
https://www.facebook.com/PHinUAE/.