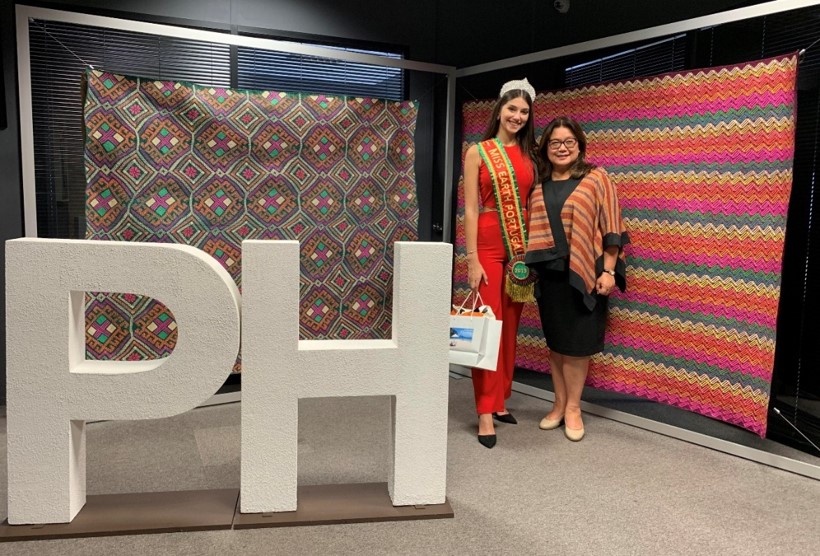 Lisbon, Portugal — Miss Earth Portugal 2019, 18-year old Bruna Silva, visited the Philippine Embassy in Lisbon on September 5, 2019 to apply for her Philippine visa to compete at the Miss Earth 2019 pageant to be held in the Philippines this October.
Ms. Silva, who was accompanied by her sister Andrea, was warmly met by Embassy officers and staff and was received by Ambassador to Portugal Celia Anna M. Feria.
During the call, Ms. Silva expressed her excitement for the Miss Earth pageant, which is frequently being held in the Philippines.  Ambassador Feria took the opportunity to present Ms. Silva with Philippine made crafts and products as remembrance of her visit to the Embassy.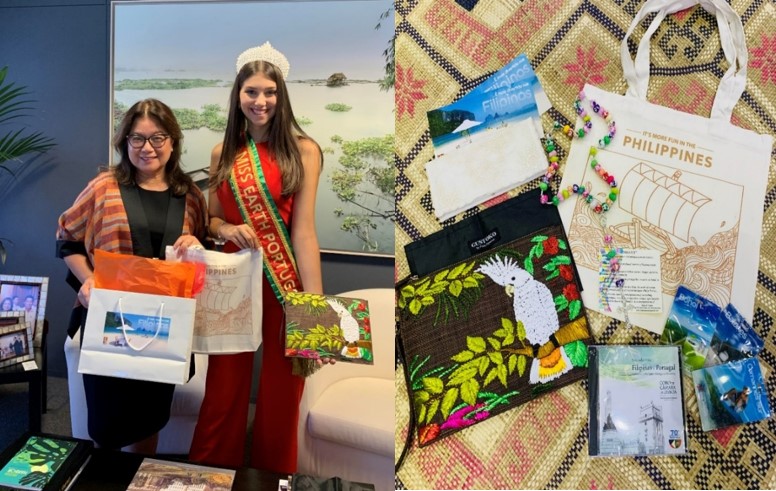 These include an embroidered buntal pouch by the Lisbon based Filipino-owned company GustoKo by Paula Figueras.  The buntal pouch, which featured the Philippine Cockatoo, was specially made as a way to raise awareness of the need to protect the said endangered species, which is endemic to the Philippines. The Portuguese beauty queen also received an original Pidayit rosary by Philip Torres of the House of Pidayit in Angeles City (Pidayit refers to the Kapampangan word "pidayit-dayit", which means to put together), as well as an eco-bag and luggage tags from the Department of Tourism (DOT).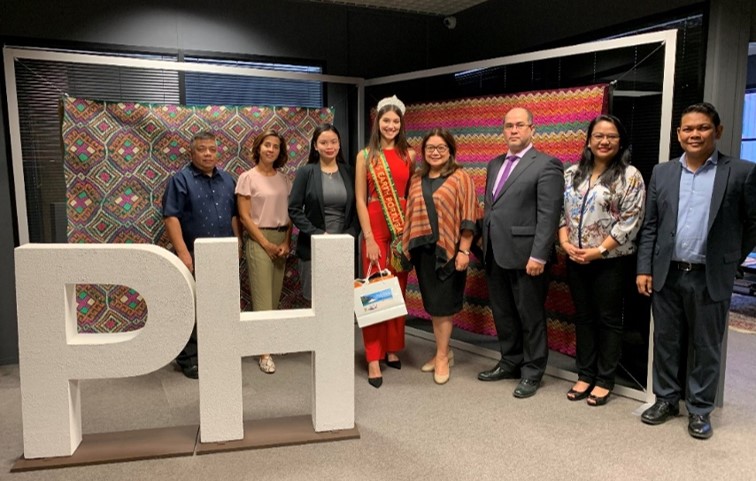 According to the Miss Earth organizers, Carousel Productions Inc, the pageant is an "international environmental event that channels the beauty pageant, entertainment industry as an effective tool in promoting the preservation and protection of the environment since 2001."  Aside from promoting the advocacies of Miss Earth, all delegates will, among other activities, be visiting eco-tourism places in the Philippines, before the pageant's coronation night on October 28, 2019.
Before bidding farewell, Ms. Silva said her family will be flying to the Philippines to join her after the pageant for a week of rest and recreation in Boracay.
—
For more information, visit https://www.lisbonpe.dfa.gov.ph or https://www.facebook.com/PHLinPortugal.