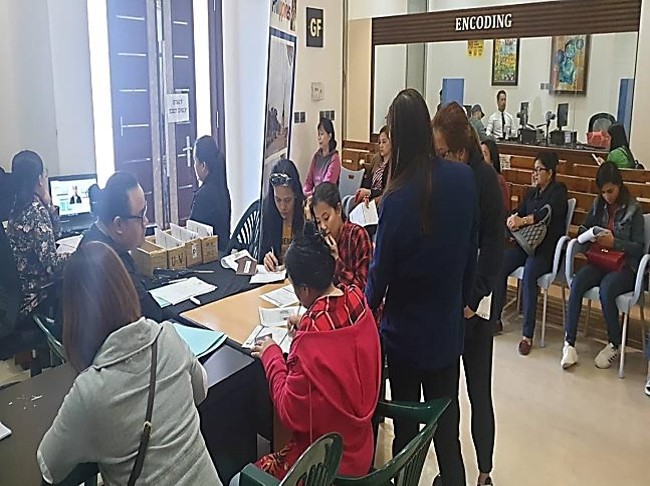 Kuwait – They came in strong force. The first month of overseas voter registration held by the Philippine Embassy in Kuwait from 16 December 2019 to 16 January 2020 saw an overwhelming number of female registrants with 1,115 record of the 1,355 new overseas voters.
According to Vice Consul and Resident Election Registration Board Chairman Charleson C. Hermosura, women empowerment is evident at the early stage of the overseas voter registration, as they go to "great lengths to empower themselves politically, in the same way that women provide economic empowerment through their remittances to their families in the Philippines."
"Many OFWs, especially women, are clearly taking advantage of their chance to register in order to choose who will manage their invaluable economic contributions back home. It also allows them to choose who they think will best build and lead our country in 2022 and in the years to come," Third Secretary and Vice Consul Hermosura said.
In a statement, Chargé d'Affaires, a.i. and Consul General Mohd. Noordin Pendosina N. Lomondot commended the Embassy's first pool of registrants during the overseas voter registration, and encouraged more Filipinos in Kuwait to participate in this important political exercise, which fulfills one's civic duty to our country.
"The Embassy welcomes all applications for registration and certification to participate in the next national elections in 2022. We invite every Filipino in Kuwait to bring their passports. Our officers and staff are ready to serve", Chargé d'Affaires Lomondot said. "If you have failed to vote in two consecutive elections, by law, your voter record will be deactivated by the Commission on Elections or COMELEC. Please visit the Embassy to get your voter records reactivated."
Meanwhile, in a video message to the Filipino community in Kuwait, COMELEC Commissioner Ma. Rowena V. Guanzon said, "Sana ay lahat tayo sa Kuwait ay maka-rehistro at ma-invite naman ninyo ang inyong mga kapamilya at mga kasamahan na magrehistro rin, kasi napakaimportante para sa ating demokrasya na tayo ay makaboto sa susunod na national elections (I hope that all of us here in Kuwait will be able to register and invite other family members and friends as well since this is important for our democracy that we vote in the upcoming elections)". The video may be accessed through this link: https://www.facebook.com/PHinKuwait/videos/3300589479956288.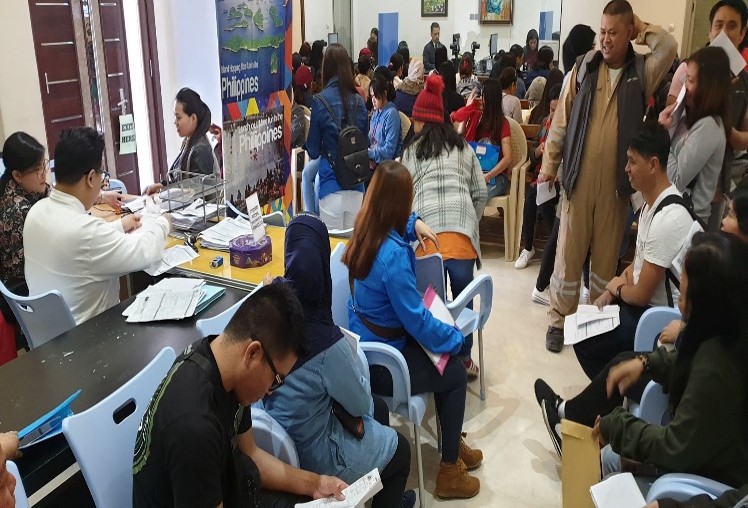 Apart from the more than 1,300 new overseas voters, 307 more Filipinos in Kuwait also availed themselves of other overseas voting services, such as recapturing of biometrics, transfer of voter registration records, application for reinstatement in the national registry of overseas voters, application for correction of wrong entries/misspelled names/change of name in the National Registry of Overseas Voters, withdrawal of overseas voter application for registration/certification, application for reactivation of voter registration records, and application for change of address in Kuwait.
Overseas voter registration is open from 8:00 AM to 5:00 PM, Sundays to Thursdays, at the first floor of the Embassy. In order to register as an overseas voter, applicants are reminded to bring their valid Philippine passport.
—
For more information, visit https://www.kuwaitpe.dfa.gov.ph, 
https://www.philembassykuwait.gov.kw or
https://www.facebook.com/PHinKuwait/ or https://twitter.com/PHinKuwait.