Kuwait — Hundreds of Filipinos in Kuwait rushed to the Philippine Embassy in Kuwait early morning of Saturday to exercise their right to suffrage.
Embassy Chargé d' Affaires, a.i. (CDA) Mohd. Noordin Pendosina N. Lomondot  welcomed the enthusiastic crowd present at the Embassy premises and praised their sense of patriotism. He further appealed and encouraged them to inform their friends, family, and loved ones of the on going electoral exercise.
The Embassy announced that the 2019 Senatorial and Party List Elections has started on April 13, 2019 and it will end on May 13, 2019.  The 30-day overseas voting period will allow registered Filipinos in Kuwait to cast their votes for 12 senators and one party-list representative of their choice.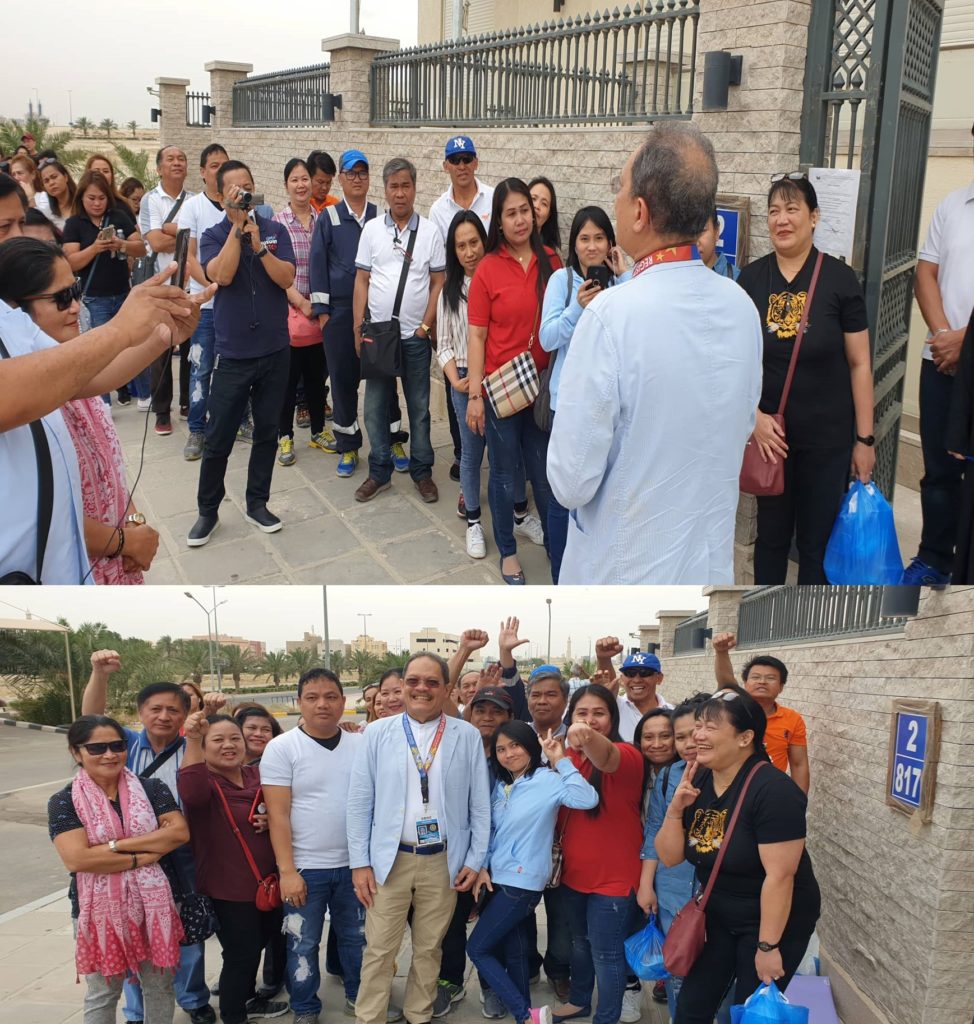 In a video statement, Foreign Affairs Secretary Teodoro L. Locsin Jr. encouraged Filipinos around the world to "Go out and vote. It is your right, it is your chance, it is for our country."  Secretary Locsin was the principal author of the Overseas Voting Act and was also its chief proponent in Congress.
"The Philippine Embassy in Kuwait surpassed its 22-month target and registered more than 96,000 Filipino overseas voters. Our challenge now is increasing the voter turnout for this election cycle. We have intensified our overseas voting omni-media campaign by using all possible platforms to disseminate information to our Kababayans. Maraming salamat po sa inyo, GMA Network, ABS-CBN's Kuwait-based Pinoy Arabia, pati na rin ang The Times News, The Arab Times, at OFW si Bes na katuwang namin sa pagpapalaganap ng overseas voting awareness sa ating mga Kababayans." said CDA Lomondot.

"I have instructed our officers and staff including their dependents to cast their vote today.We should lead by example, to show Filipinos here in Kuwait that we are serious about this electoral exercise," he added.
All over cyberspace via various social networking pages, the Embassy continues to carry the Department of Foreign Affairs – Overseas Voting Secretariat (DFA-OVS) and Commission on elections' (COMELEC) battle cry/slogan throughout this election period: "Let's strengthen our democracy. It's our right and duty. LET'S ALL VOTE!' (Patibayin ang ating demokrasya. Ating karapatan at katungkulan. BUMOTO TAYONG LAHAT!).
—
For more information, visit www.kuwaitpe.dfa.gov.ph,
www.philembassykuwait.gov.kw or https://www.facebook.com/PEinKuwait/ or https://twitter.com/PHinKuwait