Noting the disruption caused by the COVID-19 pandemic on health service delivery, including the care and treatment of persons living with HIV (PLHIV), Philippine Health Secretary Francisco T. Duque III, during the UN General Assembly High-Level Meeting on HIV and AIDS held in a hybrid format from 08 – 10 June 2021,  informed the United Nations of Philippine strategies to reach vulnerable communities and deliver person-centered, differentiated HIV prevention, testing, treatment and care services.
"Two landmark legislations directly impact the Philippines' HIV response: the HIV and AIDS Policy Act and the Universal Health Care Act," Secretary Duque said. He added that "these laws broadened the scope of HIV services for persons living with HIV (PLHIV) and key affected populations, including migrants; instituted stronger protective mechanism against HIV-related stigma and discrimination; and ensured equitable access of Filipinos to quality health care and improved health systems through integrated programs and services, including flagship initiatives on HIV/AIDS."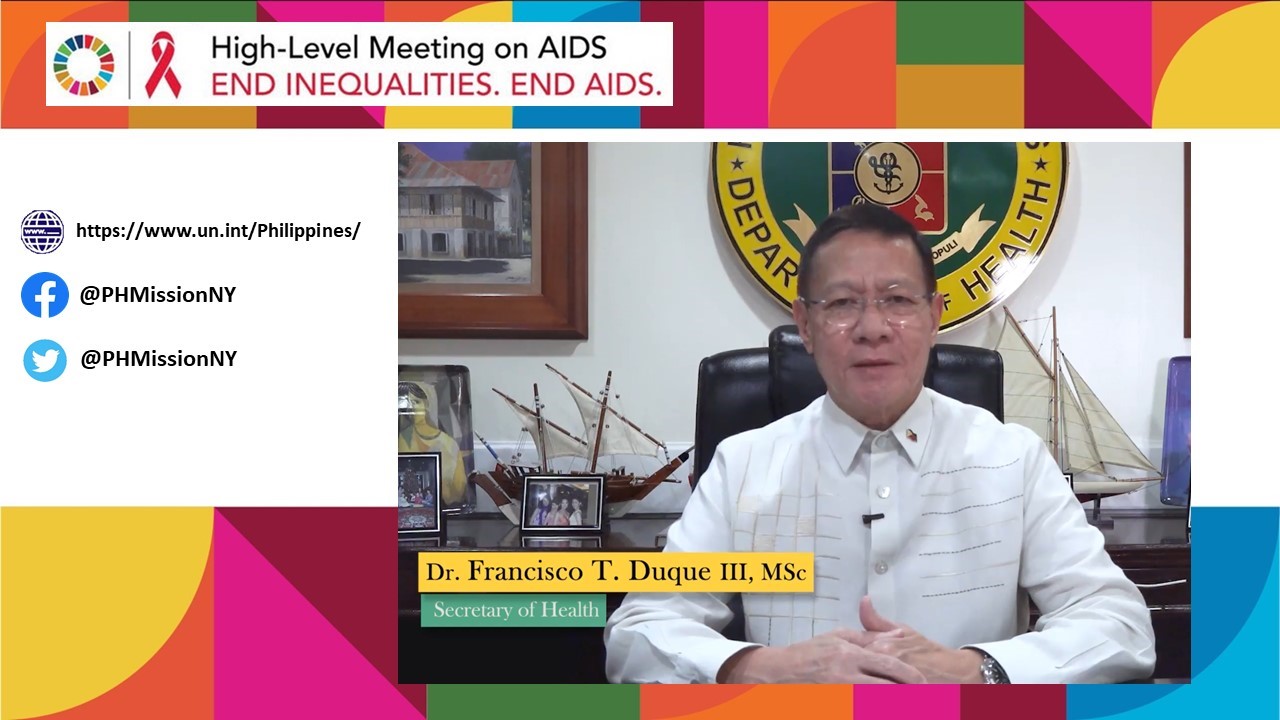 Secretary Duque also reaffirmed the country's commitment to the 2021 Political Declaration and the Global AIDS Strategy.
With the theme "End Inequalities, end AIDS," the meeting undertook a comprehensive review of the progress on the commitments made in the 2016 Political Declaration towards ending the AIDS epidemic by 2030, and how the HIV and AIDS response contributes to the achievement of the 2030 Agenda for Sustainable Development and the global health goals.
At the same meeting, the General Assembly adopted the 2021 Political Declaration on HIV and AIDS entitled "Ending inequalities and getting back on track to end AIDS by 2030." The political declaration sets out commitments to a coordinated global HIV response based on solidarity, working towards an HIV vaccine or cure and generating progress to eliminate all forms of HIV-related stigma and discrimination. It also aims to guide Member States and governments in their national HIV response.
_
For more information, visit https://www.un.int/philippines/ and https://www.facebook.com/PHMissionNY.