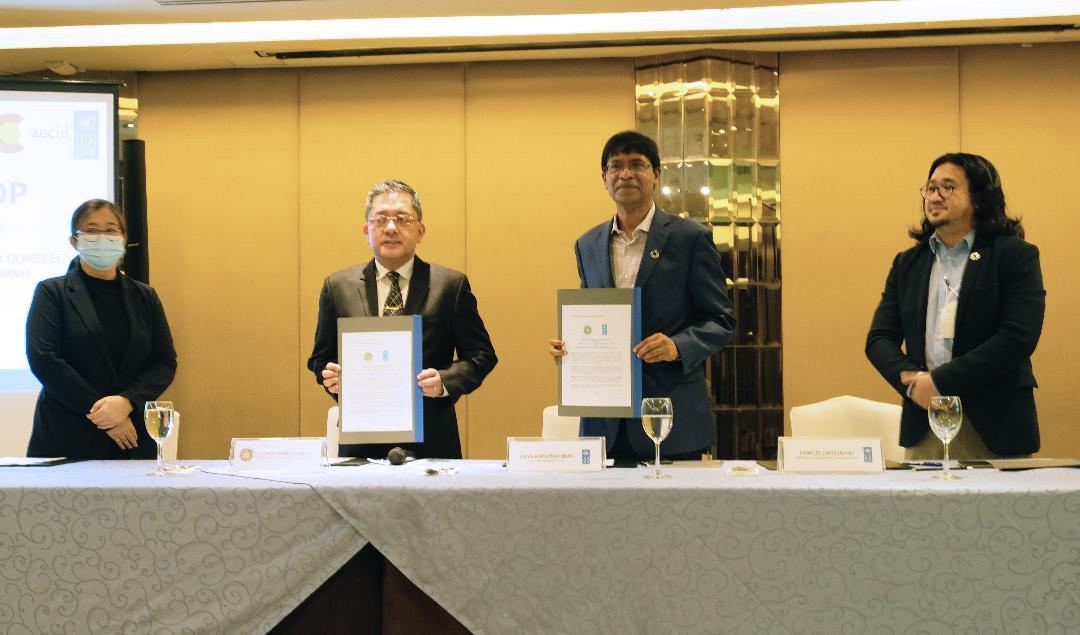 Metro Manila – The Commission on Elections (COMELEC) and the United Nations Development Programme (UNDP) in the Philippines launch a partnership to enhance development activities in digitalization and capacity building for electoral reform and political participation that supports gender equality and inclusivity.
COMELEC Chairman George Erwin M. Garcia and UNDP Philippines Resident Representative Dr. Selva Ramachandran jointly signed a Memorandum of Understanding (MOU) to mark both parties' commitment to the initiative, which is also being supported by the Government of Spain.
"As the COMELEC endeavors to adapt to an ever-changing technological landscape,
this initiative affirms our commitment to continuously seek innovative solutions in helping empower women leaders," Chairman Garcia said.
While data can improve service delivery, it can also unlock the potential for innovative solutions emanating from wider civil society. Currently the academe, think tanks, and civil society organizations are trying to access up-to-date and comprehensive datasets with which to study and develop responsive policy solutions and innovations. A critical area wherein accurate, data-driven policies and solutions are needed is women's political participation.
The partnership will enable COMELEC to access data science tools and applications. These tools will help develop infrastructure with analytical dashboard with gender disaggregated datasets for gender-responsive and data-driven policymaking.
"The initiative targets to strengthen the capacity of COMELEC in advanced gender-disaggregated data analysis, develop evidence-based policies developed and advocate for women empowerment, and facilitate the training of women leaders and election officials," said Dr. Ramachandran.
In 2010, the Philippines automated its electoral process, paving the way to faster, more efficient counts administered by the COMELEC. Through the partnership with UNDP, COMELEC will further strengthen its digitalization capacity to ensure that it can develop data-driven and online solutions that can help promote inclusive political participation, including gender equality in political processes whether towards women leaders or for women as voters.
From the local to the global level, women's equal participation and leadership in political and public life are essential to achieving the Sustainable Development Goals by 2030. From a broader perspective, striving to achieve gender equality strengthens democracy and advances human development at large.
—
For questions, you may get in touch with: Charlene Balaan, Communications Analyst, [email protected]
About UNDP  
UNDP is the leading United Nations organization fighting to end the injustice of poverty, inequality, and climate change. Working with our broad network of experts and partners in 170 countries, we help nations to build integrated, lasting solutions for people and the planet.