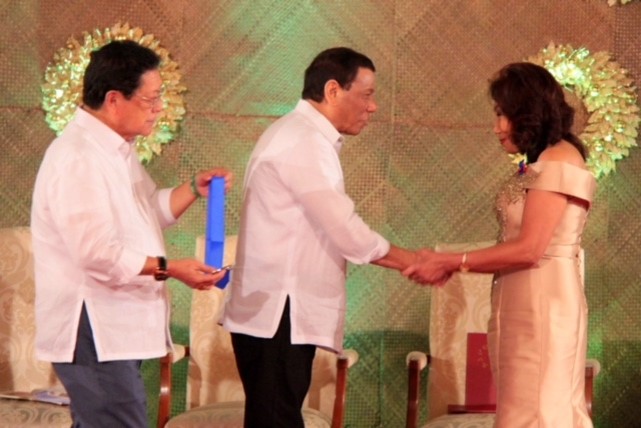 THE HAGUE 09 January 2019 – The Philippine Embassy in The Hague extends its warmest congratulations to an educator based in Leewarden, the Netherlands and a Dutch organization, who were awarded the Lingkod sa Kapwa Pilipino Award (LINKAPIL) and the Kaanib ng Bayan, respectively, in a ceremony at the Malacañg Palace on 05 December 2018.
Salvacion Guit Cimenez and the Stichting LOOP (LOOP foundation) were among the 2018 Presidential Awardees for Filipino Individuals and Organizations Overseas who were honored for their assistance and dedication in helping improve the lives of Filipinos.
A teacher by profession, Ms. Cimenez established the Foundation for the Philippine Services for Deaf and Blind in the Netherlands in 2000. Her first project was a school for the deaf and blind children in Daraga, Albay, with the support of the Netherlands' Stichting Wilde Ganzen (Wild Geese Foundation from 2000 to 2005.  In 2005, she witnessed the turn over ceremony of the Daraga North Central School for Disabled Children.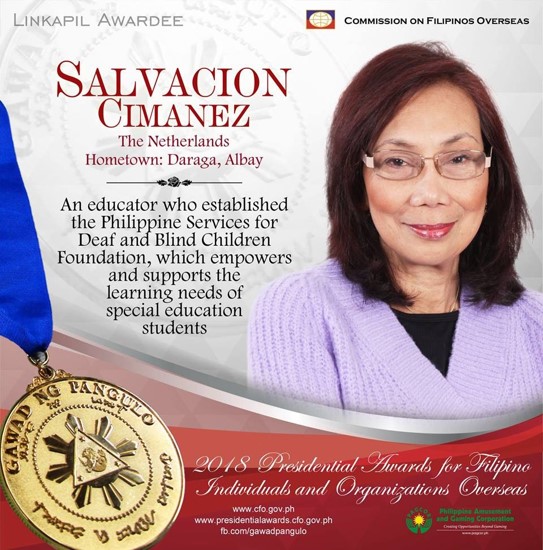 Her foundation also helped the Laguna Resettlement Community School for disabled children in Barrio Langgam in San Pedro, Laguna and a school for abandoned children in Naga City. Ms. Cimanez continues to monitor and help these schools in their repairs, maintenance and supplies.
Meanwhile, the Stichting LOOP, composed of Dutch citizens in the Netherlands, received the Kaanib ng Bayan for its contribution in extending support to farmers in the Philippines on small-scale entrepreneurship and farmer's cooperatives in the provinces of Laguna, Negros and Cotabato, among others, and in the buying and selling of their mostly organic products in the Netherlands.
–
For more information, visit www.thehaguepe.dfa.gov.ph, https://www.facebook.com/PHinTheNetherlands.