This week the Department of Foreign Affairs (DFA) reports updates on travel restrictions from 11 countries across Asia and the Pacific, Europe, and Middle East; and confirms that previous information on travel restrictions for other countries and regions across the globe remain the same.
To date, Brunei, China, Malaysia, Taiwan, Macau, Germany, and Oman still do not allow general entry and have imposed stricter medical protocols for those who are exempt from entry restrictions, such as presentation of negative COVID-19 test result, payment for COVID-19 screening tests and quarantine fees, institutional or home quarantine, among others.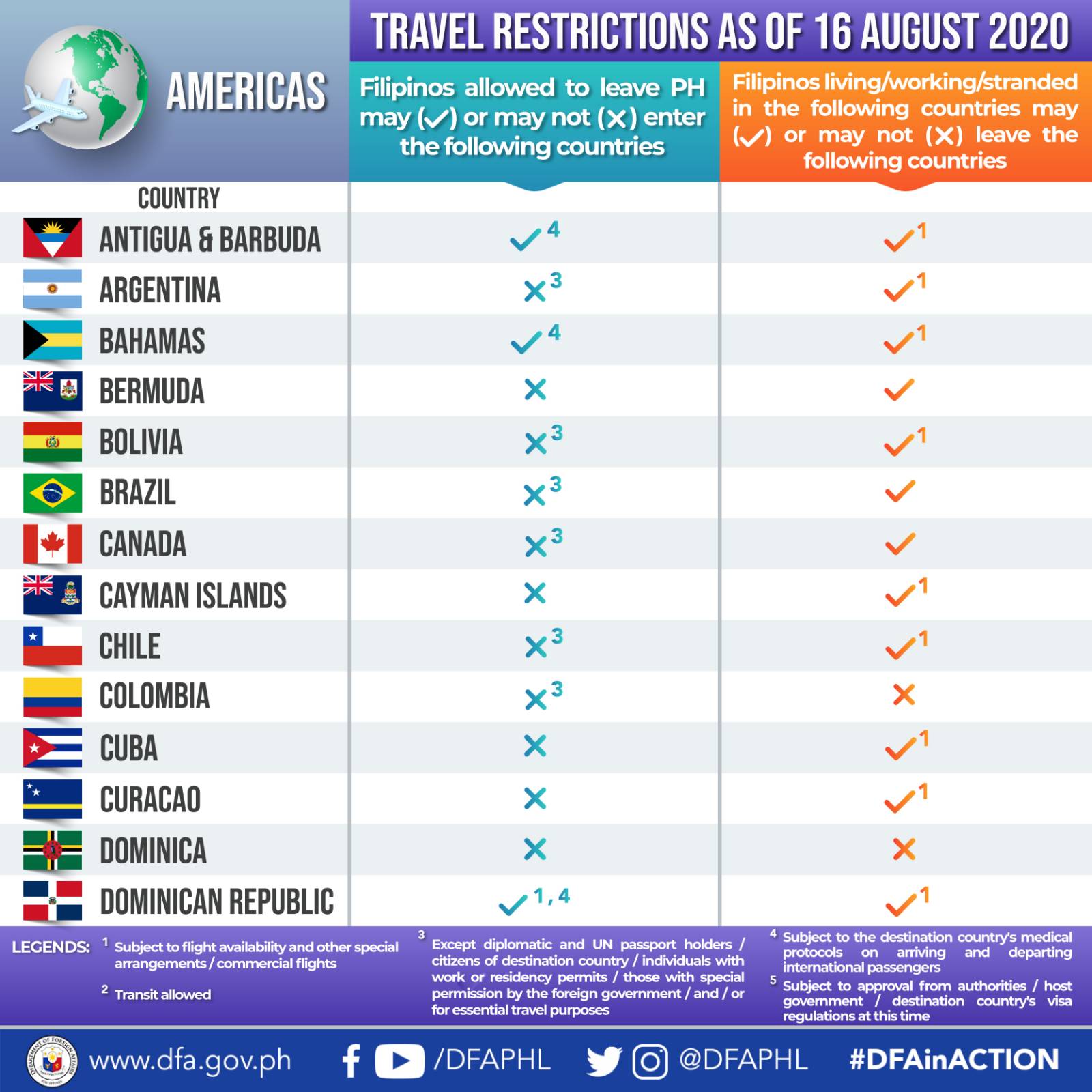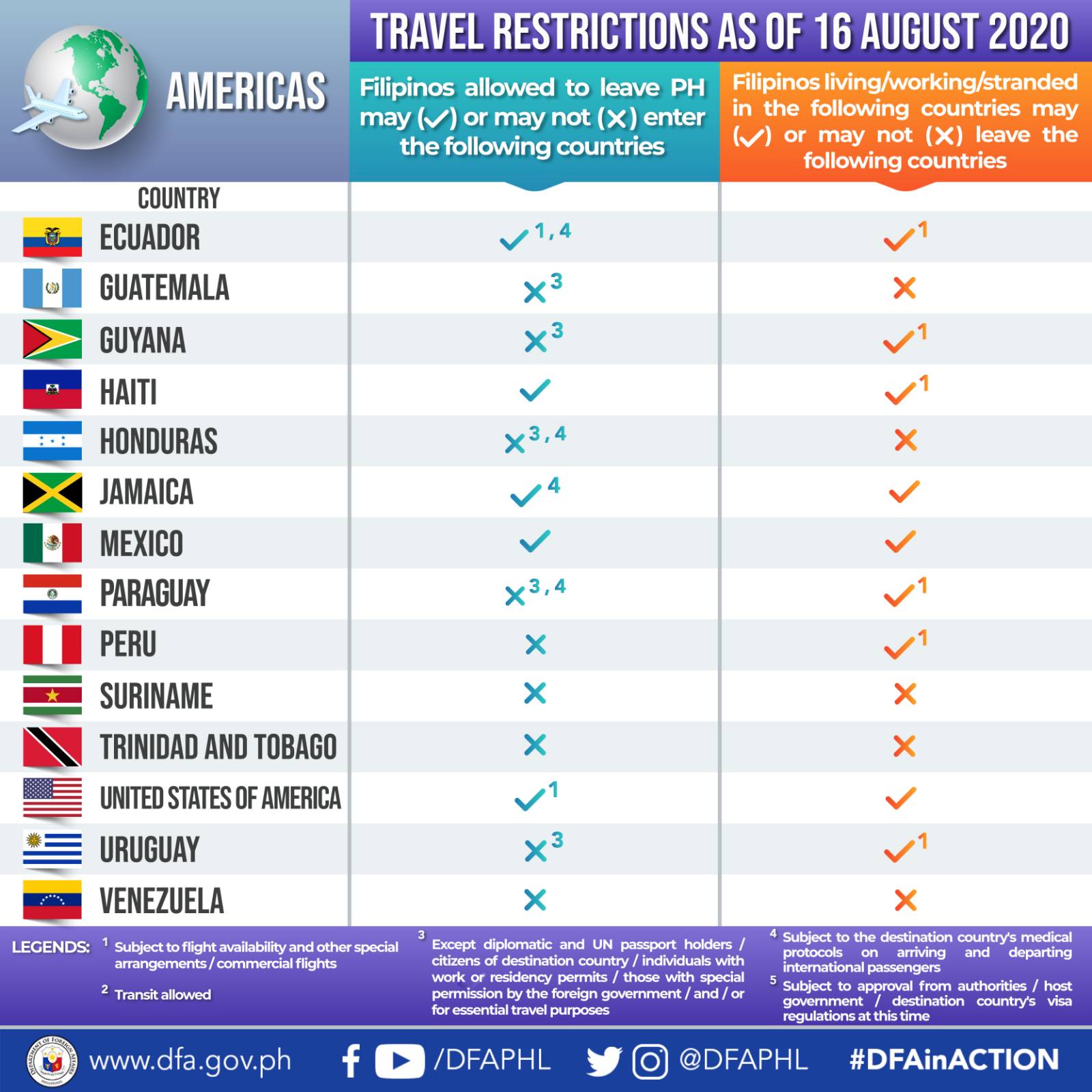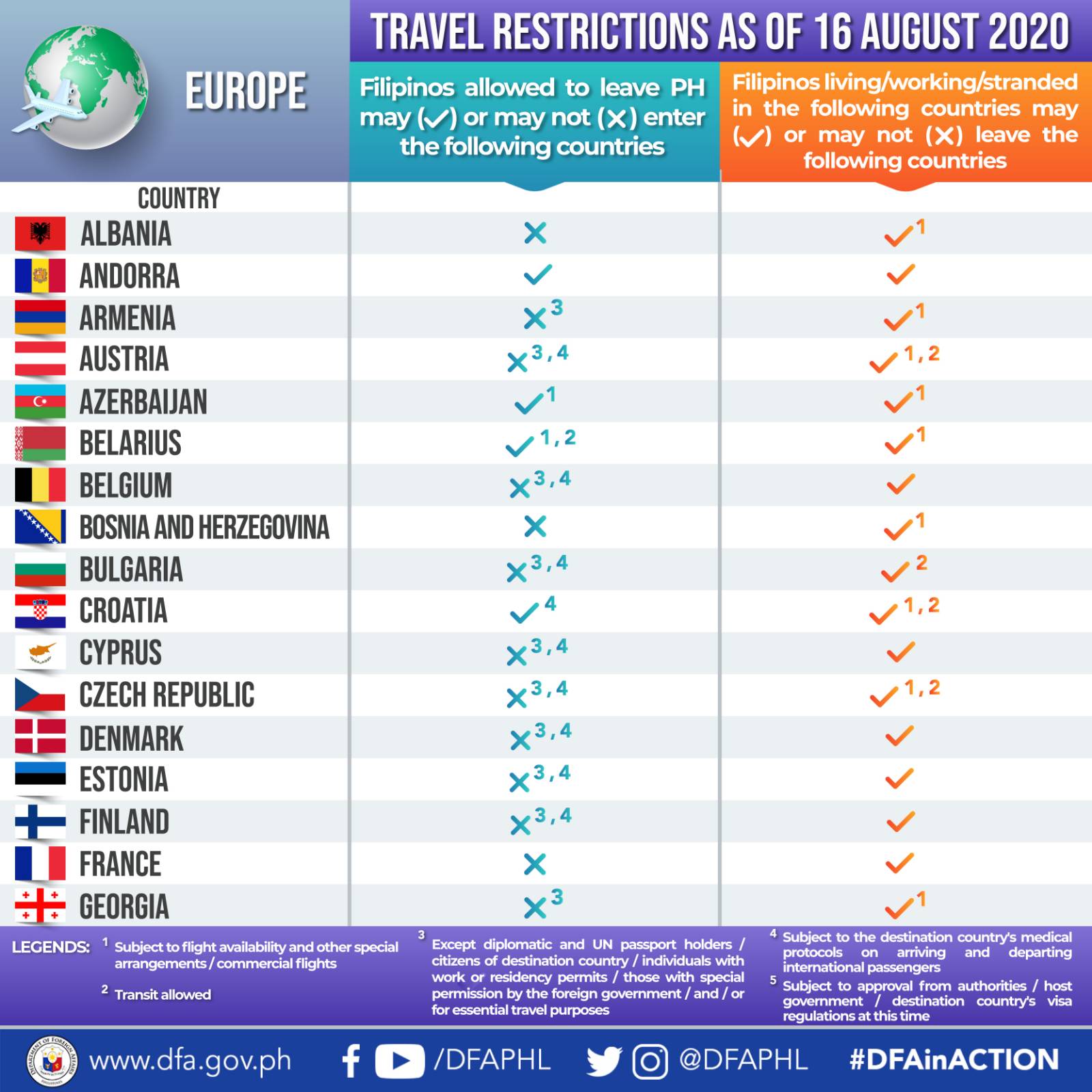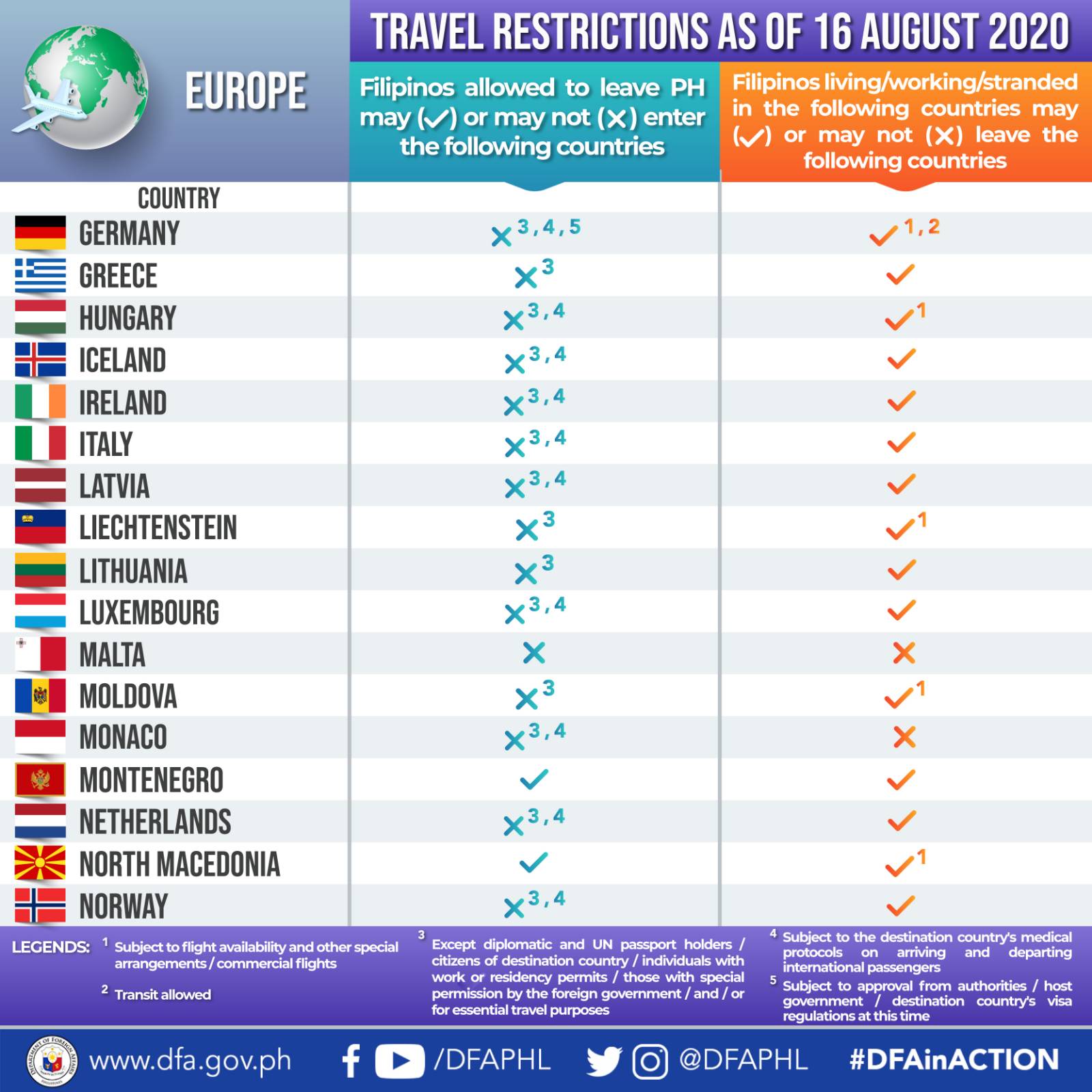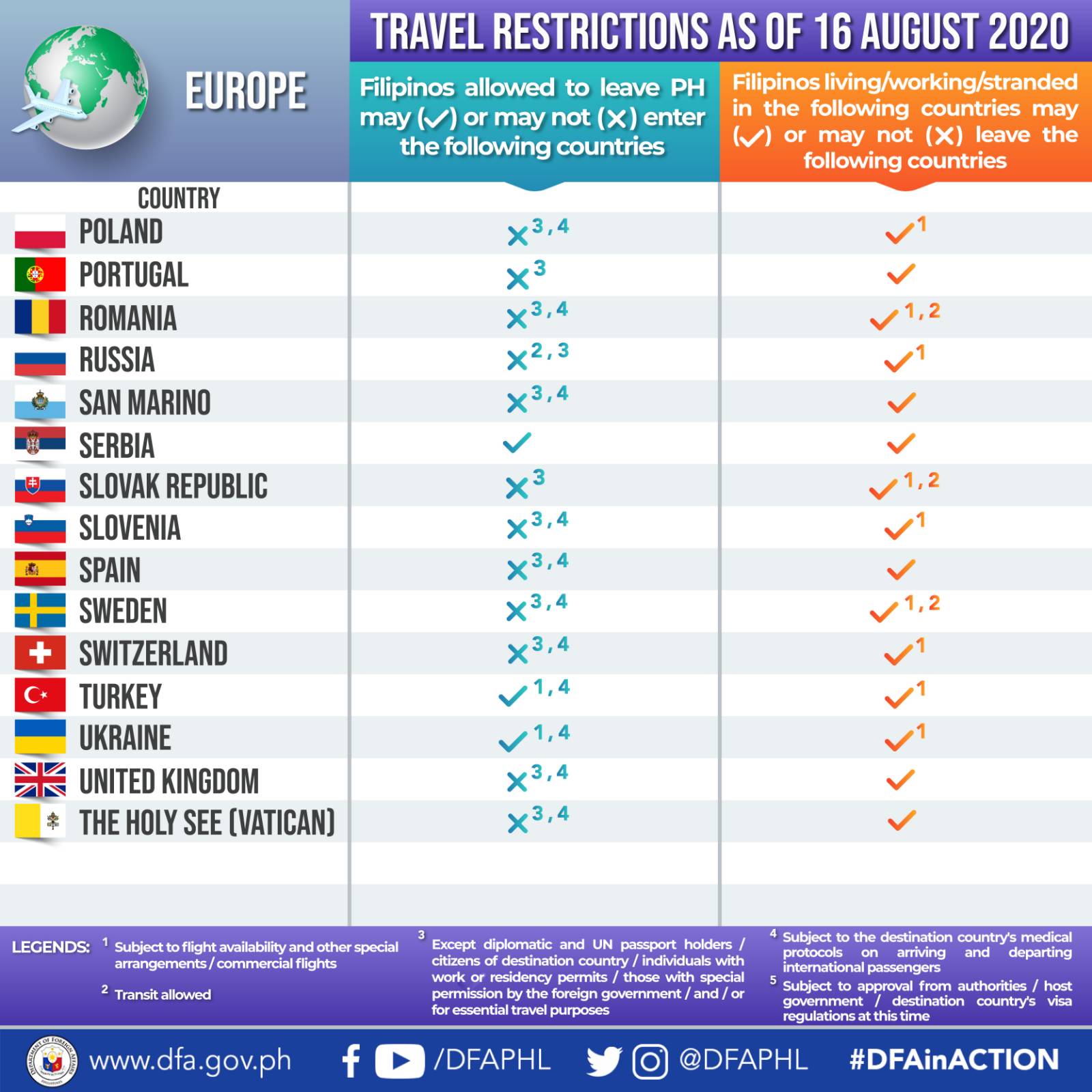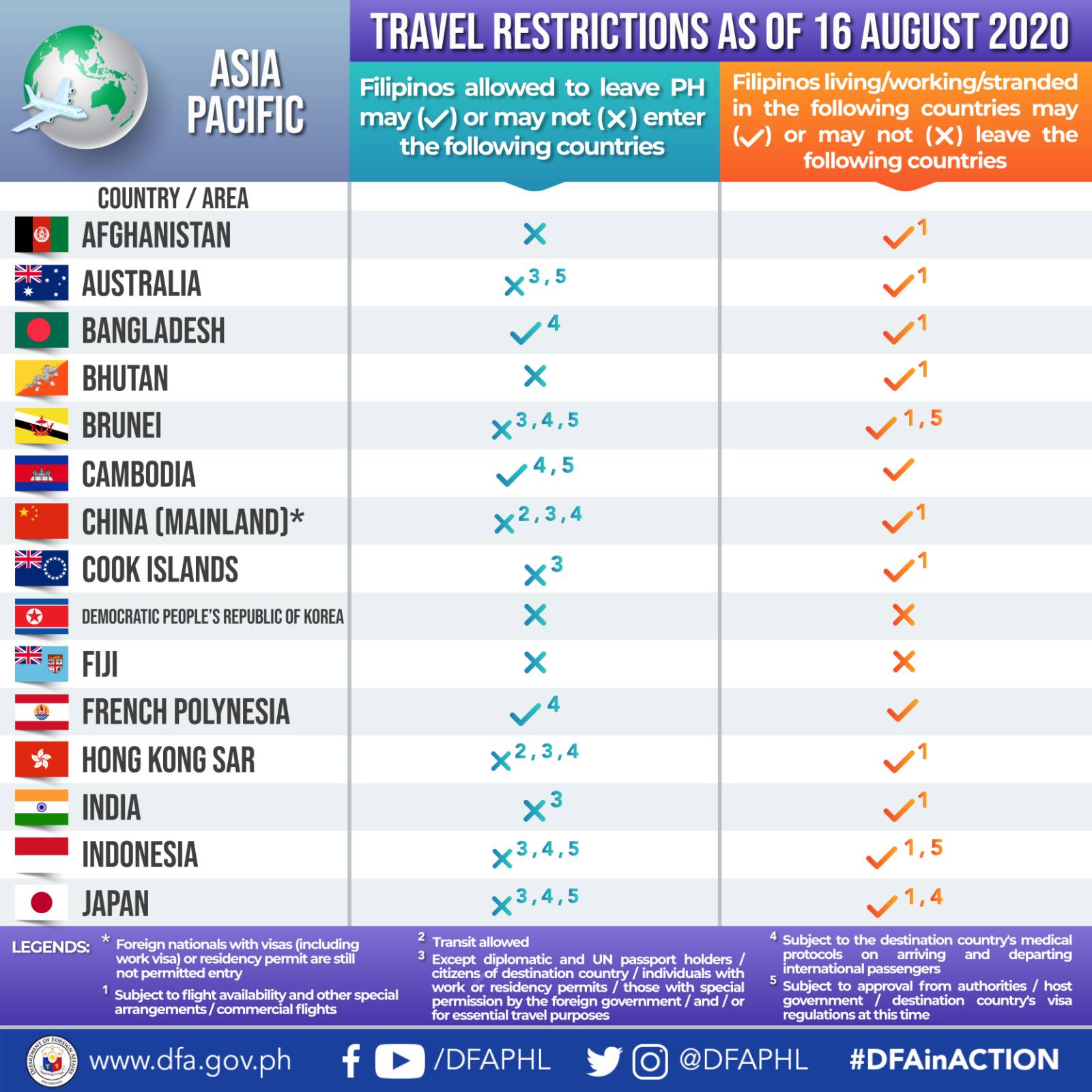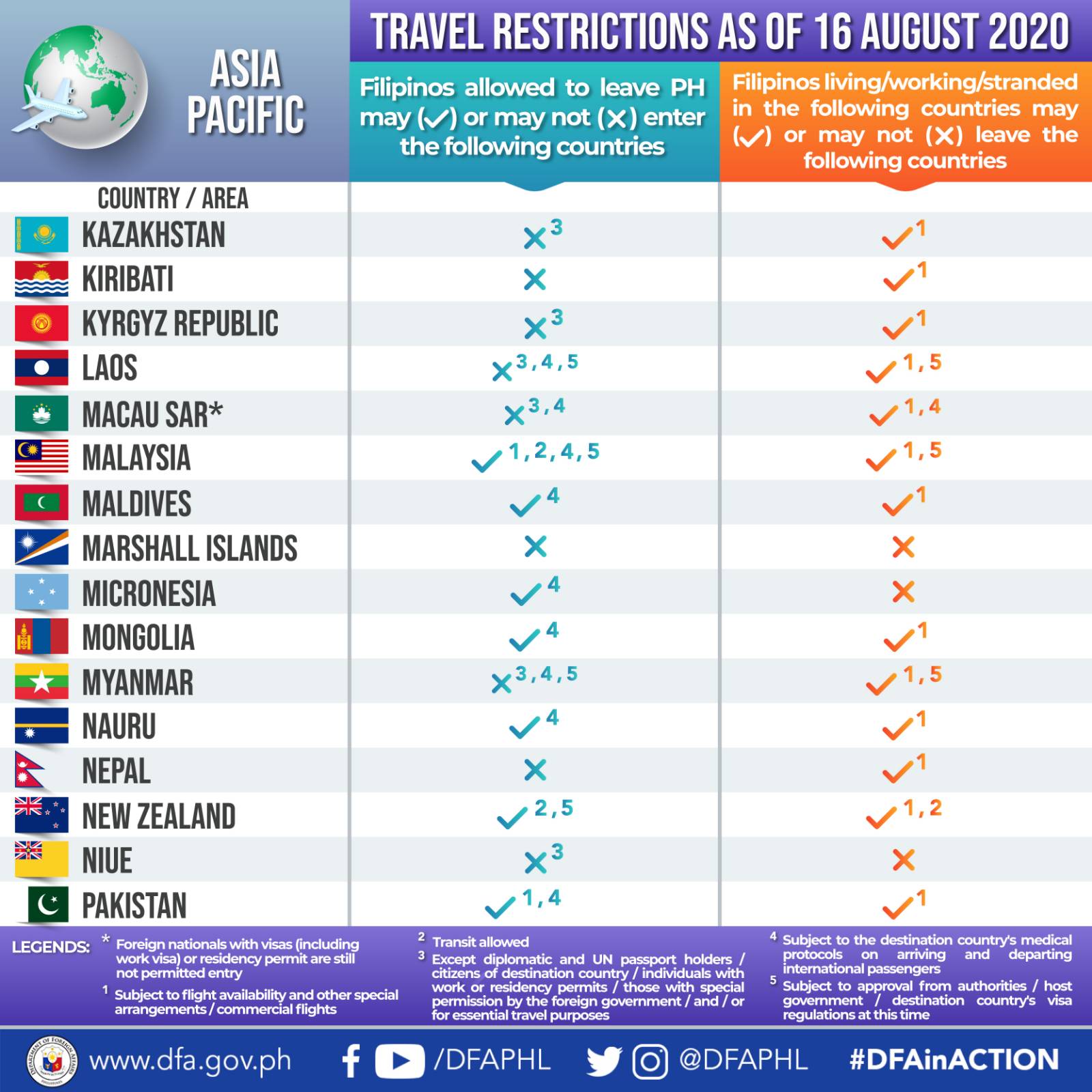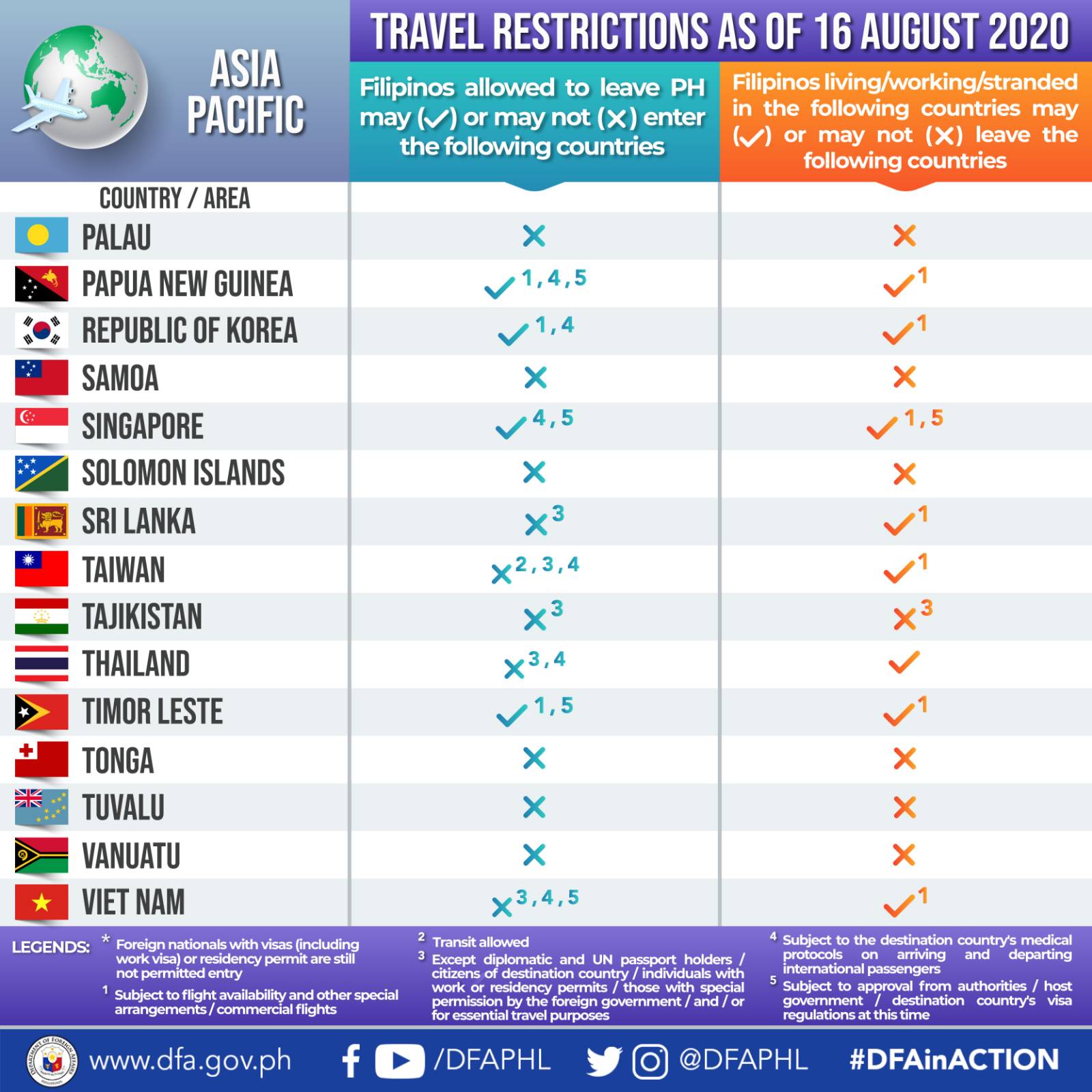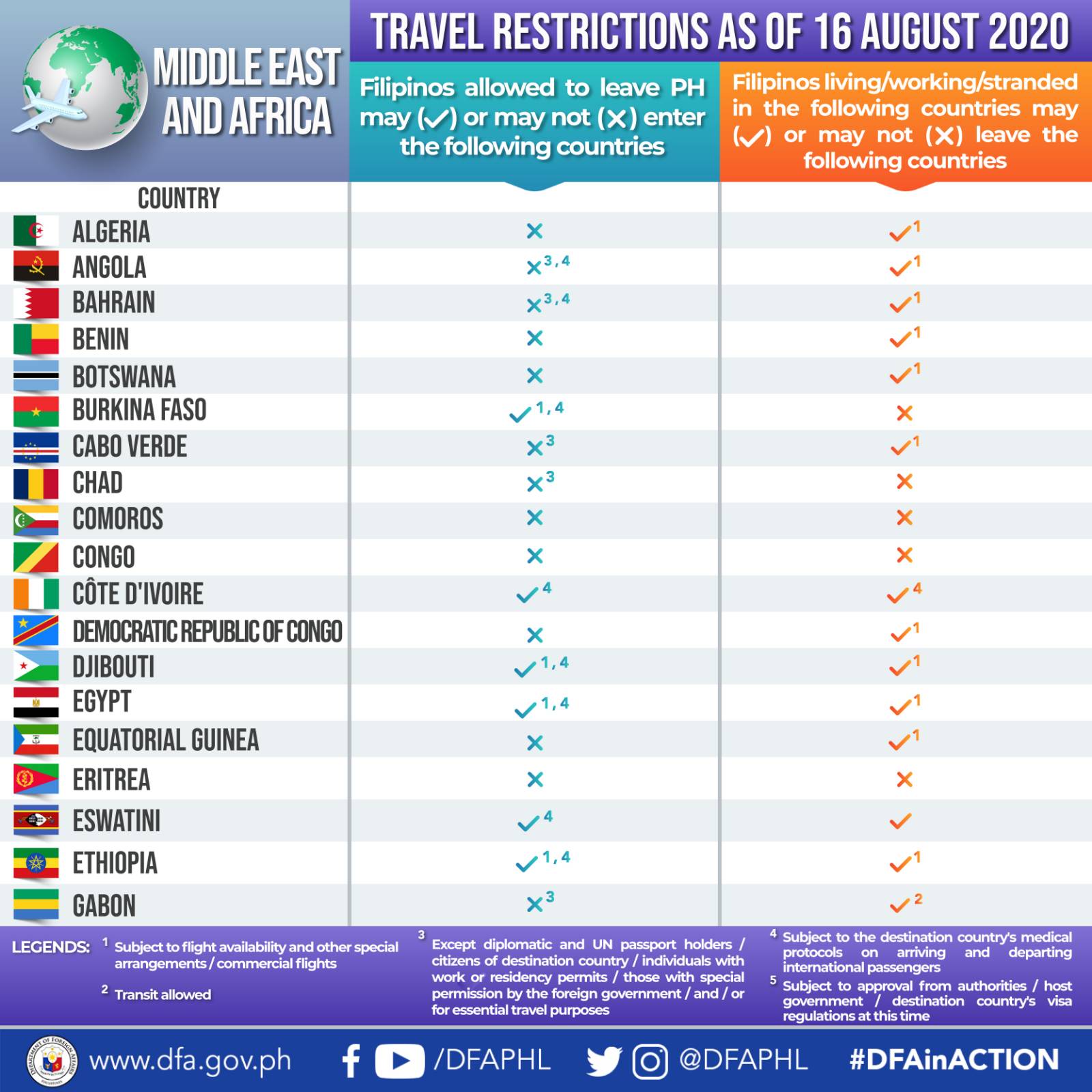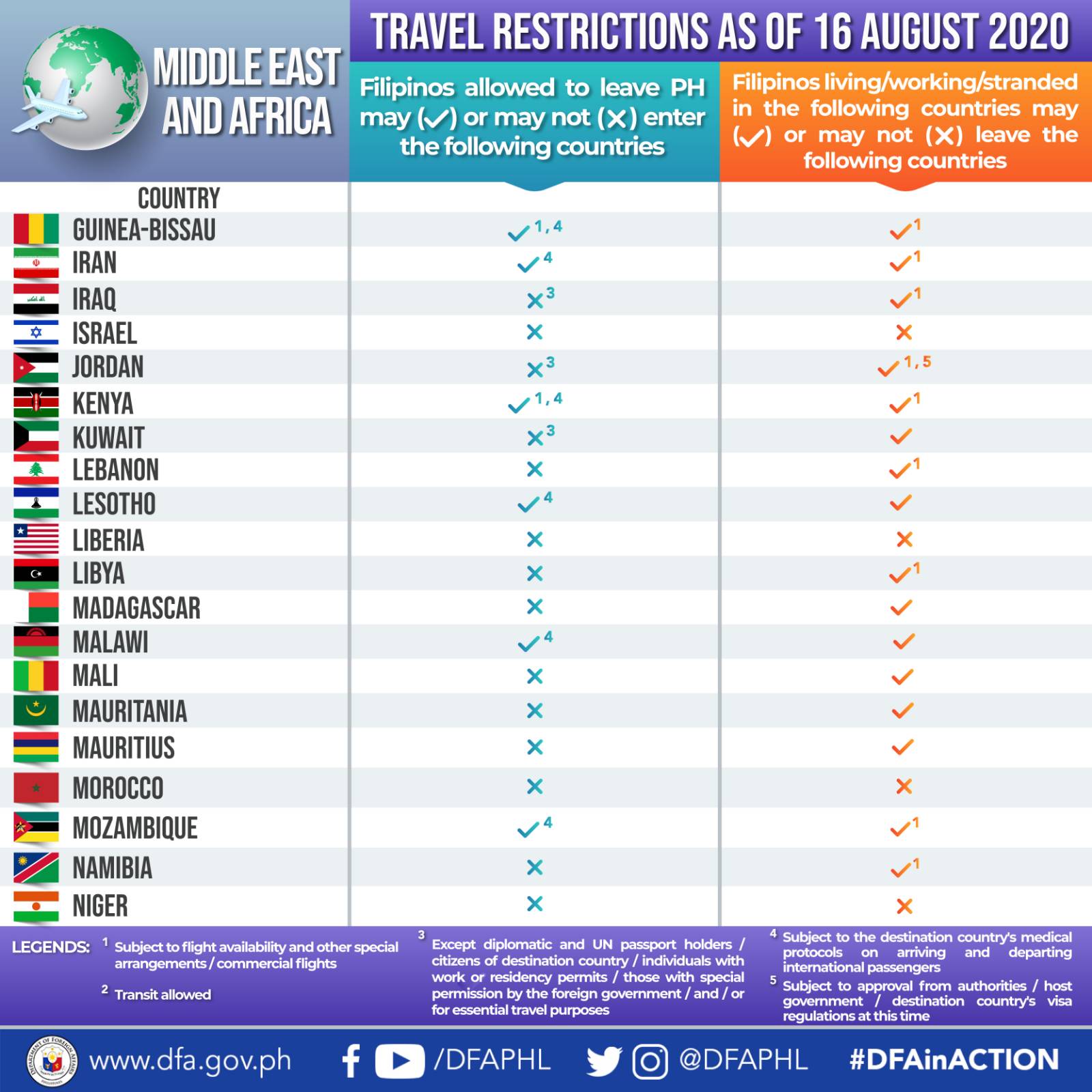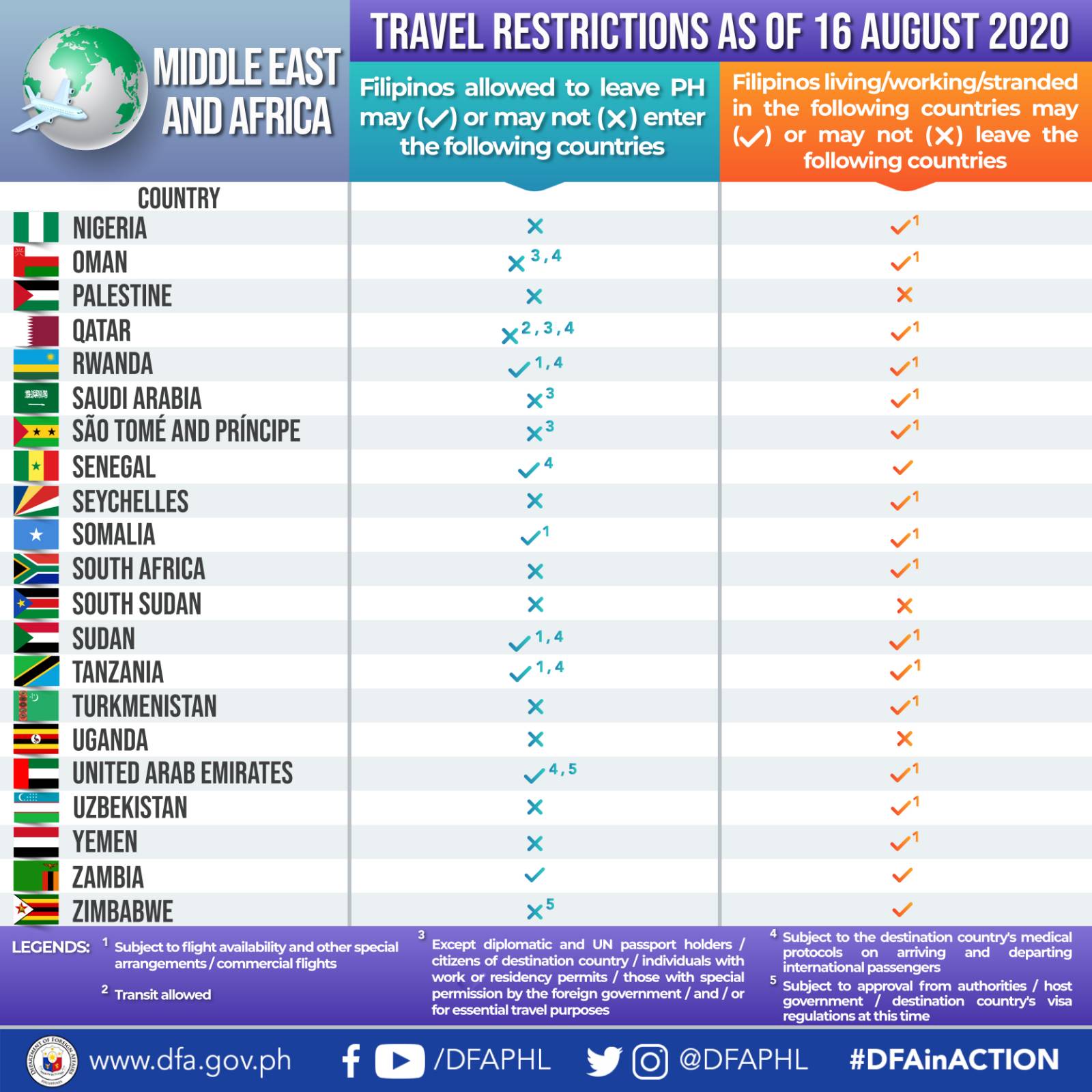 The DFA clarifies a previously reported update on the relaxation of Macau on its inbound restriction. Macau continues to ban the inbound and outbound travel of all tourists and non-resident workers (referred to as Blue card holders). Macau allows entry to holders of Macau permanent resident IDs and other qualified visitors from Mainland China, Hong Kong, Taiwan and other ports of origin subject to stringent health and quarantine protocols.
Moreover, Timor Leste (East Timor) has opened its borders. Entry in the country is subject to flight availability and compliance with medical protocols.
Other updates include Japan requiring departing passengers to undergo specific medical protocols, Sri Lanka banning transits, and Oman allowing Filipino nationals to leave the country without the need of a permit, subject to special repatriation and cargo flights.
Jordan, a recent inclusion in the infographics, imposes general inbound restriction for all tourists and students, as well as those without valid work permits. Filipinos in Jordan may leave the country, subject to special arrangements such as repatriation flights and approval from authorities.
While the DFA, through its Foreign Service Posts, continues to constantly coordinate with host governments to update these infographics and provide assistance to our nationals, the information contained herein is subject to change without prior and sufficient notice.
Therefore, the DFA advises the public to always check ahead of travel dates with their airlines, as well as with relevant Embassies or Consulates before booking a ticket and before departure.
—
Stay updated with news and information from the Department of Foreign Affairs by visiting their website at dfa.gov.ph.