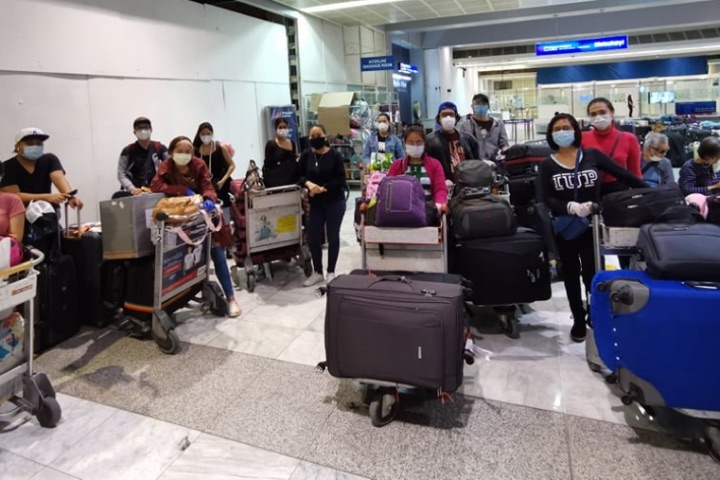 The Commission on Filipinos Overseas (CFO) is celebrating another milestone in public service as it turns 40 on June 16, 2020. For the past four decades, the CFO has been part of the life-changing and challenging journey of Filipinos as they leave the shores of the motherland and pursue better lives and opportunities abroad.
CFO Secretary and Chairperson Francisco P. Acosta said that "It is with great pride and honor leading an institution which has been providing quality programs and services catered to the unique needs of our overseas Filipinos around the world." Established in 1980 by virtue of Batas Pambansa 79, CFO is an agency under the Office of the President of the Philippines, tasked to promote and uphold the interests, rights and welfare of overseas Filipinos and strengthen their ties with the Motherland. Prior becoming an independent agency, the Commission was known as the "Office of Emigrant Affairs".
This year's celebration is unique and will veer away from the traditional social gathering among employees, institutional partners and stakeholders, given the COVID-19 pandemic. There will be no disruption in "Public Service" on the day of the foundation anniversary; instead the Commission will continue assisting its clients, especially those who were affected by and repatriated back to the country due to the global health crisis.
CFO Initiatives During the COVID-19 Pandemic
Since the onset of the pandemic, CFO undertook several initiatives, despite its skeletal workforce, to ensure continued delivery of its services to the public.
First, it provided temporary housing, food and transportation assistance to repatriated permanent migrants, Exchange Visitor Program participants and au pairs during the Enhanced Community Quarantine period in Luzon. It also coordinated with the Philippine Coast Guard, Bureau of Quarantine and the San Lazaro Hospital for the mandatory conduct of their Reverse Transcription-Polymerase Chain Reaction (RT-PCR) Test to determine their health status and see if they are positive or negative for the Covid-19 virus.
Second, it implemented contactless pre-departure services for its clients under the "New Normal" conditions. In March 2020, CFO launched the Overseas Filipino-CFO Online Registration System (OFCORS). It is an innovative project of the Commission in lieu of the mandatory physical registration of Filipino Emigrants, Spouses and Partners of Foreign Nationals, Au Pairs, and J1 Visa Holders in any of the CFO offices in Manila Main Office, satellite offices in Cebu City, Davao City, Clark City, and extension desk at Ninoy Aquino International Airport (NAIA).
Third, it paid tribute to the fallen overseas Filipino heroes and heroines, who were bravely on the forefront in fighting COVID-19, as well as the various overseas Filipino organizations and individuals who continue to help one another in these challenging and trying times.
Lastly, it implemented austerity measures, and remitted back P10.2 million of its savings to the national government. This is CFO's contribution to address the COVID-19 pandemic, in support of the Bayanihan Act and President Rodrigo Duterte's order to contain the pandemic.
CFO: 4 Decades of Serving Overseas Filipinos
A simple inter-faith thank-giving online mass will kick off CFO's anniversary. It will also be launching an Audio Visual Presentation highlighting the accomplishments of the CFO in the last 40 years. This will be shared thru the Commission's online and social media platforms for overseas Filipinos to see.
Secretary Acosta said that he is "proud working along side with the men and women of CFO, fulfilling our agency's mandate and President Duterte's directive on bringing government services closer to overseas Filipinos."
While the CFO started its maiden work way back in 1980s mainly providing pre-departure services to emigrants, it has gone a long way in developing more comprehensive welfare service, and innovative migration and development programs for the Filipino diaspora. These include the Ugnayan with Filipino Communities Abroad, Diaspora Philantrophy or Lingkod Sa Kapwa Pilipino Program, Balinkbayan Web-Based Portal For OFs, Anti-Human Trafficking Program for OFs, Philippine Schools Overseas, Youth Leaders in the Diaspora or YouLead, Community Education Program on Migration, Mainstreaming Migration and Development at the Local Level, Presidential Awards for Outstanding Individuals and Organizations Overseas, Migration Advocacy and Media Awards, and Peso Sense Financial Literacy Program For OFs and their Families, among others. These are a testament of how the Philippine government prioritizes the sector of overseas Filipinos and honors their significant contributions to nation-building and development.
CFO Executive Director Astravel Pimentel-Naik said that "being at the forefront of formulating government policies for OFs, CFO has been central in integrating the realities of migration to national development."
As CFO embarks on another challenging year, its leaders and employees assure that they will perform their duty in the government with full transparency and accountability; willing to go beyond and above the usual call of public service for the protection and improvement of the lives of overseas Filipinos.
—
Stay updated with news and information from the Commission on Filipinos Overseas by visiting their website at cfo.gov.ph.