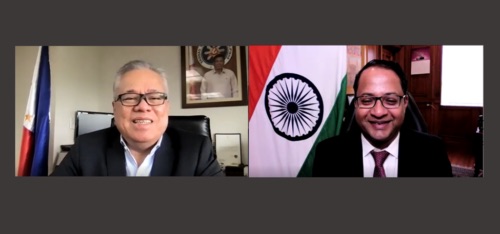 Department of Trade and Industry (DTI) Secretary Ramon Lopez pushed for further strengthening of the Philippines and India's trade and investment relationship during the virtual courtesy call of India Ambassador to the Philippines Shambhu Kumaran on 5 April 2021. Both countries discussed the necessary steps to create more market opportunities and improve their bilateral trade relations.
The trade chief discussed with the Indian ambassador the recently passed Corporate Recovery and Tax Incentives for Enterprises (CREATE) Act, which offers market potential to Indian manufacturing companies who plan to pursue business in the Philippines. The two officials also talked about the Regional Comprehensive Economic Partnership (RCEP) Agreement and how the Philippines can be a gateway for India to participate in the massive regional trade agreement. India had decided to decline membership in the RCEP agreement discussions. The Philippines–India Preferential Trade Agreement (PTA)—which is still in the pipeline—was also brought up in the meeting as a means to capitalize on each other's complementarities in terms of industrial strengths and resource endowments.
Moreover, Sec. Lopez mentioned that the Philippines can be India's complementary site for the production of Active Pharmaceutical Ingredients (APIs), vaccines, essential medicines, and biologicals. Market opportunities in the country's data centers and other related information technology (IT) infrastructures were also raised by Sec. Lopez, as he cited big local telecommunication companies that can serve as India's potential partners.
Meanwhile, Indian Ambassador Kumaran shared India's plans to penetrate jeepney manufacturing and electronic manufacturing industry in the country. He stated that India is also interested to learn about geothermal energy from the Philippines as part of its objectives to further renewable energy trade plans. Following the outcomes of the discussion in the 13th Philippines – India Joint Working Group on Trade and Investments (JWGTI) held on 17 September 2020, the two countries are committed to expanding their partnership in areas of agribusiness, electronics, infrastructure, renewable energy, and manufacturing, among others.
—
Stay updated with news and information from the Department of Trade and Industry by visiting their website at dti.gov.ph.