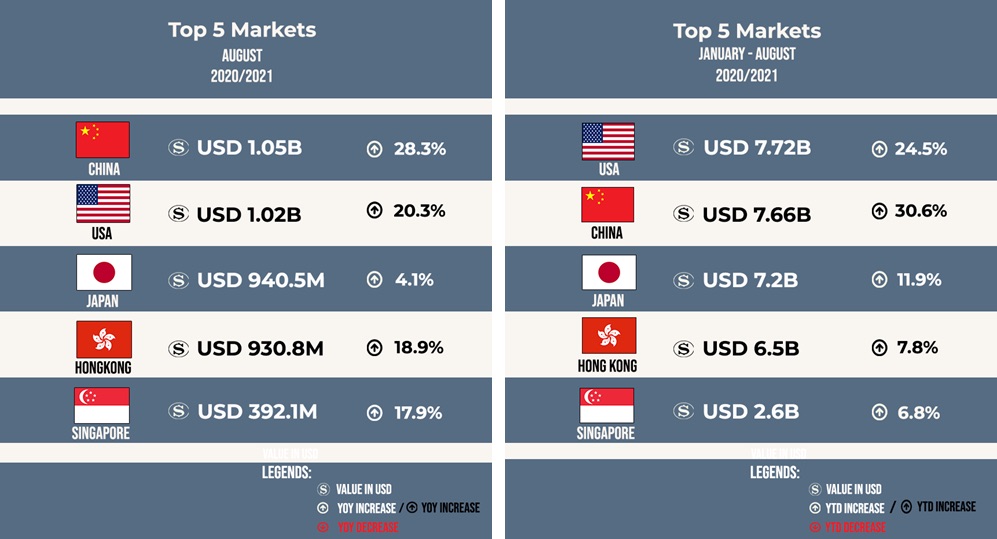 Even in the face of the rising wave of new COVID-19 cases globally, Philippine exports grew by 17.6% in August 2021 bringing cumulative exports to USD 48.9 billion for the first eight months of the year.
The year-to-date August figure is 19.6% higher than the USD40.9B recorded during the same period last year and also higher than pre-pandemic levels of USD 47.1 billion recorded in 2019, signaling good recovery.
Year-on-Year (YOY) export figures in August reached USD 6.5 billion, higher than USD 5.5 billion recorded in 2020, as well as pre-pandemic levels in 2019 of USD 6.3 billion.
The Philippine manufacturing sector was able to support export demand that is being driven by the booming consumer spending as the holiday season approaches. Data from the Philippine Statistics Authority (PSA) showed that the Philippine manufacturing sector maintained its growth, recording its fifth consecutive month of three-digit increases in August 2021. The Volume of Production Index (VoPI) grew 534.6% while the Value of Production Index (VaPI) increased 523.3%. Among the 22 industry divisions, 16 recorded increases in volume and 14 in value, both led by the manufacture of petroleum coke and refined petroleum products.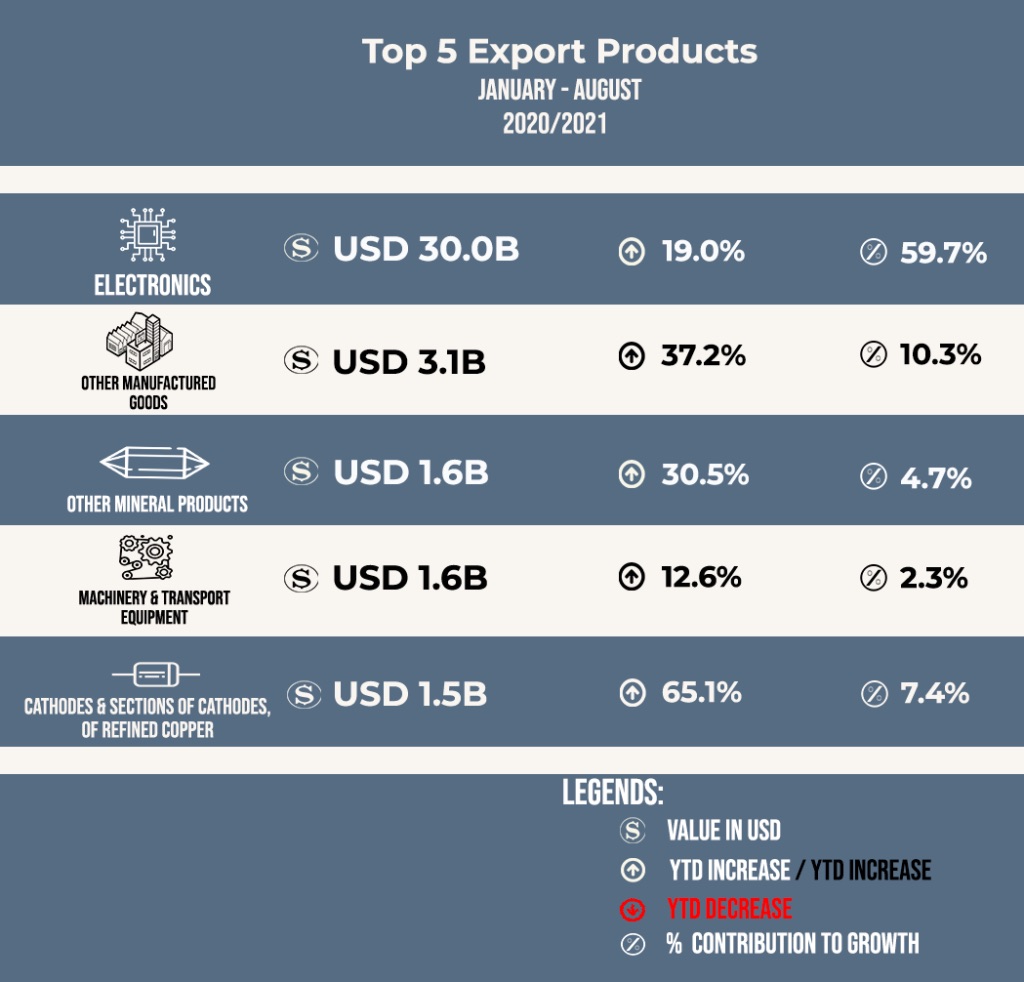 Department of Trade and Industry (DTI) Secretary Ramon Lopez said, "The continued rollout of the COVID-19 vaccination program strengthened our outlook of a return to normality in business operations over the next months.  Export growth is sustained by the continued recovery in global markets. This is also fueled by increased consumer spending as the holiday season approaches complemented by our growing manufacturing sector, which we ensured to operate at 100% capacity even during the ECQ. Moreover, this reinforces the importance our REBUILD PH economic strategy, which aims to empower local manufacturers to seize opportunities in local and foreign markets."
Exports of semiconductors, electronic data processing products, office equipment, consumer electronics, and telecommunication products contributed the highest growth at 17.7% accounting for 61.9% share YOY on total exports, equivalent to USD 4.0 billion. The Semiconductor Industry Association (SIA) recently announced that the global semiconductor industry sales increased by 29.7% amounting to $47.2 billion in August 2021.
Amid the rising costs for commodities which have surged to a 10-year high, the export of copper cathodes & sections of copper increased significantly by 162.5% and other mineral products by 30.2% in August 2021 compared to the same period in 2020. This can be attributed to the recovery in overseas demand with the world's largest copper importer, China increasing its imports by 62.8% during the month.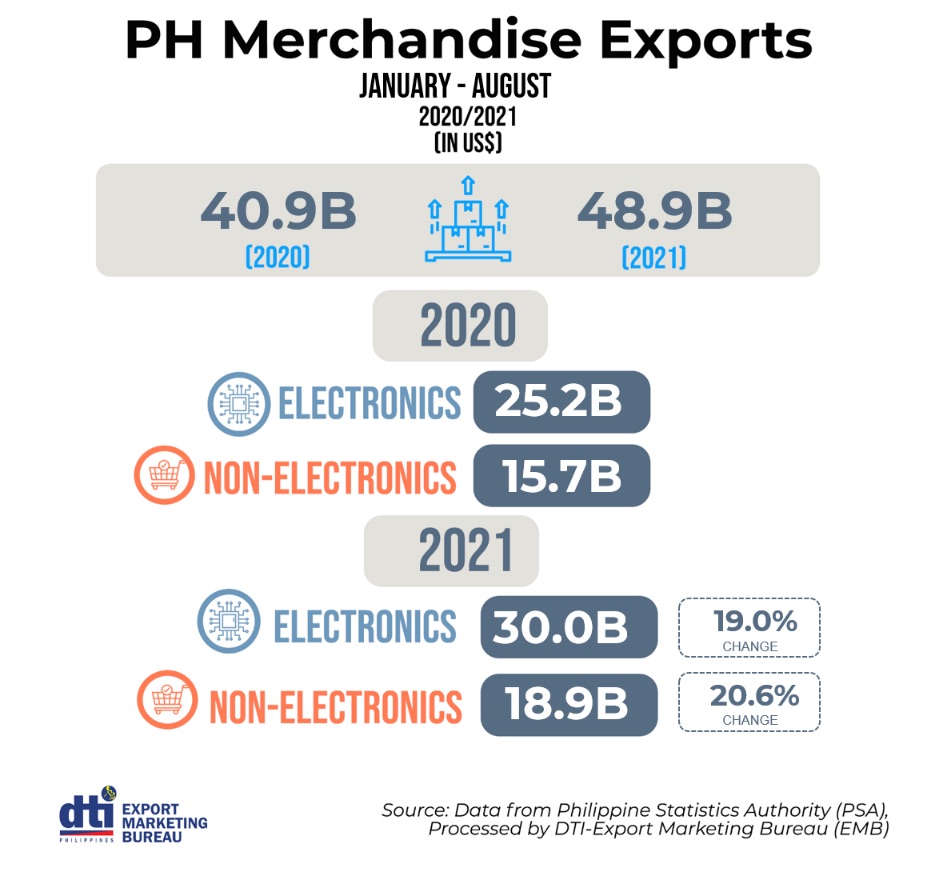 Despite the surges in COVID-19 cases in most of our top trading partners, export performance remained optimistic with double-digit growth in the US, China, and Japan markets.  Major increases in the import of medical products, consumer electronics, and electronic vehicle parts were recorded in these markets.
The US remains to be our top export market growing at about 24.5% but our exports to China have posted a much stronger cumulative growth at 30.6%. Completing the top five export markets, Philippine exports to Japan, Hong Kong, and Singapore grew by 11.9%, 7.8%, and 6.8% respectively, in August 2021.
Sec. Lopez said, "The Philippines remains on track to show a positive growth rebound in 2021. With the ongoing rollout of vaccination programs, resilient manufacturing sector, and the anticipated implementation of Regional Comprehensive Economic Partnership (RCEP) in 2022, we remain to be an attractive investment destination."
–
Stay updated with news and information from the Department of Trade and Industry by visiting their website at https://www.dti.gov.ph.