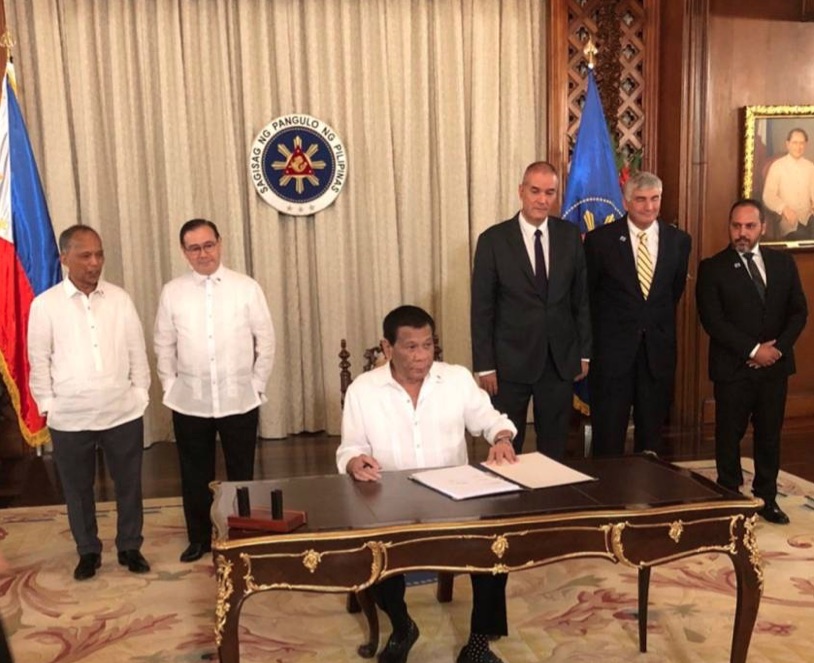 MANILA – Department of Energy (DOE) Secretary Alfonso G. Cusi attended today the Ceremonial Signing of the Petroleum Service Contract (PSC) for Area 4 (East Palawan Basin) of the Fifth Philippine Energy Contracting Round (PECR5) at the Heroes Hall of Malacanan Palace.
President Rodrigo R. Duterte and Sec. Cusi signed the PSC on behalf of the Philippine government, while Mr. Itay Raphael Tabibzada, company President and CEO, signed for Israeli firm, Ratio Petroleum Ltd.
Sec. Cusi noted that the event bodes well for Philippine-Israel economic relations, as well as the country's upstream petroleum industry.
"The President has been very clear – our country needs to attain energy security and sustainability at the soonest possible time. We are currently experiencing how our dependence on importation has left us at the mercy of price movements in the global oil markets. We need to boost the exploration and development of our own energy resources and the awarding of the petroleum service contract to Ratio Petroleum is a step in the right direction," he said.
The awarded PSC is part of PECR5, which was launched in May 2014. The PECR was established as a transparent and competitive system of awarding service or operating contracts for prospective petroleum or coal areas within the country.
Ratio Petroleum will now be able to explore Area 4, covering 416,000 hectares across the East Palawan Basin for potential oil and gas resources. Projected minimum total expenditure is valued at US$34,350,000 to be derived from studies, data gathering and drilling activities over the initial seven-year contract duration.
Established in 1992, Ratio Petroleum has a number of large-scale operations at the Levant Basin in the Eastern Mediterranean Sea, off the coast of Israel, as well as off-shore operations in the Republic of Malta and the Co-operative Republic of Guyana.
"This is the first petroleum service contract signed under the Duterte administration. In fact, the last service contract awarded was with PXP Energy Corporation. This was almost five years ago in 2013," Sec. Cusi further emphasized.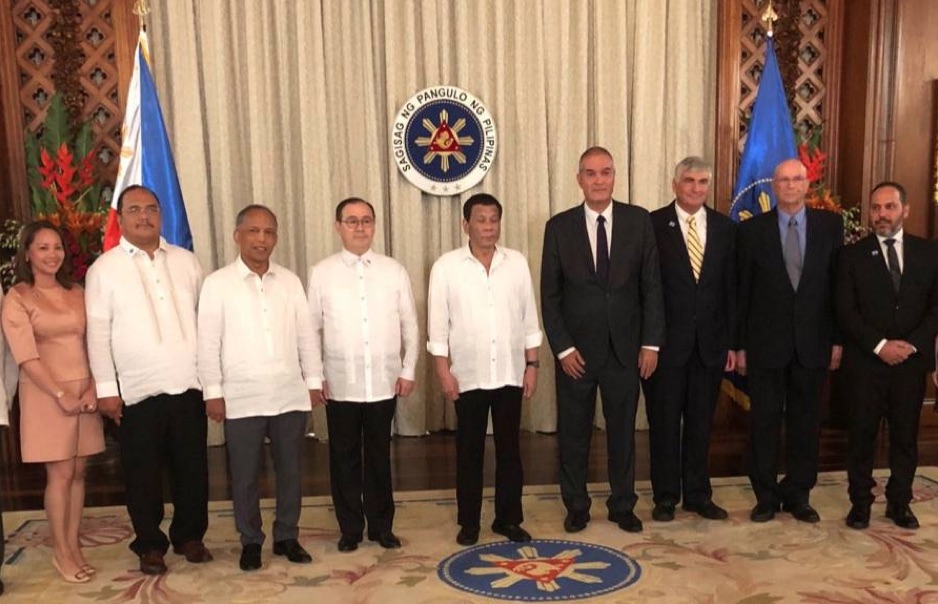 PXP Energy Corporation is the operator of PSC No. 75 in North Western Palawan under the fourth PECR. Said service contract was signed on 27 December 2013.
Also present were Undersecretary Donato D. Marcos, Assistant Secretary Aicitel E. Lascano, Assistant Secretary Leonido J. Pulido III, Assistant Secretary Gerardo D. Erguiza Jr., Director Melita V. Obillo, Ms. Maria Teresa F. Mendoza, Mr. Demujin F. Antiporda, Ms. Javerri T. Bullock, and Mr. Christian Luke C. Sevilla from the DOE, Israeli Ambassador to the Philippines Rafael Harpaz and his spouse, Mrs. Shulamit Harpaz, Deputy Chief of Mission Yulia Rachinsky-Spivakov, Mr. Yigal Landau, owner of Ratio Petroleum Ltd., and Mr. Eitan Aizenberg, Ratio Petroleum Chairman and Senior Vice President for Exploration and Production.