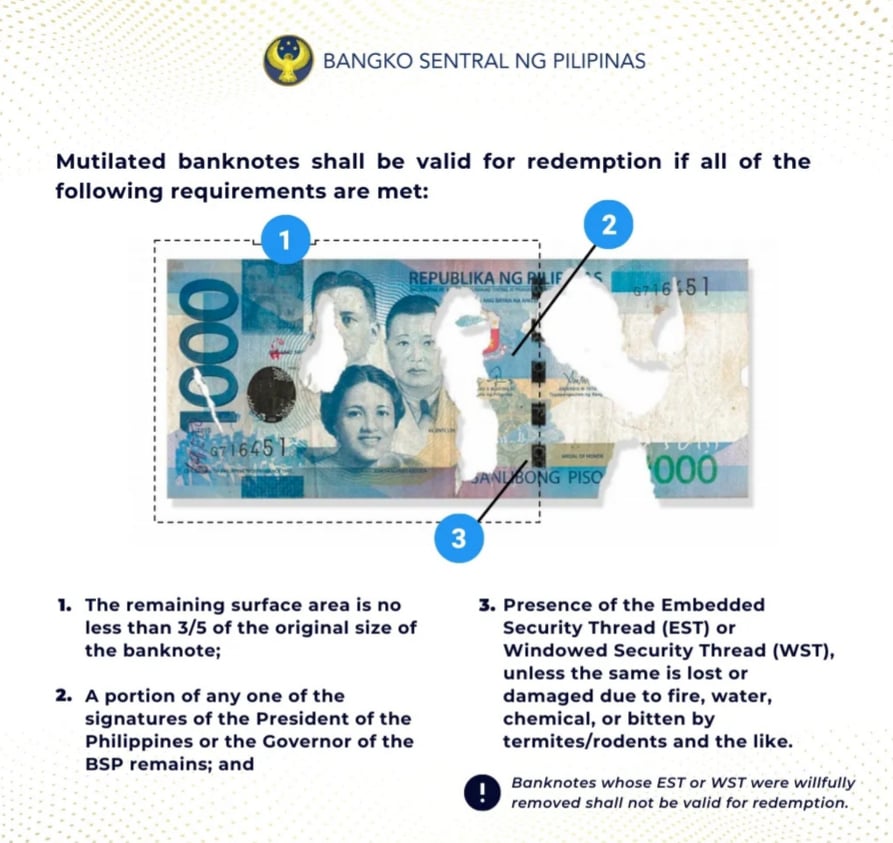 Faithful to the commitment of bringing itself closer to the people, the Bangko Sentral ng Pilipinas (BSP) recently facilitated the replacement of nearly fifty thousand pesos-worth of hard-earned yet termite-mutilated savings of a 70-year-old ice delivery man.
Adonis Buemia, who has been delivering ice for a living for 30 years, was able to buy a house, a brand-new tricycle, and even save close to fifty thousand pesos from his 300-peso daily income. Despite being a solo parent and a primary caregiver to a special child, Buemia managed to save P100 or one-third of his daily income, which he tucked away inside a cabinet in his home.
However, his savings almost disintegrated in the cabinet after termites feasted on them. Desperate to save his hard-earned cash, Buemia commented on the Facebook account of a program in a local TV station for help. In turn, the program referred his case to the BSP.
The BSP Currency Policy and Integrity Department (CPID) immediately pre-evaluated what was left of the termite-infested bills. BSP Acting Deputy Director Nenette Malabrigo contacted the bank nearest Buemia's residence and endorsed the mutilated cash for replacement. On 11 August 2021, Mr. Buemia finally received the replacement of his cash savings.
"Masayang-masaya talaga ako at napalitan na at naibalik nang buo ang ipon ko. Maraming salamat sa bangko na tinanggap nila 'yong pera. At maraming salamat sa Bangko Sentral sa lahat ng tulong para mapalitan 'yong pera ko." Buemia said.
(I am very happy that my money was replaced and returned to me in full amount. Thank you very much to [the bank] for accepting my money and cooperating with BSP. Thank you so much BSP for all your help in replacing my money.)
To qualify for replacement of dilapidated bills, BSP's regulations are as follows:
1.    the size of the remaining bill should be 60% or 3/5th of the original size of the bill;
2.    a portion of any of the two facsimile signatures must still be seen or observed; and
3.    the windowed security thread must remain intact unless otherwise caused by fire, insect and any form of unintentional mutilation.
To avoid damage caused by termites, water, and other elements, the BSP encourages the public to keep their savings in BSP-supervised financial institutions where they will be safe and secure.
The BSP earlier issued a circular, which aims to enable Filipinos to facilitate payments and save money with ease, accessibility, convenience, through the Basic Deposit Account (BDA).
BDAs are affordable, no frills and easy to open that even those without valid IDs can apply using alternative documents or via the apps of selected banks. These deposit accounts only require an opening deposit amount of P100 or less and have no maintaining balance nor dormancy charges, but may earn interest for depositors.
Further details on opening a BDA account and the list of banks offering them may be found at the BSP website and its official Facebook account:
https://www.bsp.gov.ph/Lists/Directories/Attachments/18/BDA.pdf
https://www.bsp.gov.ph/Regulations/Issuances/2018/c992.pdf
https://www.facebook.com/media/set/?set=a.2980669301996879&type=3
–
Stay updated with news and information from the Bangko Sentral ng Pilipinas by visiting their website at bsp.gov.ph.