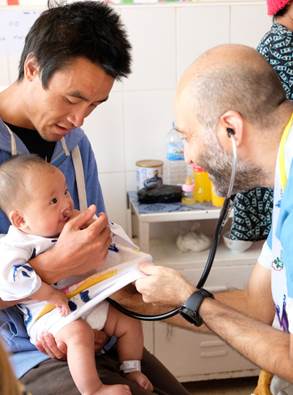 HONG KONG, June 6, 2019 – In the week of May 6 – 12, more than 10,000 Ladies and Gentlemen from 25 Ritz-Carlton hotels and resorts across Asia Pacific raised close to USD450,000 for the sixth Smile Week Asia, an initiative that is part of the luxury brand's Community Footprints program that raises funds for Smile Asia.
The combined efforts from the hotels across China, India, Japan and South East Asia witnessed the sales of 14,649 cakes. The funds raised will go to Smile Asia, offering free, life-changing surgeries to children and adults with facial deformities such as cleft lips or palates.
"Community Footprints mobilizes the resources and skills-based volunteer efforts by the Ladies and Gentlemen of The Ritz-Carlton hotels around the world to make a difference to their communities," said Victor Clavell, Area Vice President, Luxury, Asia Pacific Excluding China, Marriott International. "We are thankful to have the support from our customers and guests again this year, as they join us in our effort towards raising funds and awareness for the great work that Smile Asia does."
Smile Asia is a global alliance of independent charities with activities in Bangladesh, Bhutan, Cambodia, China, India, Indonesia, Japan, Laos, Malaysia, Mongolia, Myanmar, Philippines, Singapore, South Korea, Thailand, Timor-Leste, United States and Uzbekistan. It deploys medical volunteers to offer surgical care to patients, especially children, living in remote and medically-inaccessible areas in the region to perform corrective and reconstructive surgeries which have the power to transform their lives for the better.
"The Smile Asia Week initiated by The Ritz-Carlton in 2014 has attained almost a cult status in many countries. Smile Asia office now gets calls from supporters asking for the cake up to two months prior to the event. In some countries, the cakes are sold out even before the start of the week. All this is possible because of the incredible hard work by thousands of Ladies and Gentlemen of The Ritz-Carlton from across Asia. The crown goes to them, whose support resulted in so many life-changing surgeries," said Abhimanyu Talukdar, Secretary-General for Smile Asia.
As Marriott International continues to grow, with more than 7,000 properties spanning 130 countries and territories, the company remains committed to taking care of the communities where it operates. Marriott International embraces its global responsibility and unique opportunity to be a force for good, guided by its sustainability and social impact platform, Serve 360: Doing Good in Every Direction.
The company's support towards Smile Asia is in line with 'Nurture Our World', one of the four priority areas under Serve 360. Besides the annual regional fundraising initiative through Smile Asia Week, Ladies and Gentlemen from The Ritz-Carlton hotels and resorts across Asia Pacific can volunteer in Smile Asia medical missions in 2019.
About Smile Asia
Smile Asia® is global alliance of independent charities that offer free surgeries to children with facial deformities, including cleft lip and palate. It has activities in 20 countries and program delivery in 13 Asian countries. Till date, the charities under Smile Asia have delivered nearly 70,000 surgeries combined. Smile Asia® is represented by The Smile Mission as its International Secretariat. It is a Singapore-registered charity and adheres to local regulatory requirements. For more information, visit www.smileasia.org.
About Community Footprints
With a commitment to "Expand Global Citizenship," The Ritz-Carlton social and environmental responsibility program, Community Footprints, is embedded into the company's service values, long-range plan and business operations. This commitment is focused on children's well-being, environmental responsibility and hunger and poverty relief. For more information, visit www.communityfootprints.com, or follow The Ritz-Carlton Community Footprints on Twitter: www.twitter.com/RitzCarltonCSR.
About The Ritz-Carlton Hotel Company, LLC
The Ritz-Carlton Hotel Company, L.L.C., of Chevy Chase, MD., part of Marriott International, Inc., currently operates more than 100 hotels and over 45 residential properties in 30 countries and territories. For more information or reservations, visit the company web site at www.ritzcarlton.com, for the latest company updates, visit news.ritzcarlton.com and to join the live conversation, use #RCMemories and follow along on Facebook, Twitter, and Instagram. The Ritz-Carlton Hotel Company, L.L.C. is a wholly-owned subsidiary of Marriott International, Inc. (NASDAQ:MAR). The Ritz-Carlton is proud to participate in Marriott Bonvoy, the new name of Marriott's travel program replacing Marriott Rewards®, The Ritz- Carlton Rewards®, and Starwood Preferred Guest® (SPG). The program offers members an extraordinary portfolio of global brands, experiences on Marriott Bonvoy Moments and unparalleled benefits including earning points toward free hotel stays and nights toward Elite status recognition. To enroll for free or for more information about the program, visit MarriottBonvoy.marriott.com.