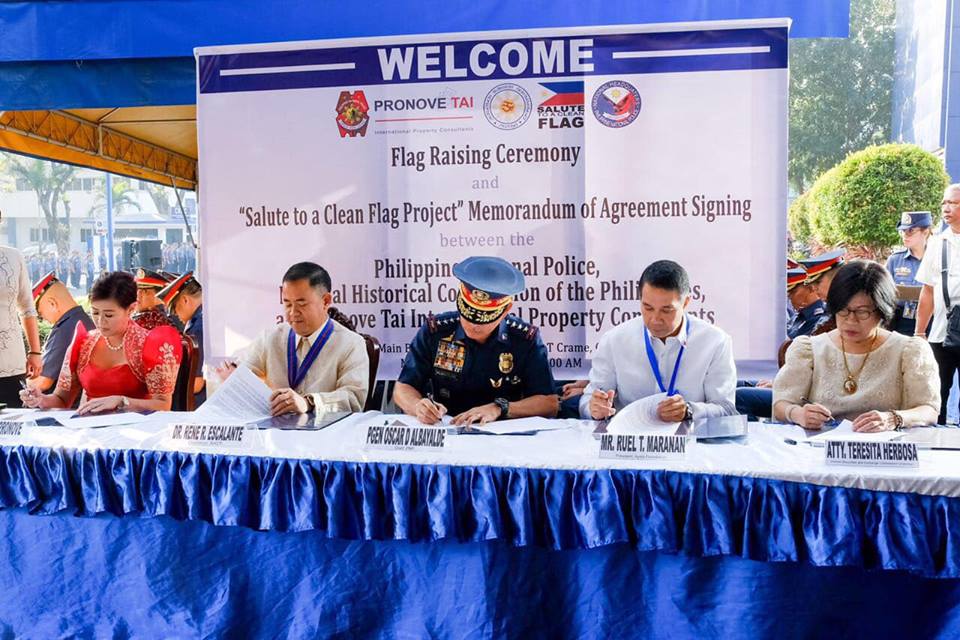 Significant government agencies and representatives from the private sector showed solidarity in honoring the flag by signing a Memorandum of Agreement (MOA) as an effort to revive patriotism by encouraging the display of clean and new flags all over the country.
The event was attended by the Philippine National Police, National Historical Commission of the Philippines, Pronove Tai International Property Consultants and Ayala Foundation Inc. It was also attended by renowned actor John Arcilla who played Heneral Luna and Salute to a Clean Flag (STACF) Ambassador, Teresita Herbosa, former Securities and Exchange Commission (SEC) Chairperson and descendant of Jose Rizal as well as niece of Delfina Rizal Herbosa de Natividad – one of the three women who sewed the flag in 1898.
The ceremony was broadcasted simultaneously to 1776 police stations in the entire country including San Ildefonso, Surallah South Ccotabato MPS, Norala South Cotabato MPS, PRO 12 Regional Public Information Office General Santos City, Police Regional office MIMAROPA, Barira Maguindanao MPS, San Nicolas, Minalin Pampanga Municipal Building, Padre Burgos Police Station among others.
The Salute to a Clean Flag Project aims to promote renewed respect and love for the Philippine flag through raising awareness in both the public and private sector in order revitalize patriotism in the country. Actor John Arcilla is one of its strongest supporters, "This advocacy shows what we can do as a country if we learn to unite as one. This ceremony brought together both the public and private sector and reminded us of the significance of our flag."