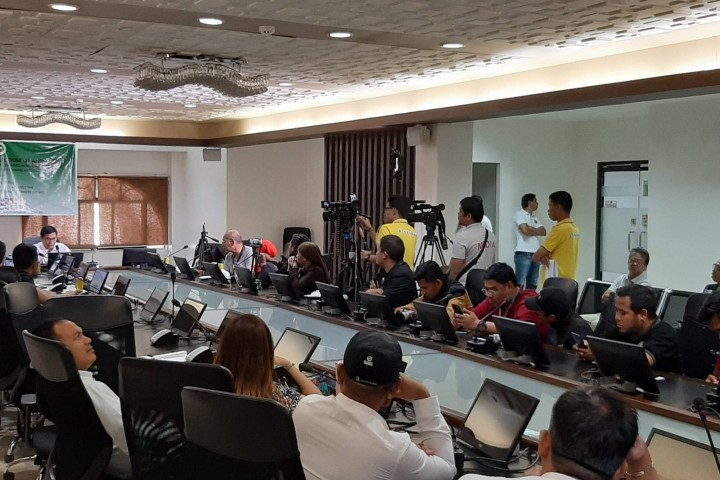 Cotabato City—To protect the rights of the Bangsamoro Overseas Filipino Workers (OFWs), the Bangsamoro Government signed a Memorandum of Agreement (MOA) with the Blas F. Ople Policy Center on Tuesday, January 21, at the Bangsamoro Government Center here.
Said MOA, which aimed at creating the Bangsamoro Task Force against Human Trafficking of OFWs from the region, was signed by BARMM Executive Secretary Abdulraof Macacua and Blas F. Ople Policy Center President Susan Ople.
The Blas F. Ople Policy Center is working closely with the Inter-Agency Council against Trafficking (IACAT) in strengthening a specialized task force for monitoring and providing support for the investigation and prosecution of trafficking cases against OFWs.
In his message, Macacua emphasized that "in an ideal world, all our Bangsamoro brothers and sisters working abroad will go back to their roots and would no longer have to leave apart from their families – so, they won't have to be exposed to the dangers of human trafficking."
"We owe a lot to the Bangsamoro OFWs who actively campaigned for the passage of the Bangsamoro Organic Law and publicly supported and encouraged their family to vote 'yes' to the ratification of the said law exactly a year ago today [January 21, 2020]," he added.
The Bangsamoro Task Force against Human Trafficking of OFWs
"The said agreement is a commitment of BARMM to guarantee the fundamental rights of the Bangsamoro against human trafficking and other forms of abuse and human rights violations," Macacua said adding that it is unfortunate that OFWs are vulnerable to human trafficking.
He also stated that despite the rising statistics of human trafficking involving OFWs, more and more Filipinos are enticed by the promise of a greener pasture abroad.
Meanwhile, Attorney General Sha Elijah Dumama-Alba said that the creation of the Bangsamoro Task Force against Human Trafficking of OFWs hopes to "establish mechanisms of detecting and identifying early signs of human trafficking by setting up credible and reliable data management and case monitoring system on OFWs and human trafficking incidence."
She said it will also identify, determine, and discuss the root causes of illegal migration to determine its approach on how to effectively combat trafficking networks, as well as receive, document, track, report, and gather evidences on human trafficking involving Bangsamoro OFWs case build-up.
The creation of the Bangsamoro Task Force is spearheaded by the Office of the Chief Minister (OCM). Other ministries and offices of BARMM will also be represented in the said Task Force. The OCM is set to identify and designate a focal office to spearhead the operation of the said Task Force. (Bureau of Public Information-BARMM)