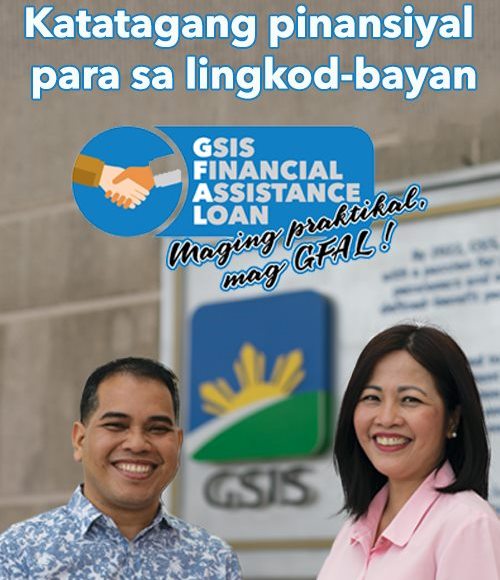 Pasay City — The Government Service Insurance System (GSIS) has saved its 190,000 members who have fallen victims to loan sharks and '5-6' lenders who offer quick financial relief but have left them buried deeper in debt with high interest rates.
"The GSIS Financial Assistance Loan (GFAL) program is our intervention measure in response to President Rodrigo Duterte's order to help end the cycle in which GSIS members fall prey to predatory lending businesses that charge staggering interest rates," Chairman and Acting President and General Manager Rolando Ledesma Macasaet said.
He said GFAL is a facility that enables GSIS members to pay their outstanding loans with lenders at a lower interest rate of 6 percent per annum and longer payment term of six years.
"The program ensures our members higher take-home pay, decent wage, and protection for their future benefits from unwanted deductions," Macasaet added.
Through GFAL, qualified members may consolidate and transfer to GSIS up to P500,000 of their outstanding loan balance with private lending institutions, government banks, or cooperatives that are accredited or recognized by their agency. GSIS will directly pay the lenders, while the member-borrower will amortize the loan through salary deduction.
GSIS has disbursed a total of P77 billion since the program's launch on May 15, 2018. The average loan amount per borrower is P403,000.
According to Macasaet, GSIS members' loans balloon in just a few years due to hefty loan terms imposed by lenders. With GFAL, they regain their financial freedom.
For good measure, GSIS has also introduced GFAL's Top-Up Loan feature to provide member-borrowers financial assistance for their personal needs. Borrowers whose outstanding loans transferred to GSIS do not exceed Php500,000 may opt to borrow the remaining amount via the Top-Up Loan, with proceeds directly released to them.
"It is an additional credit line to dissuade our members from going back to lenders," Macasaet explained.
GFAL also aims to educate member-borrowers in handling finances. Applicants are thus required to attend the GSIS Financial Literacy Seminar prior to GFAL grant.
To date, GSIS has forged memoranda of agreement (MOAs) with 1,275 government agencies allowing their respective employees to apply for GFAL. The total number of government agencies covers 2,554 attached agencies, sub-agencies, and regional offices.  MOAs ensure agencies' commitment to prioritize payment and remittance of GSIS loans.
To accommodate more members, GSIS has extended GFAL's application deadline until 26 July 2020.
For more information on GFAL, member-borrowers may visit the GSIS website, www.gsis.gov.ph, or Facebook account, @gsis.ph; email [email protected]; or call the GSIS Contact Center at 8847-4747 if in Metro Manila or 1-800-8-847-4747 (for Globe and TM subscribers) or 1-800-10-847-4747 (for Smart, Sun, and Talk 'N Text subscribers).