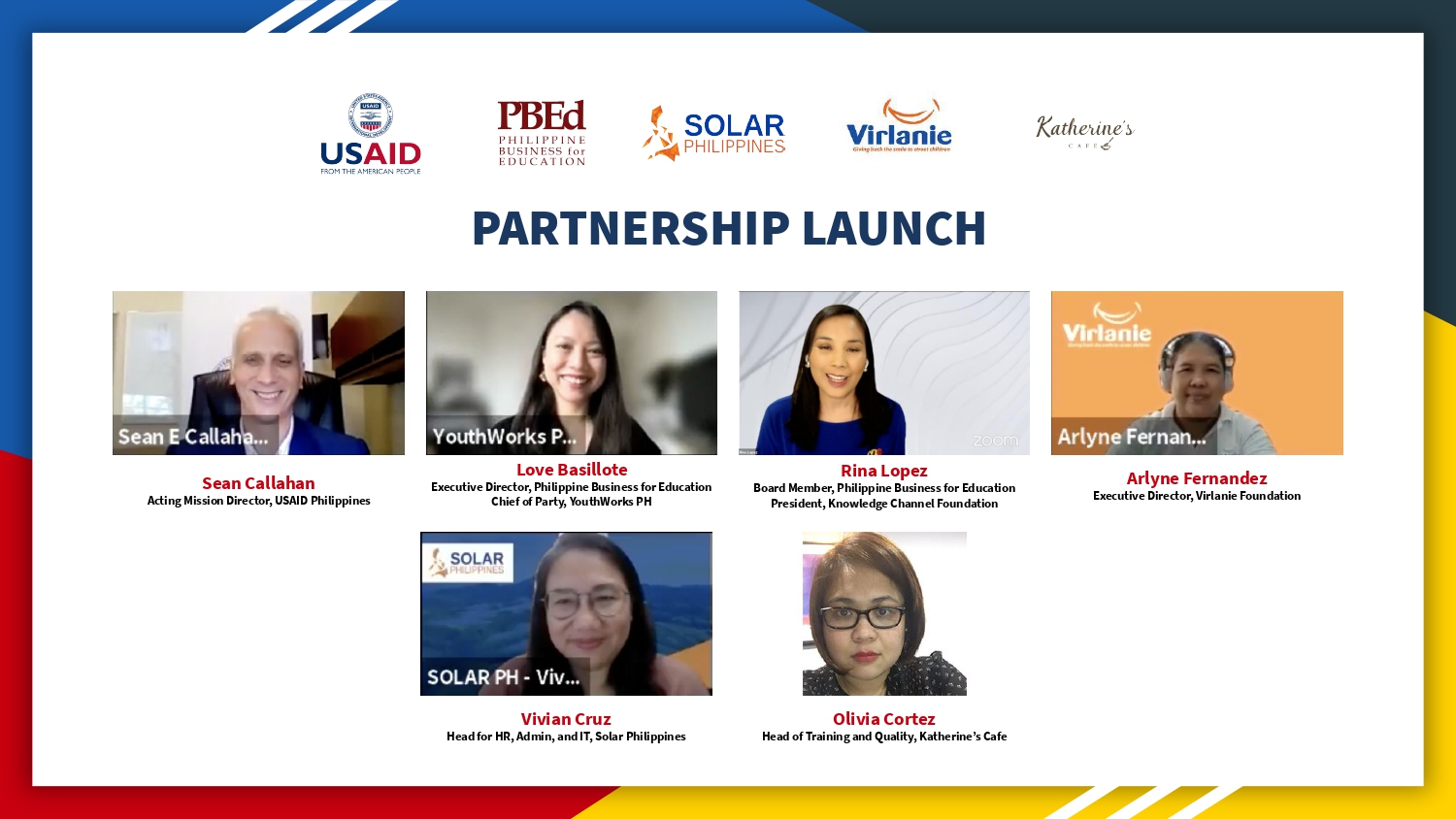 Youthworks PH, a private sector-led initiative by the United States Agency for International Development (USAID) and Philippine Business for Education (PBEd) is facilitating the opening of more than 300 work-based training slots for youth not in education, employment, or training in the renewable energy sector and food and beverage industry in time for National Tech-Voc Day on August 25.
USAID and PBEd signed partnerships with Solar Philippines, Katherine's Cafe, and Virlanie Foundation. Solar Philippines—a leading solar power provider in the country—will provide 300 training slots for land survey associates in the provinces of Batangas and Quezon, and Katherine's Café will offer 30 on-the-job training slots for food and beverage services trainees.
Virlanie Foundation will support the recruitment of trainees from their communities with a total trainee subsidy worth Php100,000 to cover pre-employment requirements of trainees.
This is part of YouthWorks' Flexible Training for Work program, which offers participants technical-vocational and life skills training, mentoring, on-the-job training, and a training stipend from partner companies. Successful trainees then get a chance at full-time employment in the partner companies.
Since 2018, USAID and PBEd have provided more than 11,000 slots for unemployed and out-of-school youth, and have given access to free training opportunities to almost 7,500 beneficiaries.
"The U.S. government has committed more than Php260 million over five years for this effort. But what is more impressive is that our partners in government, academia, and industry, led by PBEd, are also mobilizing resources to achieve our common goals," said USAID Philippines Acting Mission Director Sean Callahan. "Our collaboration on work-based training is a strong statement of support for technical-vocational training as an important pathway for upskilling our youth so that they can have more and better employment opportunities."
PBEd Board Member Rina Lopez stated that "PBEd values the significant role the youth play in nation-building and collaboration, which are vital to harnessing the untapped potential of youth, increasing inclusive growth, and expanding employment prospects."
–
Stay updated with news and information from the US Embassy in the Philippines by visiting their website at https://ph.usembassy.gov.