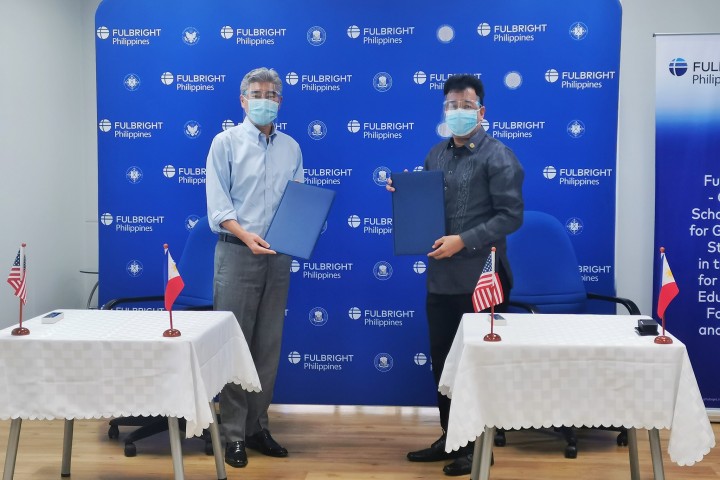 The Commission on Higher Education (CHED) and the Embassy of the United States of America signed on Monday, August 24, a new CHED-Fulbright agreement to implement a scholarship program to send Filipino higher education institution (HEI) personnel abroad to pursue graduate degree and non-degree thesis/dissertation programs in American universities.
U.S. Ambassador to Philippines Sung Kim and CHED Chairman J. Prospero E. De Vera III signed the new CHED-Fulbright agreement to boost student and faculty mobility in various fields of study and facilitate alternating missions to the Philippines and United States for higher education executives and stakeholders.
The Fulbright program which was founded by United States Senator J. William Fulbright in 1946, is one of the most widely recognized and prestigious scholarships in the world. It has produced luminaries such as former Senator Rene Saguisag, former Supreme Court Chief Justice and Senate President Marcelo Fernan, National Artists Bienvenido Lumbera, Napoleon Abueva, Abdulmari Asia Imao, and Lucrecia Kasilag, and National Scientist and former CHED Chairperson Angel Alcala. CHED Chairman De Vera was a Fulbright Hays Scholar at the University of Southern California and a Senior Fulbright Visiting Fellow at the Johns Hopkins University.
Many current and former Presidents of state universities and colleges (SUCs) such as Dr. Shirley Agrupis (Mariano Marcos State University), Dr. Lourdes Generalao (University of Southeastern Philippines, Dr. Anthony Penaso (Caraga State University), Dr. Joy Sorrosa (Davao del Norte State College) and Dr. Herbert Reyes (Northwestern Mindanao State College of Science and Technology) are also products of the program.
Since 1948, PAEF has awarded Fulbright grants to nearly 3,000 Filipinos and close to 1,000 Americans to study, teach, lecture, and conduct research in the United States and the Philippines.
"CHED through Commission en Banc (CEB) Resolution No. 501-2016 approved the partnership between the CHED and the Philippine-American Educational Foundation (PAEF). We are giving PHP164 million for the next batch of scholars," De Vera said.
In November 2, 2016, CHED and PAEF awarded its first batch of Fulbright – CHED Scholarship grantees for the September 2017 Intake, which was composed of seventeen (17) competent and highly qualified Filipino higher education faculty and staff who would pursue their graduate studies in the United States. The 17 scholars pursued a Master's degree (7 scholars), nine (9) pursued a Doctorate degree, and one (1) pursued a Doctoral Dissertation Research in different American universities.
A total of nineteen (19) Fulbright-CHED scholars were sent for graduate studies in the US in September 2018 (9 PhDs, 6 MAs, and 3 Non-degree grantees).
The Scholarship provides funding support for tuition and fees, non-academic fees, monthly allowance, airfare, excess baggage, in-transit allowance, dissertation, and other academic support., which is equivalent to USD 77,250 or PHP3.9 Million (conversion based on the date of signing) for two years.
"Currently, we have 18 scholars (11 from batch 1 and 7 from batch 2) who have already completed their program and are expected to render return service to their respective sending higher education institutions," De Vera said.
"The Fulbright program has produced so many outstanding leaders in the academe, industry and in government. This new agreement continues this valuable and mutually beneficial partnership between the two countries", he added.
The signing ceremony was held at the Fulbright Head Office in Greenfield Tower, Mandaluyong City and was also attended by the representatives from the U.S. Embassy: Public Affairs Officer Philip Roskamp, Cultural Affairs Officer Matt Keener and Cultural Affairs Specialist Christine Grace Catindig; representatives from Fulbright Philippines: Executive Director Julio Amador III and Program and Communications Officer Joanne Fajardo and; CHED OIC Deputy Executive Director and International Affairs Staff (IAS) Director Lily Freida M. Milla.
—
Stay updated with news and information from CHED by visiting their website at https://ched.gov.ph.