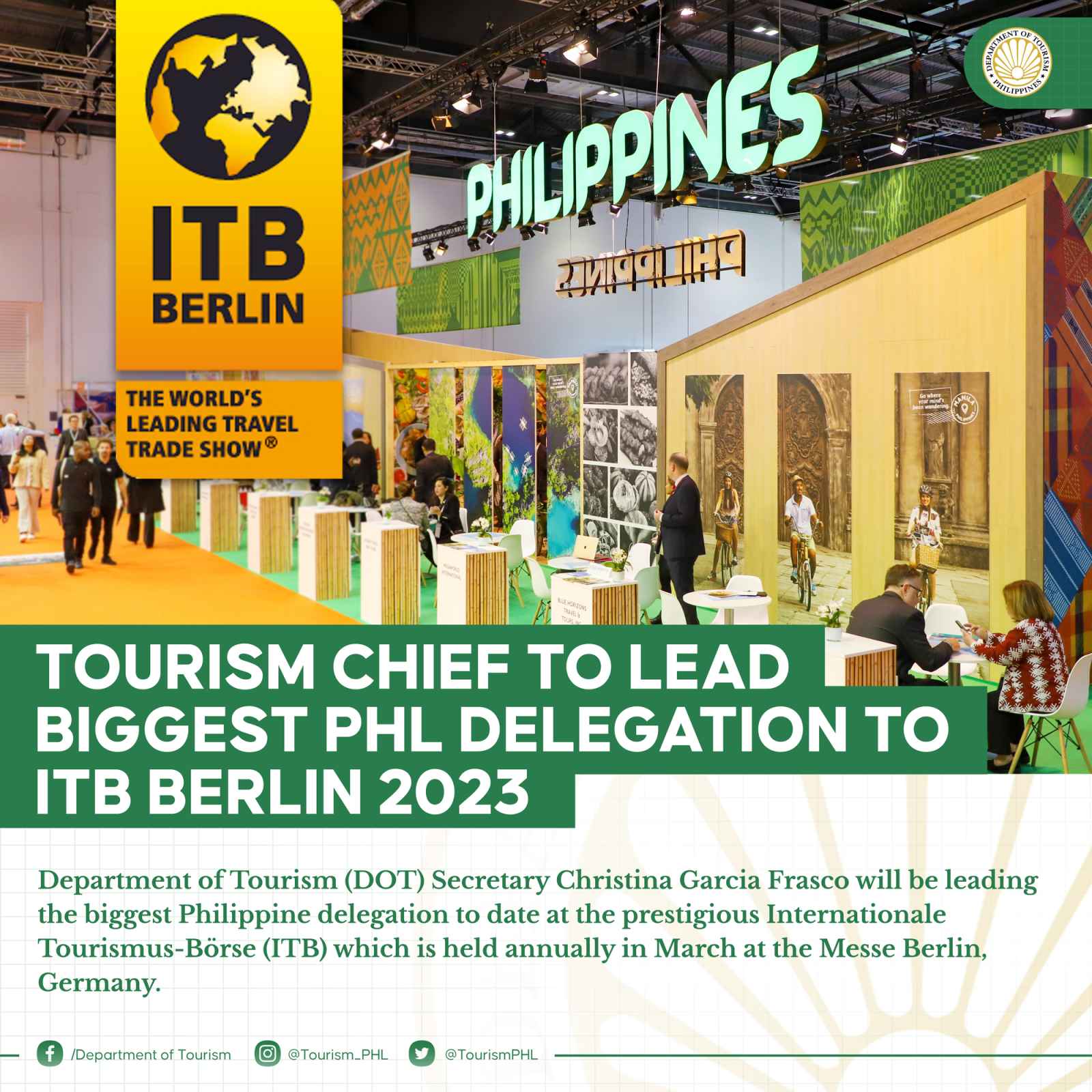 Department of Tourism (DOT) Secretary Christina Garcia Frasco will be leading the biggest Philippine delegation to date at the prestigious Internationale Tourismus-Börse (ITB) which is held annually in March at the Messe Berlin, Germany.
A combined group of 27 co-exhibitors from the public and private sector consisting of 43 delegates will be attending the March 7 to 9 event. DOT officials, together with the Tourism Promotions Board's COO Margarita Nograles, also join the Secretary in representing the Philippines.
ITB is considered as the world's biggest travel and trade event, with over 10,000 exhibitors and 160,000 visitors from Europe, Asia, Africa, America, and Oceania expected to be in attendance.
Aside from dignitaries of various governments, representatives from tour operator businesses, tourist organizations, travel technology, hotel enterprises, destination management companies, travel agencies, tourism organizations and institutions, traffic carriers, business travel and research institute/educational institutions will be present for the business-to-business (B2B) event and product display.
"The ITB Berlin holds great opportunities for the Philippines to showcase to the world its award-winning destinations such as Boracay, Cebu, Siargao, and Palawan, and also to include Banaue, Intramuros, and South Cotabato, among others. We also look forward to giving the world a view into our distinct and diverse culture, as well as the country's best asset: the warmth and hospitality of the Filipino people," the tourism chief said with full optimism.
"Our participation is pursuant to further positioning the Philippines as a tourism powerhouse in Asia, and hopefully the world in the years ahead," she added, citing also that the ITB attendance will help fastrack the recovery efforts by the DOT of the pandemic-hit industry.
Further, the Tourism Promotions Board, as the marketing arm of the DOT, will host the Philippine Reception which will feature homegrown Filipino talents and Cebu's Lapu-Lapu Arnis de Abanico, a martial arts club promoting the preservation of cultural and historical heritage of Mactan Island and the province as a whole.
The tourism secretary will also commence her listening tour at the German capital, which will be attended by tourism stakeholders from Germany, France, Switzerland, and the Netherlands.
The DOT will also hold the international launch of the Bisita, Be My Guest Program (BBMG) on the sidelines of the ITB.
Private sector participants to the ITB Berlin from the Philippines include Airtrav Philippines, Araw Hospitality Inc., Amorita Resort, Annset Holidays, Inc., Baron Travel Corporation, Batanes Wakay Travel and Tours, Blue Horizons Travel & Tours Inc., Bohol Beach Club, Chroma Hospitality Inc. (Crimson Hotels & Resorts), Club Agutaya Inc., CTPH Lifestyle & Travel Services, Divaishnavi International Inc., El Nido Resorts, Evasion Tropicale Travel and Tours, GI Philippines Corp., Intas Destination Management Inc., Marsman Drysdale Travel Inc., MyTRIPS Travel and Tours, Plantation Bay Resort and Spa, Rajah Tour Philippines, Sharp Travel Service, Sarah Lea Travel and Tours, The Funny Lion, Total Exhibit & Expo Solutions, Inc., Travelexperts, Inc., Travelite Travel and Tours Co., and the Philippine Retirement Authority (PRA).