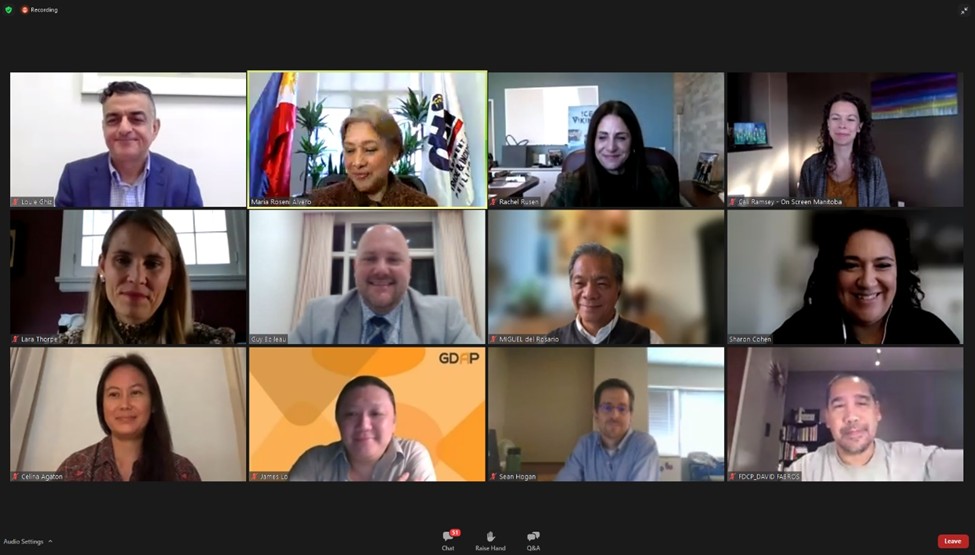 Around 90 stakeholders from both the Philippines and Canadian creative arts industry gathered in a two-part event comprising of a webinar and three (3) simultaneous workshop sessions entitled "Linking the Creative Economies of the Philippines and Manitoba" on 4 and 10 November 2021, respectively.
The successful event was organized to provide an overview of the creative arts industry in both countries as well as a platform to discuss topics such as;
(1) Advancing the Philippines-Canada Audio Visual Co-Production Agreement,
(2) Capacity Building through Education and Training Programs, and
(3) Advancing Canadian Technology in the Audiovisual Industry.
Its aim is to forge relationships and cooperation among government agencies, private sector organizations, and educational institutions in the Philippines and Manitoba in the areas of film, animation, and game development; Explore possible partnerships between educational and training institutions for the development of talent in original content and IP creations, and high level technical skills; Leverage advanced technologies in the areas of animation, visual and sound effects, virtual and augmented reality, etc; and identify trade and investment opportunities.
DTI CIG Undersecretary Rafaelita M. Aldaba and PTIC-Toronto Senior Trade Commissioner Maria Roseni Alvero represented the team from the Philippines side while Senior Trade Commissioner Guy Boileau of the Embassy of Canada in the Philippines and Deputy Minister Tracie Machonachie of the Manitoba Ministry of Economic Development and Jobs represented from Canadian side. DTI TPG Undersecretary Abdulgani M. Macatoman also graced the event by delivering an opening message.
The Project was jointly organized by the Department of Trade and Industry (DTI) Philippines, through the Philippine Trade and Investment Center (PTIC) in Toronto, the Export Marketing Bureau (EMB), the Competitiveness and Innovation Group (CIG), and the Government of Manitoba, Ministry of Economic Development and Jobs. Partner institutions from the Philippines include; Film Development Council of the Philippines (FDCP), Creative Economy Council of the Philippines (CECP), Animation Council of the Philippines, Inc. (ACPI), Game Developers Association of the Philippines (GDAP), and Creative Content Creators Association of the Philippines, Inc. (SIKAP).
Some key takeaways from the event;
(1) Creative industry is one of the services sector with the greatest potential for exports and investments growth.
(2) The Philippines has a robust pool of talented artists, and the creative know-how in developing games, animated films, and digital anime series among other creative contents.
(3) Philippines strengths in creative sector include security and protection of intellectual property.
(4) Manitoba as a filmmaker's mecca with the most generous tax credits in the industry and robust workforce development.
(5) Manitoba is among the most competitive jurisdictions for interactive digital media, gaming, and film production in North America.
–
Stay updated with news and information from the Department of Trade and Industry by visiting their website at dti.gov.ph.