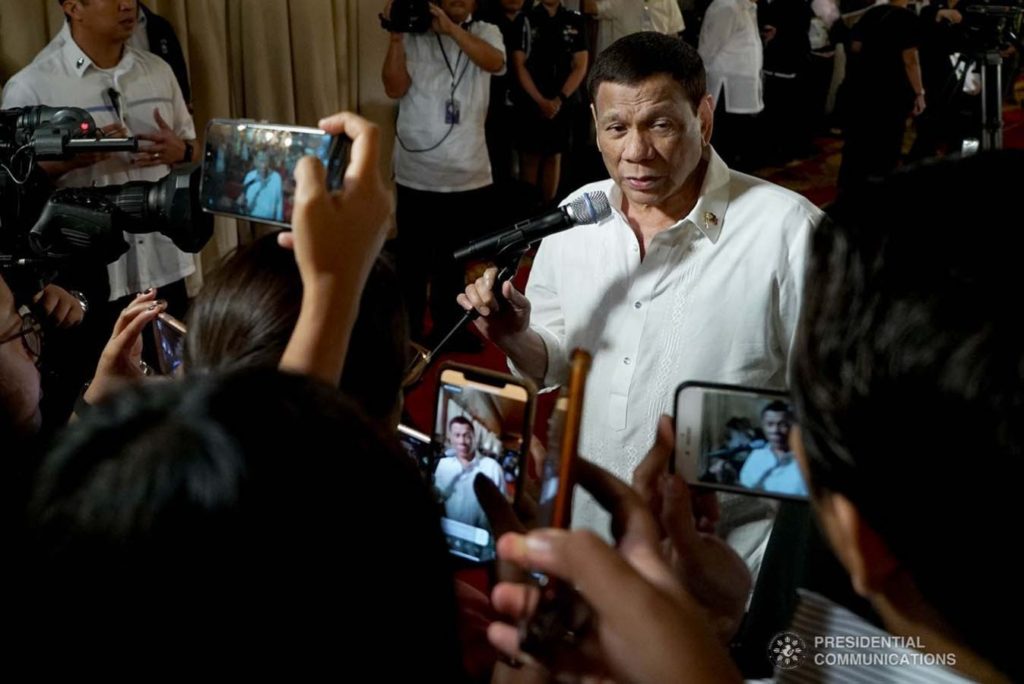 President Rodrigo Roa Duterte, in an interview with reporters in Malacañang during the oath taking of newly promoted police officers, told reporters on Thursday, August 8 that he would discuss the United Nations arbitral tribunal's ruling favoring the Philippines and the Code of Conduct (COC) in the South China Sea with Chinese President Xi Jinping when he meets the Chinese leader this month.
It was announced that the President will make his 5th visit to China to meet President Xi and watch the Gilas Pilipinas compete in the 2019 FIBA World Cup in Foshan, China.
President Duterte said the South China Sea is becoming a very critical issue—stressing that he does not want any trouble for the Philippines.
"So I'd talk about the arbitral ruling itself and then the Code of Conduct. And 'yung other sides…'yung mga marine resources, let us first be sure that we have the access. And I'm most interested in the exploitation of the natural resources," the President told reporters.
Further adding that if it's without touching on the validity of who's the real owner, we can begin the dialogue.
"I'd talk first about jurisdiction, the COC, and the exploitation of the natural resources of my country since as far as I'm concerned, we own it. So that is my position."
President Duterte also pushed for the completion of the COC during his attendance to the 34th Association of Southeast Asian Nations (ASEAN) Summit in Thailand last June.
Leaders from Southeast Asia have also committed to fast-track the completion of an effective COC in the disputed South China Sea in the wake of the ramming of a Filipino fishing boat by a Chinese vessel in Recto Bank.
The ASEAN and China have so far came up with the non-binding 2002 Declaration on the Conduct of Parties in the South China Sea (DOC).