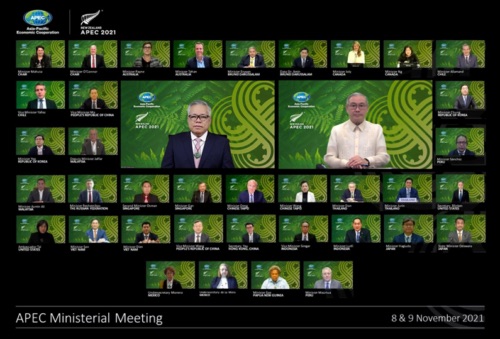 In the recently concluded Asia-Pacific Economic Cooperation (APEC) Ministerial Meeting held last 8-9 November 2021, Department of Trade and Industry (DTI) Secretary Ramon M. Lopez urged for inclusive globalization to accelerate economic recovery that will ensure resilience and sustainability. In the exchange of views and experiences on a regional response to the health and economic crisis among APEC ministers, Sec. Lopez called on his fellow Ministers to intensify regional and international cooperation to support recovery efforts particularly in the areas of trade, investments, and health.
The Trade Secretary emphasized that more trade and investments can power the recovery efforts from the pandemic, but said there is a need to address the uneven recovery across different economies and groups. Leveraging on APEC's new agenda under the APEC Putrajaya Vision 2040, he stressed the need to build capacity and empower the vulnerable groups to enable them to be a substantial part of the global value chain. This includes digital empowerment of MSMEs so that they can take advantage of the increasing opportunities of e-commerce.
"Unwarranted non-tariff measures must be avoided as they are burdensome for our exporters, especially MSMEs," Sec. Lopez added. "At the height of the pandemic, the Philippines did not impose any export restrictions and prohibitions on even the most critical of COVID-19 essential products," the trade chief reiterated to his fellow APEC leaders.
Ahead of the World Trade Organization's (WTO) 12th Ministerial Conference to be held in Geneva, Switzerland later in November, Secretary Lopez previewed the country's priorities and expectations for the forthcoming meeting. Among others, he called for the immediate conclusion of longstanding negotiations on fisheries subsidies and agriculture and encouraged progress in discussions on the joint initiatives on e-commerce, MSMEs, investment facilitation, and trade and gender.
Recognizing the crucial role the WTO plays in addressing the challenges of the pandemic, Secretary Lopez stressed the importance of delivering a concrete outcome on trade and health. "The Philippines is supportive of all international efforts that will provide or ensure equitable access to safe, affordable and effective diagnostics, therapeutics and vaccines to contain the COVID-19 pandemic," he said.
He further shared that the Philippines is ready to welcome and support manufacturers to ramp up domestic production of COVID-19 vaccines and medical products. The Philippines already signified that it is ready to engage in text-based negotiations on proposals to temporarily waive certain provisions of the WTO TRIPS Agreement.  This is in line with the country's goal to position itself as a manufacturing hub for pharmaceutical companies of COVID-19 vaccines and medicines.
The two-day APEC Ministerial Meeting was held virtually from 8 – 9 November 2021. DTI Secretary Ramon M. Lopez and DFA Secretary Teodoro Locsin, Jr. led the Philippine delegation in the meetings. As an outcome document, APEC Ministers successfully closed the meeting by adopting a joint statement as a testament of APEC's efforts and deliverables achieved in 2021 under New Zealand's chairmanship.