In preparation for the proposed transition of Metro Manila from General Community Quarantine (GCQ) to Modified General Community Quarantine (MGCQ), Department of Trade and Industry (DTI) Consumer Protection Group (CPG) Undersecretary Ruth Castelo and DTI Fair Trade Enforcement Bureau (FTEB) Director Ronnel Abrenica led a special price and supply monitoring of Agricultural and Processed Basic Necessities and Prime Commodities (BNPC) in two supermarkets and two cinemas in Pasig City and Quezon City on 17 February 2021.
The DTI-FTEB monitoring team reported compliance with Republic Act (RA) 7581 or the Price Act by the two supermarkets, as the prices of BNPC being sold therein are within the Suggested Retail Price (SRP) Bulletin dated 30 September 2019 published by the DTI.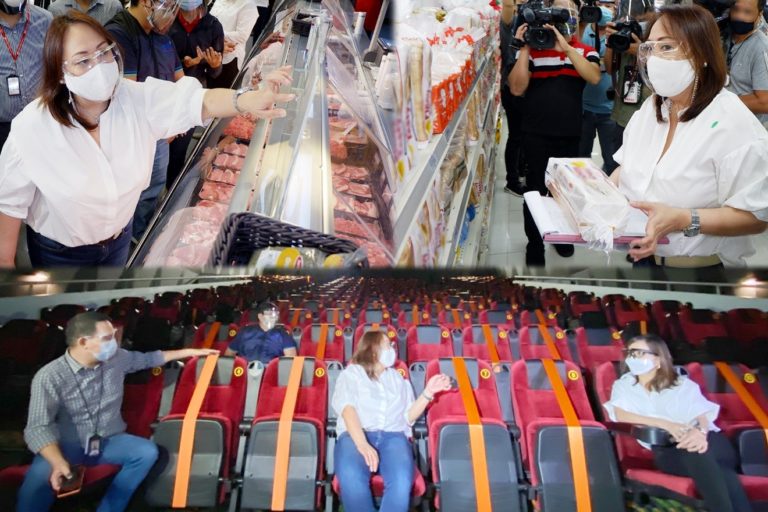 DTI-CPG Usec. Castelo confirmed that the two firms are likewise compliant with the price ceiling on agricultural products as mandated under Executive Order No. 124, which imposes a Mandated Price Ceiling on Selected Pork and Chicken Products in the NCR for sixty (60) days from 8 February 2021. She also expressed confidence in the strengthened efforts of the different government agencies in managing and monitoring the price and supply of agricultural goods in the market.
"Yes, these firms are observing the mandated price ceiling on pork and chicken, and we are also communicating with other big grocery chain owners if they could offer much lower rates on meat, particularly on imported pork, to lessen the worries and burden of our consumers," said DTI-CPG Usec. Castelo.
DTI-FTEB Dir. Abrenica assisted DTI-CPG Usec. Castelo in checking the current set-up and groundwork of the two cinemas in Pasig City and Quezon City in preparation for a more relaxed quarantine restrictions in the NCR. The recommendation of National Economic and Development Authority (NEDA) and DTI to transition from GCQ to MGCQ intends to assist the affected business enterprises and more than 300,000 workers in the entertainment industry to generate income and to help boost our economy. Dir. Abrenica affirmed that the DTI-FTEB will intensify its monitoring activities once the government gives the green light to place NCR under MGCQ.
DTI-CPG Usec. Castelo further mentioned that the Inter-Agency Task Force (IATF) and the Local Government Units (LGUs) will continue to work hand in hand to ensure that businesses are following the Minimum Health Protocols (MHP) before they open their doors to the public.
"We cannot compromise health for business, health is still our top priority even when these entertainment firms re-open," DTI-CPG Usec. Ruth Castelo underscored.
For more information regarding BNPC pricing, price ceiling, and MHPs, you may contact the 1-DTI (1-384) Hotline or send an email to [email protected].