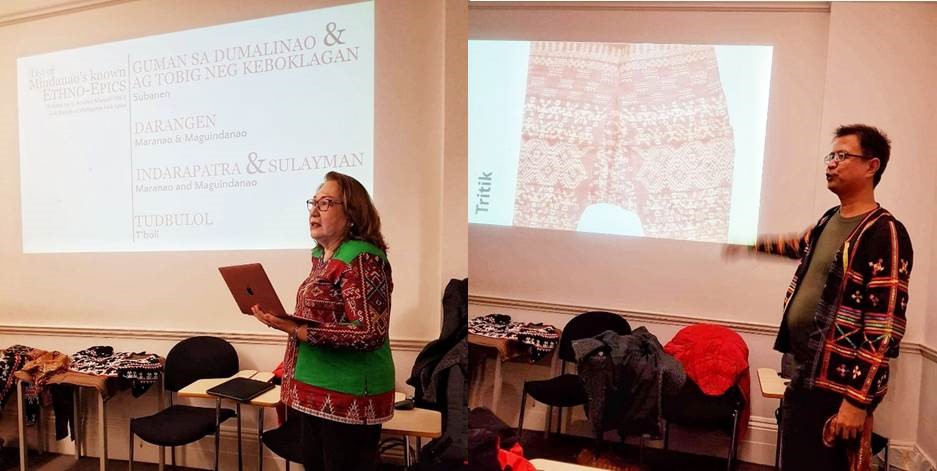 London — Two scholars from Mindanao conducted "Tales of Mindanao: The Epics and Textiles of Mindanao," a series of talks on the region's epics and indigenous textiles at University College London (UCL) on 28 October 2019 which drew crowds of students, artists, writers, and scholars who were interested to know more about the second-largest island of the Philippines.
Dr. Christine Godinez-Ortega, renowned Philippine poet, Mindanao scholar, and Director of the Iligan Writers Workshop, introduced the various epics of Mindanao, juxtaposing these with contemporary literature by Mindanao writers who drew on these tales as inspiration for their work.  Dr. Leonard Rey S. Cariño, on the other hand, engaged the audience with a comprehensive discussion on the different textiles of Mindanao and what the use and production of these fabrics meant to the community.
"Many foreigners and children of Filipino migrants do not know about our pre-colonial literature. They are there for one's learning about our country's true self, values, and truths," said Dr. Godinez-Ortega. "These are in the legends, epics, and poetry that should be advanced today lest we give the wrong image about our country. Before we realized our nationhood, colonialism cut this short. Our geography or groups of islands hasn't helped. Everyone should help reimagine our country, embrace her diversities, and embrace the local towards internationalization, towards the realization of a global Filipino."
Ambassador to the United Kingdom Antonio M. Lagdameo expressed his sentiments on the talk, saying "talks about Philippine culture and heritage, especially those that probe deep into the heart of our indigenous heritage, help Filipinos around the world to better understand our identity as a people. These talks are also vital in introducing our culture to the rest of the world."
The talk was organized by the UCL Filipino Society, a group of students in one of London's most prestigious universities, who share a passion for promoting Philippine arts and culture in the United Kingdom.
—
For more information, visit https://www.londonpe.dfa.gov.ph  or
https://www.facebook.com/pg/PHLinUK or https://twitter.com/philippinesinuk.