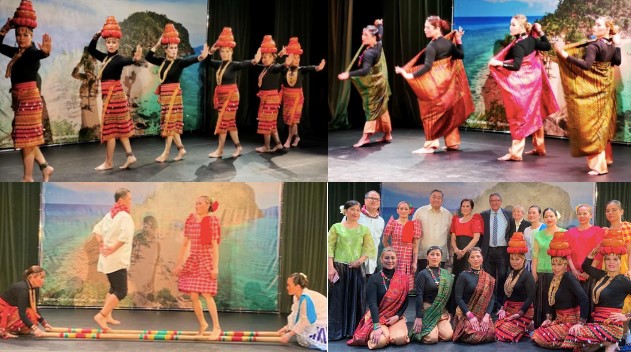 Moscow – Top officials of St. Petersburg, Russia's second largest city, as well as its leading business people, academe, media and its Consular Corps were treated to an evening of Philippine tourist attractions, culture, cuisine and drinks at a reception hosted by the Philippine Embassy in Russia on 19 November 2019 at the historic Ekaterininskoe Sobranie Hall.
The reception was co-hosted by Consul General to St. Petersburg Sergey Alexeev.
In his welcome remarks, Philippine Ambassador to the Russian Federation Carlos D. Sorreta said that for far too long, history and politics have kept the Philippines and Russia apart but that today this no longer holds true.
"The Philippines and Russia have embarked on a voyage of discovery, determined to make up for lost time, committed to creating better understanding and dedicated to uncovering mutually beneficial opportunities, be it in defense, security, trade, culture, education and much more," the Ambassador said, adding that the latest milestone in this voyage of discovery was the very successful visit of President Rodrigo Roa Duterte to Russia last month.
Ambassador Sorreta said that he decided to host a reception in this city because "this voyage of discovery would not be complete unless it includes St. Petersburg: center of commerce, industry, culture, and education, itself an historic gateway to discovery."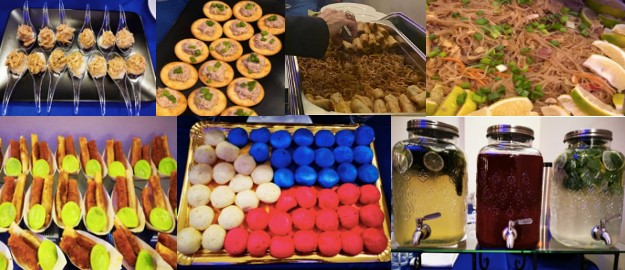 To promote Philippine tourism, the Embassy prepared a photo exhibit featuring the natural wonders and people of the country as well as distributed tourism pamphlets printed in the Russian language. The photos were from award-winning Filipino photographers Gabby Malvar, Javy Flores and Wilfredo Garrido, as well as Russian undersea photographer, Alexey Stoyda.
Displayed during the reception were crafts and fabrics made from natural materials and created by Filipino artisans.
The reception featured cultural dances by the Philippine Embassy Cultural Performing Group (PECPG) reflected the colorful and diverse culture of the Philippines as well as the innate talent and artistry of the Filipino people. The PECPG is composed of members of the Filipino Community in Moscow.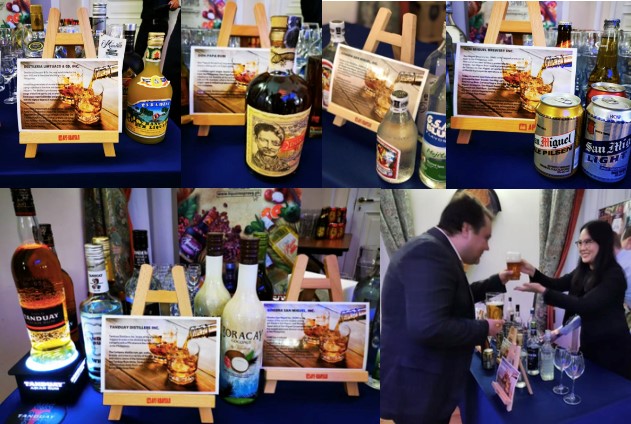 The Filipino cuisine served during the reception were prepared using Philippine food products including Mama Sita, Lorenzana Foods, Century Tuna, coconut oil, coco flour and coco sugar. Also featured were products from Natural Health, Aisha-Fil Foods, Monde MY San, Vegetari Healthy Bites, KSK Food Products, Goody-Goody Banana Chips and Armson Chocolates. The reception also served Philippine coffee, herbal teas and fruit drinks from Jedidiah Food Industry, Gourmet Farm, Bote Central, SGD Coffee, Bo's Coffee, Siete Baraco, Orich Drink, and Good Sense calamansi concentrate.
Also served at the reception were world class and award-winning spirits, wines and beer from Distileria Limtuaco, Tanduay Distilleries, La Tondena Distilleries, Don Papa and San Miguel Breweries, to the enjoyment of the Russian and other guests.

In his remarks, Ambassador Sorreta thanked the Philippine food and drinks producers for giving the Embassy samples of their products, saying that he was certain that these products will meet the high expectations and discerning tastes of Russians.
Among the top personalities present were Head of the Representative Office of the Ministry of Foreign Affairs in St. Petersburg Vladimir Zapevalov, Deputy Chairman of the Committee of External Relations Viacheslav Kalganov, Deputy Chairman of the Committee for Tourism Development Nana Gvichiya, First Vice President of the Union of Industrialists and Entrepreneurs Mikhail Lobin, Chairman of the Press Committee of the Administration of the Leningrad Region Konstantin Vizeryakin, and Chairman of the Office for the Development of Parks and Gardens Andrey Lyakh.
—
For more information, visit https://www.moscowpe.dfa.gov.ph, 
https://www.facebook.com/PHLinRussia or https://twitter.com/phlinrussia.