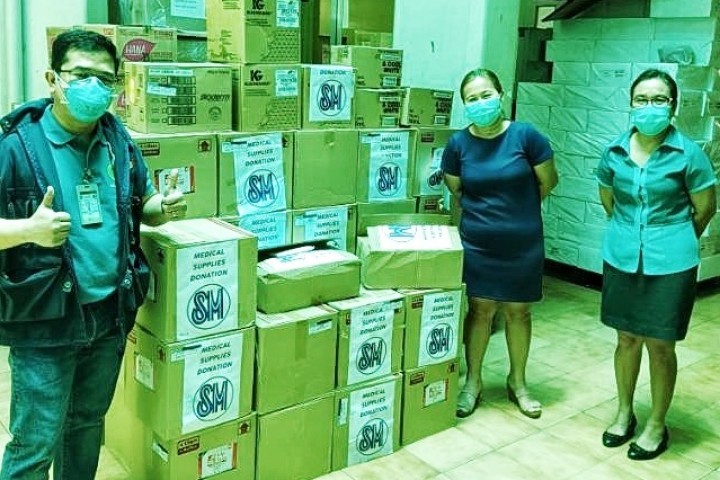 SM Foundation Inc., the socio-civic arm of the SM Group of Companies, has crossed the seas to extend help to Vicente Sotto Memorial Medical Center in Cebu City.
The foundation donated N95 masks, surgical masks, PPEs, protective goggles, raincoats, nitrile gloves, and hygiene kits.
The items were received by Dr. Mari Leo Pataray, head of the Emergency Department and the COVID-19 team of Vicente Sotto Memorial Medical Center (VSMMC).
VSMMC is one of the hospitals in the country that can already conduct COVID-19 tests.
Cebu Gov. Gwen Garcia expressed her gratitude to SM Foundation, Inc. "I wish to challenge other big companies to follow suit. This is the time that we need assistance from the different companies," Garcia said during her press conference.
Aside from the donation to the hospital, SM Foundation also sent PPEs and medical supplies to Consolacion Municipal Health Center, Mambaling Health Center, Lahug Wellness Center in Cebu City, and St. Anthony & Mary Sanitarium Hospital in San Nicolas, Cebu City.
In 2018, SM Foundation Inc. adopted the Lahug Health Center, now known as Lahug Wellness Center.
It has upgraded facilities which help give better medical care and service to the community.
It has a therapeutic ambiance that can help in both the physical and emotional healing and recuperation of patients.
The center includes a birthing center, TB-Dots, dental clinic, laboratory, pharmacy, and behavioral health unit.
Later this year, the renovation of Alaska Mambaling Health Center by SM Foundation, Inc. will also commence.
Several packages containing COVID-19 test kits for around 10,000 samples were delivered to RITM, strengthening the Muntinlupa-based hospital's capability to test more people and screen them for early diagnosis.
Aside from the testing kits, SM has previously donated N95 masks, surgical masks, disinfecting alcohol, goggles, medical gloves and personal protective equipment to RITM and several hospitals in Luzon for the protection of their medical workers and frontliners.
Donations were also made in various hospitals in the Visayas and Mindanao.
The said donations are part of SM's P170-M allocation to support the country's fight against COVID-19 spread by providing medical supplies to hospitals nationwide and improving the availability of testing kits.
—
Stay updated with news and information from the SM Foundation by visiting their website at https://www.sm-foundation.org.