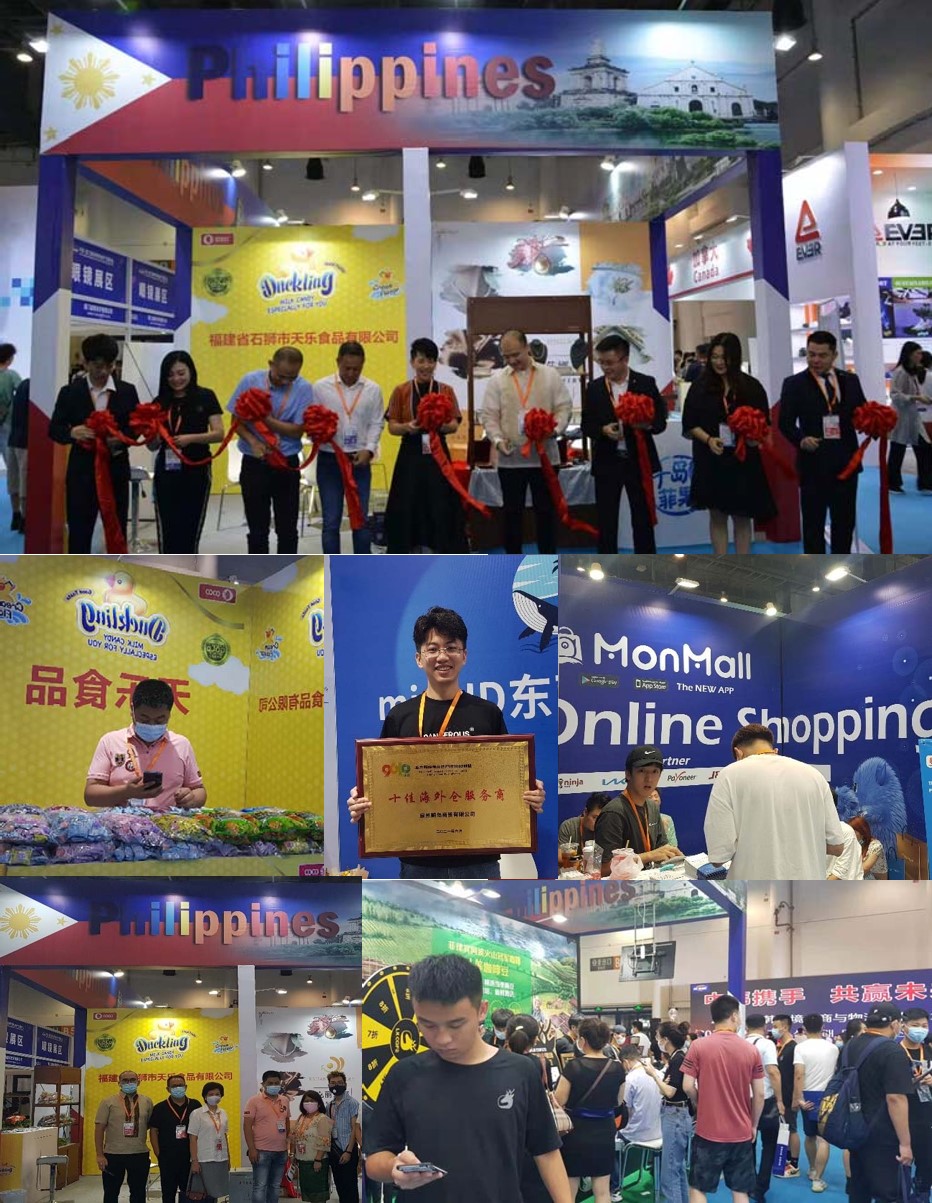 The Philippine Consulate General in Xiamen organized Philippine participation in the Xiamen International Cross Border E-Commerce Industry Expo (ICEIE) held at the Xiamen International Convention Center on 11 to 13 June 2021.
Seven (7) companies doing business in the Philippines or promoting Philippine products participated in the Philippine pavilion. A simple Opening Ceremony of the Pavilion led by Philippine Consulate General in Xiamen Acting Head of Post Elaine Mae V. Laruan-Hernandez was held immediately after the opening of the ICEIE Expo itself.
Present during the Inauguration were the officials of the participating companies, to wit:
Mr. Stephen Chen of Hainan Thousand Island and CITS Globe Shopping; Mr. Paul Shi of BBB International Logistics; Mr. Chen He Rong of Mini JD; Mr. Xu Siding of MonMall Pte. Ltd.; Mr. Andy Co of Fujian Tianle; and Ms. Hasmin Chua of LK Cofe. The Philippine Consulate General awarded Certificates of Appreciation to the participating companies.
The Exposition expected 30,000 guests. The Pavilion entertained several visitors who were interested in traditional commodities: coffee made from beans grown in Davao from LK Cofe; biscuits manufactured in Valenzuela and San Simon by Fujian Shishi Tianle Food Ltd; dried mangoes, banana chips and virgin coconut oil, as well as the South Sea pearl from Mindanao imported from the Philippines by Hainan Thousand Island Company.
Buyers and sellers were also interested in the online shopping mall of MonMall Pte Ltd, the overseas warehouse facility of Mini-JD and the logistics services offerings of BBB Logistics.
Participating companies commented that the Exposition provided good exposure for their companies/platforms to showcase their products and/or make their Companies well known to Expo visitors.
Mr. Chen He Rong, founder of Mini-JD Overseas Warehouses made a Presentation during one of the Forums of the Exposition. He presented the development of the Southeast Asian e-commerce market and the service guarantees provided by Mini-JD's overseas warehouses. Mr. Chen received an award as one of the Top 10 Overseas Warehouse Providers from the 9610 Asia-Pacific Cross-Border E-Commerce Supply Chain Alliance of China.
ICEIE, hosted by The Ministry of Commerce Foreign Trade Development Bureau, the China Council for the Promotion of International Trade Xiamen City Committee and the Xiamen International Trade Exhibition Group Co. Ltd. is a large scale cross-border e-commerce exposition at an area of more than 20,000 m2 and with over 1,000 international standard booths.
For more information, visit https://www.xiamenpcg.dfa.gov.ph.