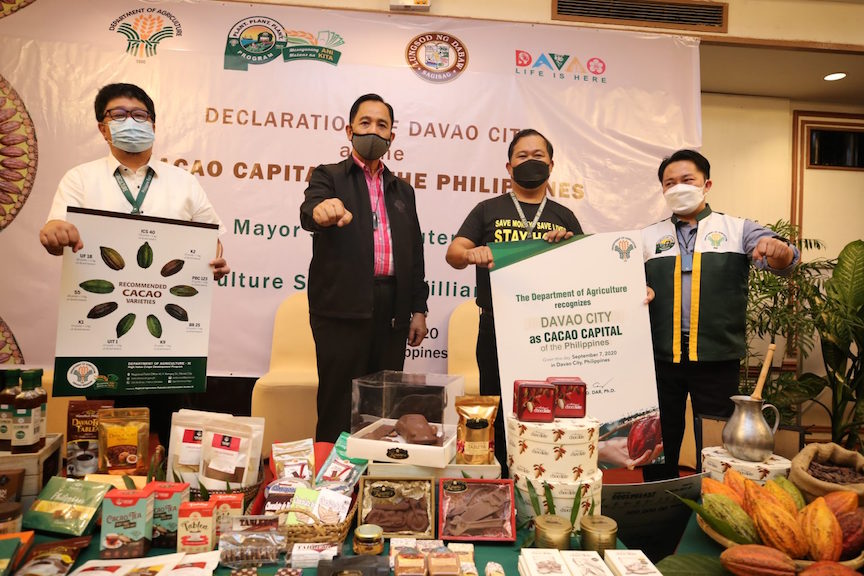 Agriculture Secretary William Dar has officially named Davao City the Cacao Capital of the Philippines, as it continues to be the top producer of cacao beans for the entire region.
Last year, the city alone produced 2,289.74 metric tons (MT) of cacao, translating to 38 percent in regional share.
Together with five other provinces in the region namely Davao del Sur, Davao de Borte, Davao de Oro, Davao Occidental, and Davao Oriental, the region's total contribution to national production for 2019 reached 5,960.23 MT or 70.21 percent of the total national output
The declaration was made following the consistent production of high-quality beans in the Davao region. According to data from the Philippine Statistics Authority from 2015 to the present, regional yield contributes an average of 80 percent to the total volume produced throughout the country.
As one of the important commodities in Philippine agriculture, the Department of Agriculture has continued to extend support and assistance to cacao stakeholders to improve yield and product quality
The DA, under its High-Value Crops Development Program, has launched initiatives including the distribution of various interventions to Improve production of cacao and its by-products.
In his message, Dar urged the stakeholders to continue its partnership with the government as he committed support to sustain Davao as the "exporting capital" of the Philippines.
"Aside from cacao, Davao has much local agricultural produce that are brought to the global market," he said.
Dar also urged the private sector to continue to partner with the government to provide farmers a sustainable livelihood and income source.
"Let us work together towards a food-secure and resilient Philippines," Dar said.
Davao cacao beans have been recently selected as one of the top 50 samples for the 2017 Edition of the Cocoa of Excellence Programme, the entry point for the International Cocoa Awards in Paris, France.
It was recognized as one of the world's best and is now one of the sought-after beans by chocolate makers from the U.S., Japan, and Europe.
With the growing market for Philippine cacao, farmers are inspired and motivated to improve production and upgrade farm systems even more.
—
Stay updated with news and information from the Department of Agriculture by visiting their website at da.gov.ph.