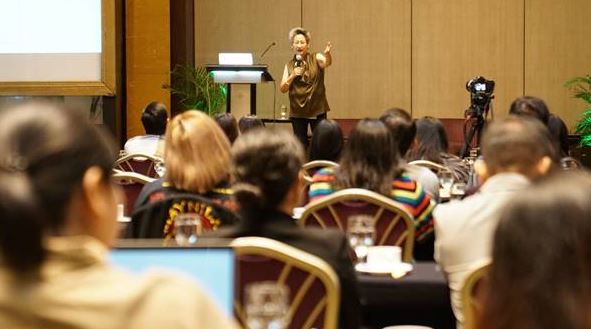 In a bid to continually inspire the design and creative community of the Philippines, CITEM partnered with CNN Life and Diamond Hotel Manila to invite famed curator Marian Pastor Roces for a talk on Philippine traditional art.
Feelings were moved as famed Filipino curator and author Marian Pastor-Roces shared her insights on the historical lineage of Filipinos in a whole-day talk held in Diamond Hotel Manila.
In a room full of designers and creative artists who have always been proud of their artistic heritage, one can only imagine the impact of finding out that all along you are a part of something bigger. Ms Roces revealed that the Philippines is more than just a country colonized by different explorers. The Filipino genealogy is part of ancient Austronesian speakers, a language family widely dispersed in Southeast Asia, Oceania and East Africa. This language group from thousands of years ago spread to various locations and started many ancient civilizations and has been the foundation of countries today.
Apart from highlighting our true ancestry that unfortunately was not taught in Sibika at Kultura, Roces also showcased some relics such as old weaves, jewelries, accessories, tools and equipment handcrafted by Filipinos. The exquisite beauty and the epic history enfolded in the different artifacts presented made everyone in the seminar appreciate even more the dynamic past of the country. It is a testament that the Philippines' fertile soil, abundant waters and creative talent were already evident in the functional art of our ancestors.
Intricate weaves, gold encrusted armors and ancient weaponry are just some of the pieces that reflect Filipino artistry from thousands of years of colorful history. Regrettably, only a handful were left, and most were scattered in various museums around the globe. Filipino artisans and budding creatives of today cannot even study and appreciate the art of the past in its full glory.
This is the reason why Manila FAME, the country's foremost trade event for design and lifestyle products continues to partner with the likes of Marian Pastor-Roces, a true pillar of history and the arts to inspire the artists of today.
As a melting pot of Filipino creativity, Manila FAME is the Philippines' premier sourcing event for sublime quality artisanal products. It serves as a cultivating ground and springboard for innovative, top-of-the-line Philippine products and designers to break through key international markets.
The seminar on Philippine traditional art was made possible by the Department of Trade and Industry's (DTI's) Center for International Trade Expositions and Missions (CITEM) in partnership with CNN Life and the Diamond Hotel Manila.
The 70th edition of the Manila FAME is slated on October 17-19, 2019 at the World Trade Center Metro Manila. Learn more about the event on www.manilafame.com. To receive show updates, follow Manila FAME on Instagram, Facebook and Twitter.