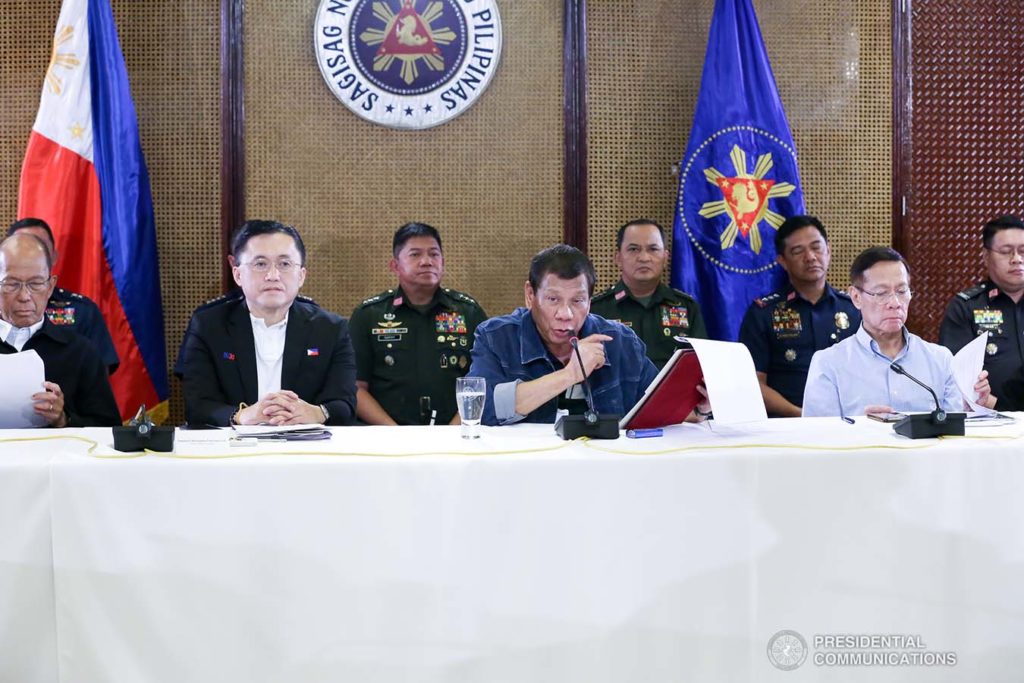 President Rodrigo Roa Duterte on Thursday, March 12, announced the imposition of Metro Manila-wide community quarantine that calls for stringent social distancing measures in a bid to combat the threat of coronavirus disease 2019 (COVID-19).
The Code Alert System for the COVID-19 public health event is raised to Code Red Sublevel 2, the President said during his public address following the 11th Inter-Agency Task Force (IATF) Meeting for the Management of Emerging Infectious Diseases in the Philippines at Malacañang Palace.
The Department of Health (DOH) declared on March 7 a Code Red Sublevel 1 following the confirmation of localized transmission of the disease.
The Chief Executive also declared that the suspension of classes in all levels in Metro Manila is extended until April 12. Earlier, classes were suspended only from March 10 to March 14. Despite the class suspensions, all students shall continue to fulfill their educational requirements during the period.
"Avoid trouble with the law, avoid trouble with anybody, just in the meantime, follow. Better just stay home and study. That is my advice," the President said.
Local government units (LGUs) outside of National Capital Region (NCR), on the other hand, are advised to "exercise sound discretion in suspending classes in their respective localities without prejudice to a determination by the national government to suspend classes if the situation so warrants".
Also part of the stringent measures is the prohibition of mass gatherings — defined as a planned or spontaneous event where the number of people attending could strain the planning and response resources of the community hosting the event.
"But ako sa inyo, if you are advised, just obey. Wala namang mawala sa inyo tutal sa inyo 'yan eh. It's for your own good. Hindi man ito para sa amin," he said.
As community quarantine takes effect in Metro Manila, LGUs in other areas are advised to abide by the guidelines imposing localized community quarantine in their respective jurisdictions.
A barangay-wide quarantine is advised when there are at least two positive COVID-19 cases belonging to different households in the same barangay and a municipality/city-wide quarantine shall be imposed when there are at least two positive COVID-19 cases belonging to different barangays in the same municipality.
A province-wide quarantine, on the other hand, is advised when there are at least two positive COVID-19 cases belonging to different municipalities, component cities or independent component cities in the same province.
Village chiefs will play a key role in fighting the disease, the Chief Executive said, reminding them that "a barangay captain is bound by what is written here whether by way of rules implementing in the meantime or if it becomes a part of an executive order".
"You better implement this because if not, then you will also go to prison for dereliction of duty or simply not enforcing a rule imposed by government," he warned.
"It falls upon your shoulders to exactly do what this regulation wants to happen. Huwag kayong magkamali dito kasi 'pag hinabol kayo ng Department of the Interior and Local Government (DILG), you can be dismissed, or you can be suspended and you will have trouble. And besides, I think the electorate will remember you for being a laggard," he added.
LGUs carrying out community quarantine in their jurisdictions, upon the declaration of State of Calamity, could tap their Quick Response Fund (QRF), the President said.
Under the new measures, work in the Executive branch is suspended "without prejudice to the formation of skeletal workforces by government agencies in order to maintain the unimpeded delivery of services to the public".
For the private sector, flexible work arrangement is encouraged with the Department of Labor and Employment (DOLE) and the Department of Trade and Industry (DTI) issuing guidelines to safeguard workers' welfare.
All manufacturing, retail, and service establishments are advised to remain in operation during the duration of the emergency measures. Companies and establishments are required to observe strict social distancing measures.
With regards to mass public transports, Light Rail Transits (LRT), Metro Rail Transit (MRT), and Philippine National Railways (PNR) will continue operating. The transportation department, however, will implement guidelines to ensure social distancing.
Land, domestic air, and domestic sea travel to and from Metro Manila shall be suspended beginning March 15, 2020, and to end on April 14, 2020, the Chief Executive said in his announcement. The IATF, however, will conduct daily review of the travel suspension.
"Tingnan namin kung ano ang nangyayari, if there is a slowdown in the contagion. That is the history of itong mga sakit na ito. They come and go in every two or three generations. Meron talagang problema na itong ibinigay sa atin at wala tayong magawa," the President said.
The Philippine National Police (PNP) and the Armed Forces of the Philippines (AFP), in coordination of the Inter-Agency Task Force, shall be called upon to ensure effective and orderly implementation of the measures, according to President Duterte.
But he told the public that the measures should not be likened to a martial law rule, explaining: "It's not even something extraordinary. But what is sought — what is sought to be solved here is the again, walang iba except to fight the virus and to exact compliance."
"Because in a total breakdown, I would need their help to carry on with the governance. Kailangan ko sila not to fight with you guys. Huwag kayong matakot sa sundalo ninyo. Sundalo ninyo 'yan," the President said.
While the measures are in effect, daily meetings will be conducted by the secretaries and the member of agencies of the IATF including the Cabinet Secretary, Secretaries of National Defense, Environment and Natural Resources, Trade and Industry, Social Welfare and Development, Education, Agriculture, the chiefs of staff of the AFP, Philippine Navy, Philippine Air Force and Coast Guard.
Overseas Filipino workers (OFWs) traveling abroad will be allowed to go to mainland China, except to Hubei Province, upon execution of a Declaration signifying their knowledge and understanding of the risks involved. A health advisory pamphlet shall be handed out to the OFWs upon departure.
On the other hand, entry travel restrictions shall be imposed upon those traveling from countries with localized COVID-19 transmissions, except for Filipino citizens including their foreign spouse and children, if any, holders of Permanent Resident Visa and holders of Diplomatic Visas issued by the Philippine Government.
There are 52 confirmed cases of COVID-19 in the country, with five fatalities.
—
Stay updated with news and information from the Presidential Communications Operations Office by visiting their website at https://pcoo.gov.ph.