Reducing trade deficit. Improving value creation. Increasing backward and forward linkages. Modernizing Philippine industries.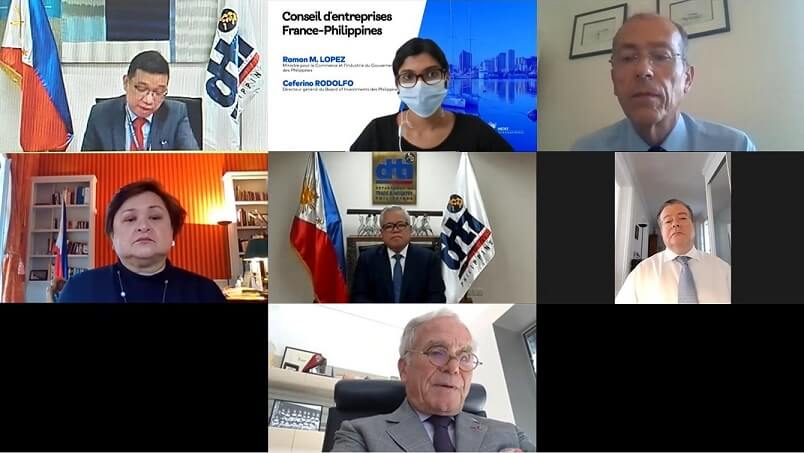 Department of Trade Industry (DTI) Secretary Ramon Lopez underscored these four key goals of the REBUILD PH Program, when he digitally addressed from Manila, top French business executives of MEDEF International on Wednesday, September 16.
Sec. Lopez expressed hope that "France can be our partner in rebuilding a post-pandemic world that is more inclusive and safer for everyone."
The session organized by the Philippine Embassy in France and MEDEF International, in cooperation with the DTI and its Philippine Trade and Investment Center in Paris (PTIC-Paris), aimed at directly providing the French business community an opportunity to learn about the Philippines' action plans in reviving its economy during the time of COVID-19.
According to Sec. Lopez, the REBUILD PH Program, which stands for Revitalizing Businesses, Investments, Livelihoods, and Domestic Demand, takes a demand-side strategy to revitalize the economy through key factors of our gross domestic product: consumption, investment, government expenditure, export and import.
The trade chief added: "These four key goals are intended to keep jobs so people will have income that will bring back demand, which will entice companies to produce more supply. We must therefore bring back business confidence and revive consumer confidence while balancing the importance of public health and running the economy."
During the digital meeting with MEDEF International, DTI Undersecretary Ceferino Rodolfo, who also serves as Managing Head of the Board of Investments (BOI), identified the electronics, healthcare/pharmaceutical, aerospace, Information Technology-Business Process Management (IT-BPM) as sectors of complementation between the Philippines and France, as the latter seeks avenues to relaunch their economy which suffered a 13.8% drop in their GDP during the second quarter of 2020.
Undersecretary Rodolfo added that the Philippines would like to continue pursuing cooperation with France in other sectors that were identified during the 8th Philippines-France Joint Economic Cooperation (JEC) meeting held in Manila in June 2019, participated in by a French business delegation from MEDEF International led by now Special Representative of the Minister for Europe and Foreign Affairs for the development of economic relations with the ASEAN, Mr. Francois Corbin, who also addressed the French audience during the session.
The next JEC meeting is scheduled to be hosted by Paris, and is being eyed on the first half of 2021.  This comes timely as France was recently accepted as a Development Partner by the ASEAN, bolstering expectations of more economic possibilities between France and the region, including the Philippines, and as interest from the business community for a Philippines-EU Free Trade Agreement continues.
MEDEF International is a non-profit private-funded organization created in 1989 by MEDEF, the French Business Confederation. MEDEF International is the most representative organization of the French private sector at an international level.
Philippine Ambassador to France Ma. Theresa Lazaro; French Ambassador Nicolas Galey; and Chairman of the France-Philippines Business Council of the MEDEF International Mr. Philippe Louis-Dreyfus also addressed the MEDEF International executives who attended the September 16 web-based gathering.
—
Stay updated with news and information from the Department of Trade and Industry by visiting their website at dti.gov.ph.