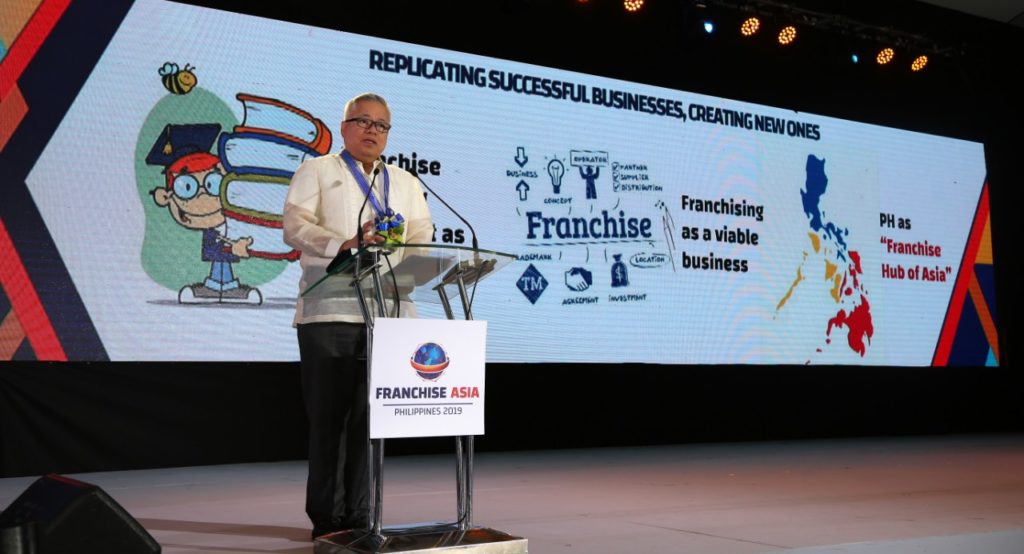 PASAY CITY – Department of Trade and Industry (DTI) Secretary Ramon Lopez championed franchising as a business model to future entrepreneurs at a time when the Philippines is experiencing an economic resurgence. During his keynote address at the 2019 Franchise Asia Philippines on March 27, Sec. Lopez stated that this is the best time to do business because the country's sustained economic growth and the growing middle class provide a wide consumer base for new products and services.
He said that franchises thrive because of their tried-and-tested business concepts and wide network of mentors and fellow franchisers. The success rate for franchising is 90%, compared to 25% for traditional retail. According to the event's organizer, the Philippine Franchise Association, there are 2,000 local and international franchise brands in the country as of 2018. These brands have established a total of 200,000 stores and employed 1.2 million Filipinos.
DTI pioneered its own franchise with Go Lokal! with 102 stores nationwide, most of which are in high-foot traffic areas. Go Lokal! offers top-quality local products by Micro, Small, and Medium Enterprises (MSMEs).
The agency also opened its first KAPEtirya café in Baguio last March 20 to provide more market outlets for the coffee produce of Filipino farmers. The DTI-branded café will mainstream locally-sourced coffee and will soon roll out as a franchise model with inline store, kiosk, and mobile store options.
–
Stay updated with news and information from the Department of Trade & Industry by visiting their website at https://www.dti.gov.ph.