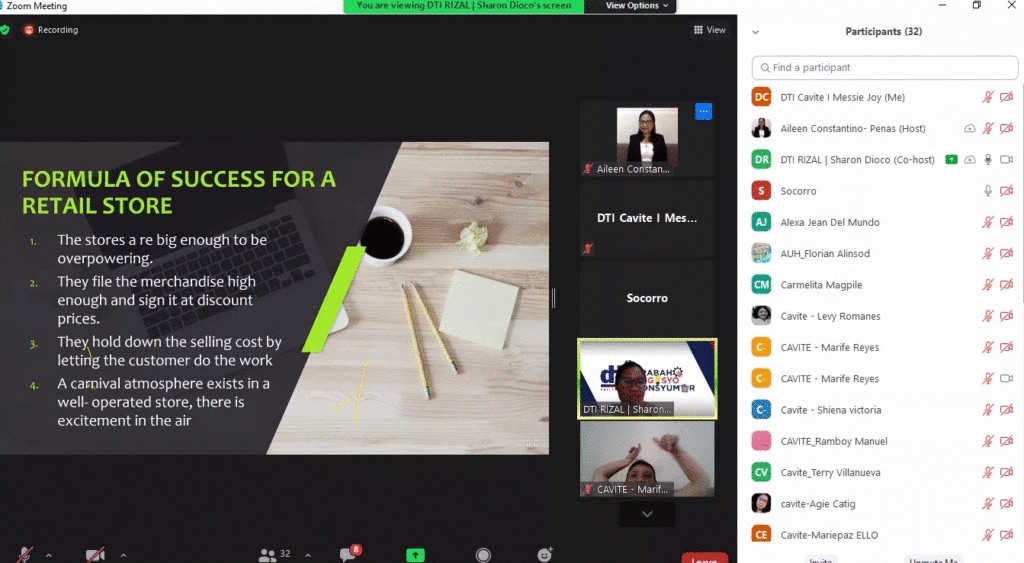 With the influx of Overseas Filipino Workers (OFWs) returning to the Philippines due to the pandemic, various organizations including the national and local government have been challenged to provide the necessary support to ensure that work and livelihood opportunities are made available for the affected sector.
BaliKaBayanihan is a multi-stakeholder project which responds to this call, implementing an integrated approach to address the situation, and promoting the spirit of volunteerism or "bayanihan" among Filipinos.
In cooperation with the Regional Technical Working Group on Reintegration of the CALABARZON Committee on Migration and Development and the Department of Trade and Industry (DTI)-Region 4A, DTI-Cavite joined the Atikha Overseas Workers & Communities Initiative, Inc. for the BalikaBayanihan Program. Particularly, DTI-Cavite supports the conduct of Start and Improve Your Business (SIYB) Training for the 3rd batch of OFW enrollees. The training started on 21 April and will continue until 27 May, held every Wednesday and Thursday, 1:00 p.m. – 5:00 p.m.
Included in the SIYB is a series of webinars that aims to train and mentor OFWs and their families to successfully set up a business.
DTI-Cavite facilitated a mock presentation of Business Model Canvas and Strengths, Weaknesses, Opportunities, and Threats (SWOT) Analysis for eight OFWs on 11 May 2021 via Zoom. During the activity, each participant was partnered with a trained Negosyo Center Business Counselor. This allowed the counselors and participants to share business ideas and possible improvements throughout the learning session.
It was followed by the conduct of parallel sessions on operations held on 13 May 2021 in collaboration with the Department of Science and Technology (DOST) and Department of Agriculture (DA).
Hailed as "Modern Day Heroes," our OFWs not only sacrificed for their personal financial stability, they have also significantly contributed to the huge improvement of the Philippine economy. Thus, the government, including DTI, is striving to provide whatever assistance we could give, now that our OFWs are the ones in need.
—
Stay updated with news and information from the Department of Trade and Industry by visiting their website at dti.gov.ph.