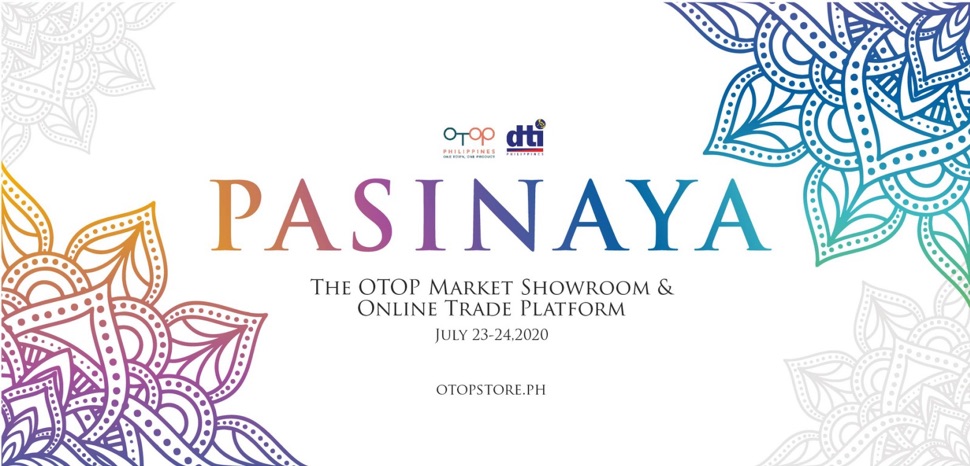 In celebration of the 2020 Micro, Small, and Medium Enterprises (MSME) Week from 20-24 July, the Department of Trade and Industry Region 4-A together with the OTOP Next Gen (ONG) as the lead team are currently conducting PASINAYA: The OTOP Digital Market Showroom and Online Trade Platform. This is performed through various showrooms on Zoom, a web-based video conferencing tool.
Pasinaya, which means debut, is the kickoff for the new normal trade fairs. Through Pasinaya, buyers are able to meet, source, and connect to the best of the OTOP homegrown regional exhibitors digitally. It is entirely virtual in which meetings and networking can be easily initiated and accessed online through computers and mobile devices.
Pasinaya is open for everyone who wishes to attend. Upon registration, an infopacket, containing all details about Pasinaya, the ways to navigate Zoom rooms, OTOP website, and application forms, will be sent to the buyer/guest. Buyers and guests can use the chat box on which room they want to be transferred, and ushers will guide them and answer their concerns and inquiries. Buyers and sellers can also request for a meeting room for a more in depth discussion.
MSMEs selling non-food products are featured in the morning session, from 10:00 AM to 12:00 PM, while MSMEs selling food products are present in the afternoon session, from 2:00 PM to 4:00 PM. A wide variety of products from 20 CALABARZON companies are exhibited in the Pasinaya such as jacobina, mushroom chicharon, espasol, toasted pastillas, mazapan, banana chips, coated peanuts, gourmet tuyo, cheese pie, red velvet and chocolate crinkles, butter garlic sticks, organic cider vinegar, virgin coconut oil, turmeric, home décor and accessories made from leather and paper, crocheted coasters, shoes, soaps, etc.
The companies who are joining in the food sector are: La Noceda Food Products, Alano Lees Food Manufacturing Corporation, Annie-Nestor Food Products, Blue Macay Food Manufacturing Corporation, Magpantay Home Made Candy, Edna and Rebecca's Banana Chips and Coated Peanuts, Pio's Gourmet Tuyo, Momilo Mio Food Ventures, Greenlife Coconut Products Philippines, Inc., and Pinagdanlayan Rural Improvement Club Multi-Purpose Cooperative. On the other hand, companies from the non-food sector are: Windel Woodcraft, Enoch Handmade Leather Goods, Jhaz Footwear, Grateful Heart Enterprises, Happy Home Textile, Papel de Lipa Handmade Paper Products, Ma Kime Shoes and Slippers, Obranico Arts and Crafts, Zeep Marketing and Distribution, and Martha's Handicrafts.
"We are very happy that our CALABARZON MSMEs are starting to consider possible and practical ways to maintain and boost revenue by joining virtual trade fairs like Pasinaya. This will not only help them reach their target markets but also promote, sell, and demonstrate their products and services free of charge through the use of technology, as this can also be a potential source for future growth," said DTI CALABARZON Director Marilou Q. Toledo.
DTI 4-A is inviting everyone to join Pasinaya by registering through these links: