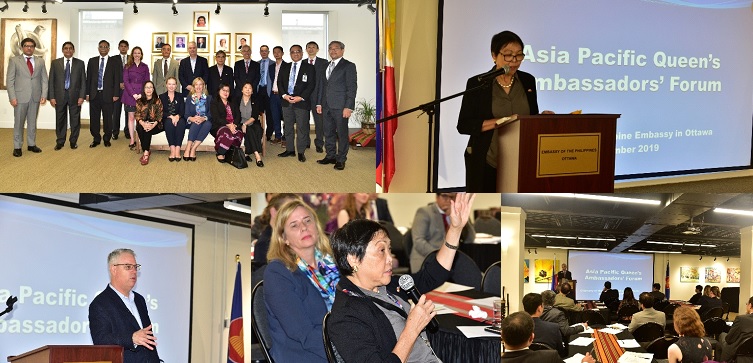 Ottawa, Canada – The Philippine Embassy in Ottawa hosted the Asia Pacific Queen's Ambassadors' Forum held on September 23, 2019 at the Embassy's Sentro Rizal.
Ambassador to Canada Petronila P. Garcia, who serves as the Regional Dean of the Asia Pacific Group, welcomed the Heads of Mission from Asia Pacific countries, or their representatives who participated in the forum.
Dr. Darrel Bricker, Chief Executive Officer of polling firm Ipsos Public Affairs, shared his prognostications on the forthcoming Canadian federal elections in October 2019.
In honor of Dr. Bricker, Ambassador Garcia hosted a dinner which was attended by officials from Queen's University in Kingston and Embassy officers.
The Queen's Ambassadors' Forum was first organized in 2003 by Professor Hok-Lin Leung of Queen's University to connect, share ideas, and learn. Since then, two fora are held each year – one in Spring and another in Fall – which tackles relevant political or economic issues of the day.
The Group is composed of the heads of mission from 19 countries in the Asia Pacific, which have resident diplomatic missions in Ottawa.
—
For more information, visit https://www.ottawape.dfa.gov.ph, 
https://www.philembassy.ca or https://www.facebook.com/PHinCanada/.