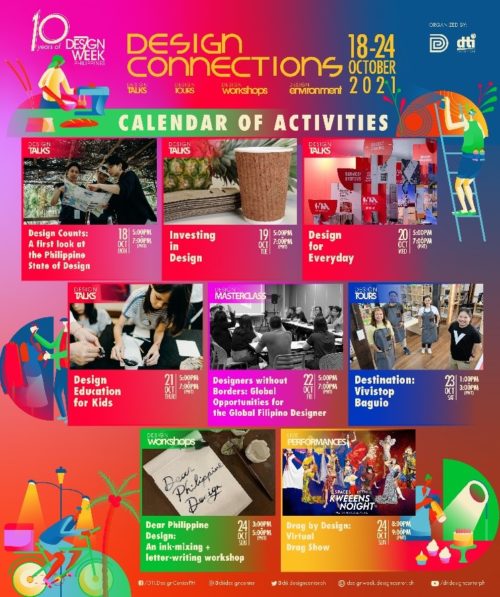 Since 2011, Design Week Philippines has been an event that has been looked forward to by many. Its authentic and organic approach towards making design accessible and cultivating a diverse and inclusive creativity community matched with its warm, fun, and punchy vibe has transformed it into a crucial part of Philippine design culture.
This 18 to 24 October 2021, the Design Center of the Philippines, through Design Week Philippines, plans to usher in a new era of Philippine design with 'Design Connections'. Design Connections is a fitting theme for this year's celebration as it puts the spirit of community front and center, something that Design Week Philippines has been strongly advocating since it started in 2011. Year on year, Design Week has managed to display the different facets of design. With Design Connections, it culminates its decade-long pursuit towards democratizing and catalyzing design by highlighting the networks and relationships between designers and its various stakeholders as key in advancing and globalizing the Philippine design sector.
A decade and beyond of making design count
Kicking off this year's festival is the unveiling of the initial results of Design Counts—the pioneering design economy mapping study of the Philippines. Presented by the Design Center of the Philippines, in collaboration with the British Council, Design Counts on the state of design in the Philippines, and its value to the economy.  It will also reveal the supply of design firms and designers, also explores how the Philippine businesses interact with them, and what the demand for design is.  The session will then present the emerging recommendations for the Philippines' first-ever National Design Policy. This talk will be led by key design thought leaders who were directly involved with the study such as, Stephen Hignell (Nordicity), Dr. Anna Whicher (PDR International Centre for Design & Research), Reichelle Carlos (Bayan Academy), and Design Center's very own Rhea Matute.
The National Design Policy will articulate the Philippines' strategic vision and plan for the use of design to support country's development ambitions.  Specifically, it will outline how to harness Philippine design assets and set out plans for its integration as a strategic element of broader economic and social policies and, most especially get its recognition as an integral part of the country's priority innovation agenda.  It will also highlight how design and design skills will contribute to improving the country's the global competitiveness, while strengthening the Philippines' unique design values and DNA.  Other critical areas the policy will address are design promotion and protection; and design education particularly early childhood education and its integration in the curricula to the development of life-long learning opportunities.
Festival's 7-point agenda
Design Center keeps the festival momentum going by dedicating each day of the week-long celebration to a component of the design innovation ecosystem. The design innovation ecosystem represents the network and collaborations made between various sectors and industries through design and its concepts. Representatives from different fields—investors, teachers, and supporters that keep the ecosystem in movement—will grace the virtual stage to discuss the many facets of working in and around the creative industries.
"Investing in Design" is a talk about the power of the entrepreneur in providing avenues for innovation, competition, and enterprise for creative ventures. Learn from the promoters who engage with the public consciousness in "Design for Every Day", a talk about how design can be used to provide a platform for advocacy and change. "Kids Design Playground: Design Education for Kids" illustrates how knowledge of design can be used as a major tool in the education of Filipino children and how creativity can be fostered at an early age through the introduction of design education.
Design professionals may find their confidence in "Designers without Borders: Global Opportunities for the Global Designer", a masterclass by graphic designer and creative entrepreneur AJ Dimarucot on how Online Filipino Design Workers can build sustainable design careers from home or from anywhere in the world. Step out of the house at "Vivistop Baguio: A Virtual Tour", a tour of an after-school creative space where children can nurture their creativity and craftsmanship through the use of modern tools and equipment.
As Design Week Philippines marks its first 10 years, attendees are encouraged to address Philippine design themselves in "Dear Philippine Design", a multimedia project and virtual workshop where participants can express the hopes, fears, and aspirations they have for the industry.
The week-long celebration ends with a virtual extravaganza on diversity with a fierce and fabulous performance by Manila's finest drag artists at Spaces' Drag by Design: A Virtual Drag Show.
Longer Tables and An Inclusive Design Calendar
In true Design Week fashion, the celebration does not end on the last day or the seven-day festival calendar.  Design Week Philippines has reached its 10-year milestone through the partnerships it has nurtured with organizations that are invigorating the design agenda on a community- and national-level.
Indeed, these design players and actors have grown in influence and impact to the country's design agenda that truly reflect the sector's diversity and inclusivity.
Partner design events all over the Philippines will be ongoing until mid-November. Attendees can look forward to presentations, tours, and workshops from NASA Space Apps Philippines, And A Half, KOMIKET, Buensalido Architects, UXPH, Design Davao Society, CDO Design Week, Davao Design Society, Matic Hub, Robins Design Center, and more.
About Design Week Philippines
Although this year's Design Week Philippines will once again be celebrated virtually. Design Center has partnered with Kumu to make the sessions more accessible to those interested. Aside from this new platform, Design Week Philippines sessions will also be available on Facebook and Zoom.
Design Week Philippines is presented by The Department of Trade and Industry and is co-curated by Fringe Manila and Pineapple Lab. The festival would not be possible without the help of British Council as its International Partner, Canva as Design Partner, Adobo Magazine as Creative Media Partner, and Kumu as Livestream Partner. Design Week Philippines would also like to thank its program partners: NASA Spaces Apps Philippines, And A Half, Philippine International Comics Online Festival, FAME+, Buensalido Architects, Architecture Design De Oro, Cagayan de Oro Design Week, MATIC Hub, UXPH, LifeAfterBreakfast.ph, Design Davao Society, University of Cebu, and Robins Design Center. To register for any of these events and to learn more about Design Week Philippines, visit the Design Center of the Philippines Facebook page: https://www.facebook.com/DTI.DesignCenterPH/.