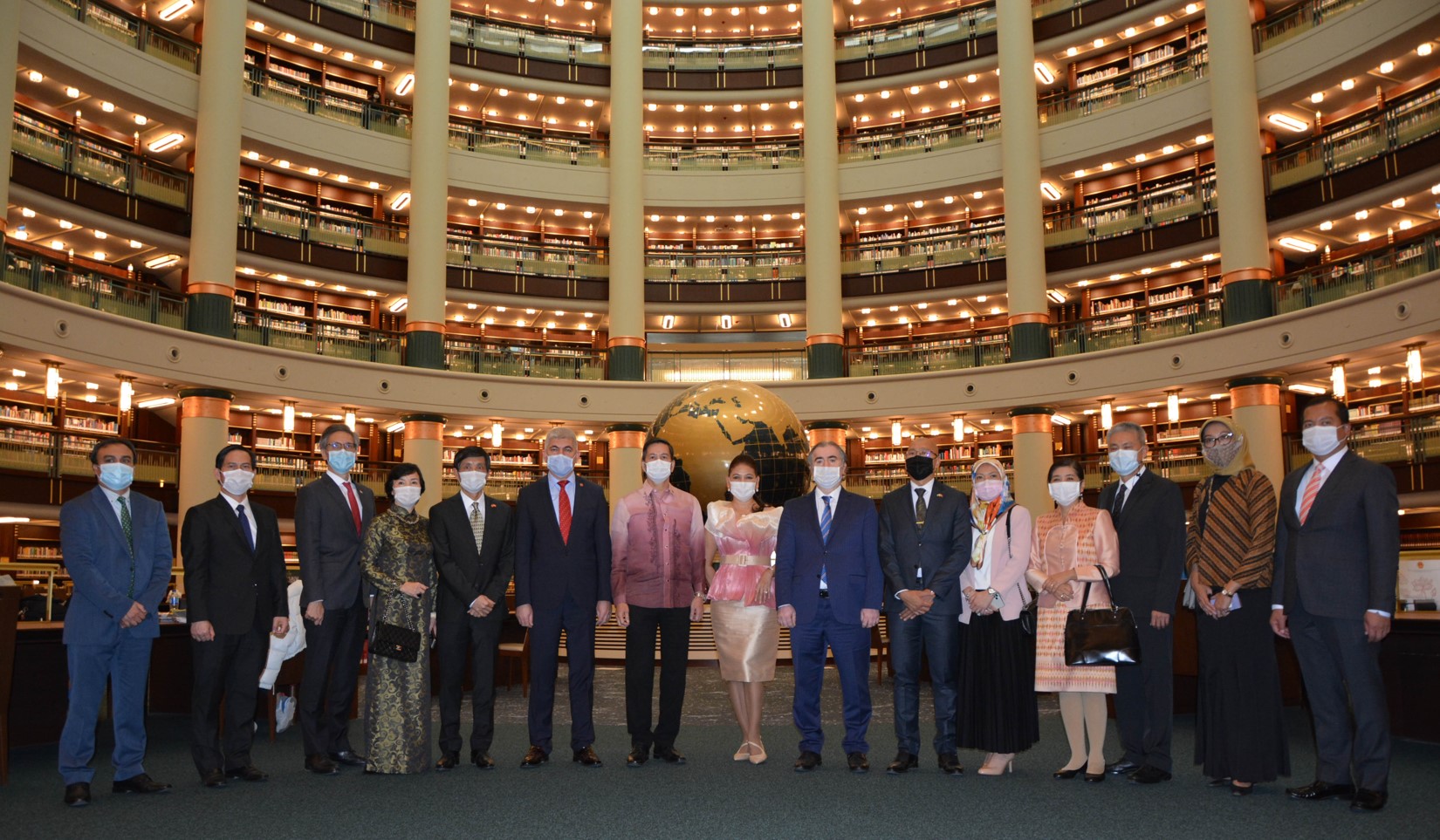 The ASEAN Ankara Committee (AAC), under the Chairmanship of Philippine Ambassador to Turkey Raul S. Hernandez, donated over a hundred books to the National Library of the Office of the Presidency of the Republic of Turkey (Presidential Library) at a ceremony on 26 October 2020. The book donation was the first-ever undertaken by the AAC to the Presidential Library of Turkey since its inauguration in February 2020.
Six Ambassadors from the Philippines, Brunei, Indonesia, Singapore, Thailand and Viet Nam and two representatives from Cambodia and Malaysia donated books on ASEAN and on individual member countries on political, economic and socio-cultural topics, among others, to Mr. Mahmut Kazan, General Director, Administrative Services of the Office of the Presidency and Mr. Ayhan Tuğlu, Head of the Presidential Library. The AAC's donated books were housed in the impressive Cihannuma Hall which contains a collection of 200,000 books and has a seating capacity of 224 persons in an area of 3,500 square meters. In addition to books, the AAC also donated handicrafts and display items including a painting from Madam Ana Algabre-Hernandez, the spouse of Ambassador Hernandez, for display within the library's premises.
In his remarks, Ambassador Hernandez stated that the books donated by the AAC will help raise awareness and foster a deeper understanding of ASEAN and its member states in Turkey and provide access to students and researchers who wish to learn and know more about the region. The Ambassador added that the books will also promote greater cooperation between ASEAN in Turkey in the fields of education, culture and arts. Mr. Tuğlu welcomed the donation of books by the AAC to add to its inventory and expressed hope that younger generations of Turks will be able to know more about ASEAN and its member countries.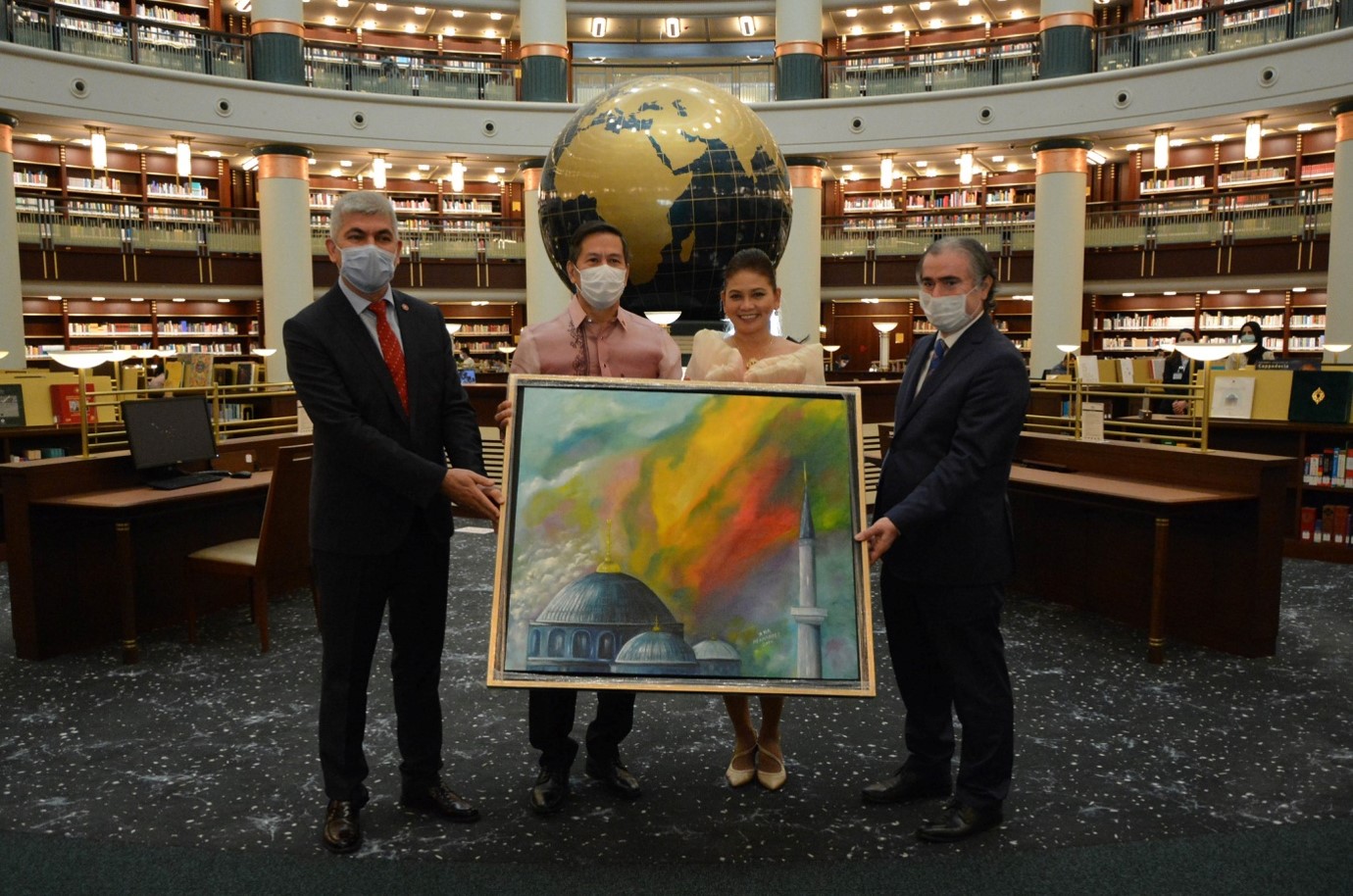 After the book donation ceremony proper, the AAC was given a tour of the Presidential library, which consists of four million books in 150 languages, 120 million electronic publications and 550,000 e-books and rare collections. The Presidential library was conceptualized by Turkey's President, Recep Tayyip Erdoğan and the country's leading intellectuals, library managers and non-governmental organizations who worked together with the aim of producing the best and most comprehensive library in Turkey.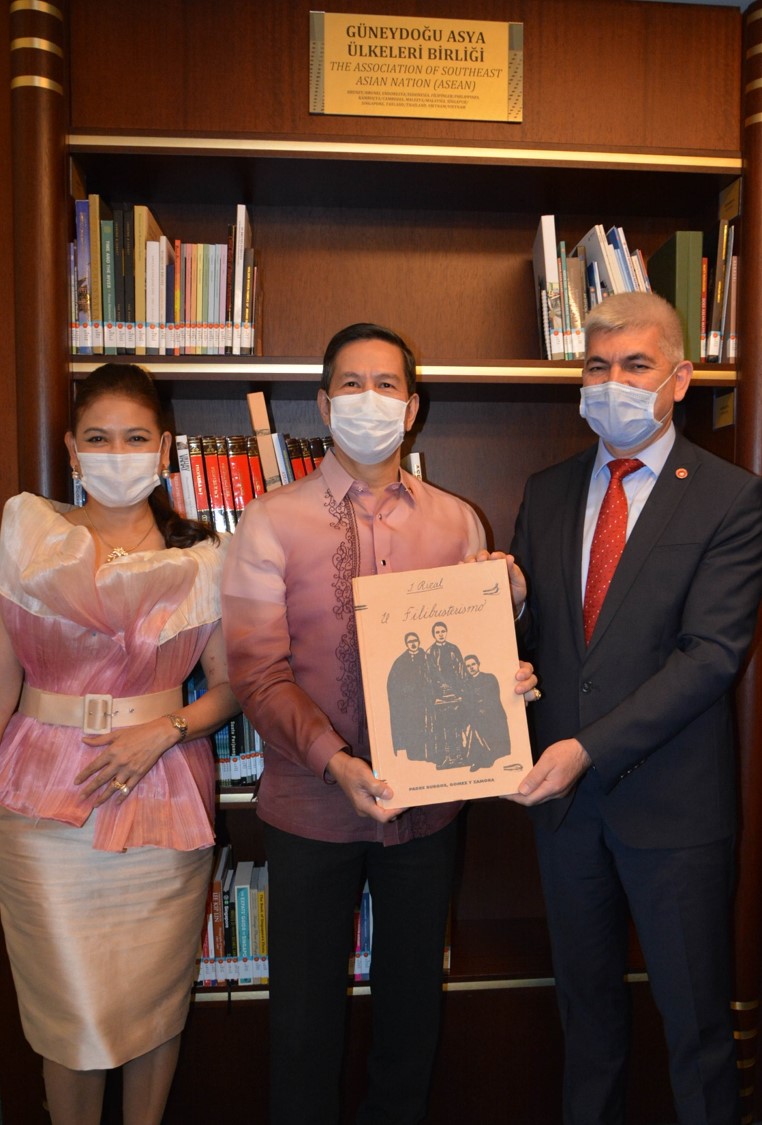 Prior to COVID-19 restrictions in Turkey, the Presidential library was visited by 153,330 people in just 25 days since its grand opening, drawing an average of 6,133 visitors on weekdays and 14,700 on weekends.
—
For more information, visit https://www.ankarape.dfa.gov.ph or
https://www.facebook.com/PHinTurkey.