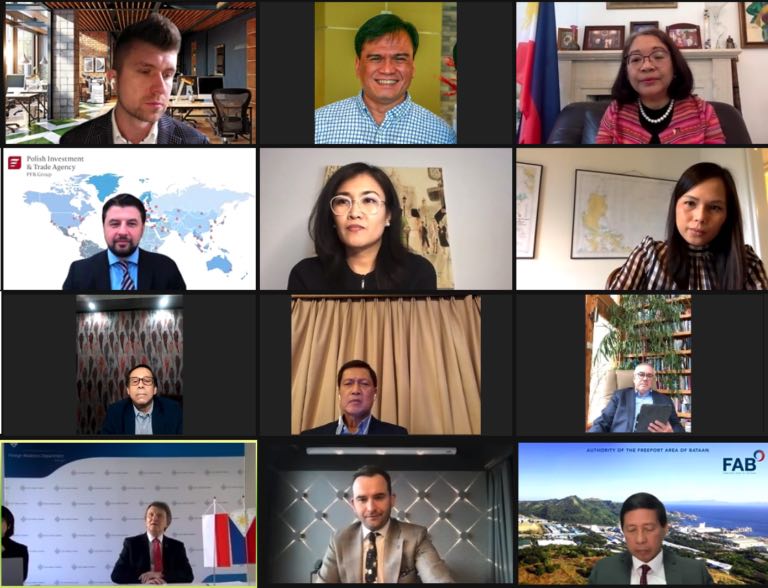 The Philippines and Poland commit to strengthening trade and investment relations in key business sectors ahead of the 50th anniversary of Philippine-Poland (PH-PL) bilateral relations in 2023.
Government and the business sector representatives of Poland and the Philippines welcomed the opportunity for deeper cooperation and coordination in a webinar called "Let's do business together: Philippines and Poland, Perspectives and Opportunities for Cooperation", co-organized by the Philippine Trade and Investment Center – Berlin (PTIC-Berlin), Philippine Embassy in Warsaw, and the Polish Chamber of Commerce on 08 April 2021. The online event, which was part of the "Let's do business series" of the Polish Chamber of Commerce and the first of its kind for PH-PL commercial and business relations, was attended by over 100 participants.
HE Leah M. Basinang-Ruiz, Philippine Ambassador to Poland, emphasized the importance of enhancing economic, political, and social-cultural ties as the two countries prepare to mark the 50th anniversary of  PH-PL bilateral relations in 2023.
"Through our event today, allow me to reiterate the Philippines' openness to explore business collaborations and opportunities with our Polish partners," said Undersecretary Ireneo V. Vizmonte of the Philippine Department of Trade and Industry (DTI).
The Philippines enjoys a special trade relationship with Europe through a free trade agreement with the EU-Free Trade Association (FTA). Under the EU Generalised Scheme of Preferences, it is the only ASEAN country able to export over 6,000 product lines to the EU at 0% duty.
Undersecretary Robert Tomanek of the Poland Ministry of Economic Development, Labour and Technology also expressed willingness to deepen bilateral relations, especially in the areas of green technology, agri-food, and IT-ICT. "The demographic and economic potential of the Philippines and Poland should generate greater cooperation. We really can do better. We want to diversify economic cooperation, especially in the Asia-Pacific area," he said.
From the Philippine perspective, electronics and semiconductors and IT-BPM are priority sectors for promotion to Europe, according to Althea Antonio, Commercial Counsellor, Philippine Trade and Investment Center (PTIC) – Berlin. In addition to industrial products and service exports, fresh and processed foods carry significant export potential. There are also good prospects in imports and exports of goods and services that not only address the domestic demands of each other's markets, but also serve as inputs to the production of export products, such as in food processing, pharmaceutical industry, and construction.
Agriculture was identified as a key sector by the Philippine Chamber of Commerce and Industry (PCCI), explained Roberto Amores, Vice Chair for Asia and ASEAN Affairs, PCCI. He encouraged his Polish counterparts to explore joint ventures, investments, and market distribution of coconuts, bananas, processed mangoes and pineapples, cacao, and other high-value crops that have seen strong demand from the EU.
In a testament to expanding linkages between the Philippines and Poland, the PCCI, through the Philippines-Poland Business Council chaired by Allyson Artes, was prepared to formalize its partnership with its Polish counterpart last year, but the pandemic set the event back. Dr. Andrzej Arendarski, President, Polish Chamber of Commerce, expressed his desire to sign the agreement this year and commits to working closely with old and new partners in the Philippines.
A vital player supporting Polish companies seeking to enter the Philippine market is the Polish Investment & Trade Agency. Rafal Owczarek, who heads this office, observed that the dynamic between Philippine and Poland businesses has been favourably shifting into one of deeper collaboration. From a purely import-export distribution model, the relationship has evolved into a longer-term engagement between Polish and Philippine companies.
A notable example is Polish company Pietrucha, manufacturer of advanced building materials, which successfully leveraged the country as a base to supply the ASEAN region through a joint venture with a Philippine company.
When Pietrucha set its sights in the region, Malaysia and the Philippines were its top choices to set up shop, shared Jerzy Pietrucha, Chairman, Pietrucha Group. In 2015, Pietrucha chose the Philippines and started production in the economic zone of the Freeport Area of Bataan (FAB) a year later.
"By locating the plant in the ASEAN region, we have gained a market advantage over our toughest competitions, mainly companies from the US. Our new manufacturing facility based in the Philippines enabled us to get closer to the end-customers and also optimize logistic chains, expedite order processing, and also release from high import duties our products, which enabled us to optimize the prices for the end customers," he explained.
For Emmanuel Pineda, administrator of FAB, the first Polish-Filipino civil engineering joint venture represents an initial step to strengthen its collaboration with the Polish business community.
Like Pietrucha, Polish fintech firm Nextbank discovered the many advantages of doing business in the Philippines. A cloud software provider for financial services companies, Nextbank currently has 18 local banks using its digital solutions, explained Krzysztof Kogutkiewicz, co-founder and CEO, Nextbank. "What I would like to also highlight, operating in the Philippines, you can really build a product that can be recognized globally," he added.
The event was envisioned as a starting point to facilitate discussion and exchange of ideas between the Philippines and Poland that is hoped to later translate into concrete trade activities.
In 2020, Poland was the country's 32nd trading partner, 26th export market, and 41st import source. According to the Philippine Statistics Authority, bilateral trade between the Philippines and Poland in the same year amounted to USD 298M, with a balance of trade of USD 77M in favor of the Philippines.
—
Stay updated with news and information from the Department of Trade and Industry by visiting their website at dti.gov.ph.