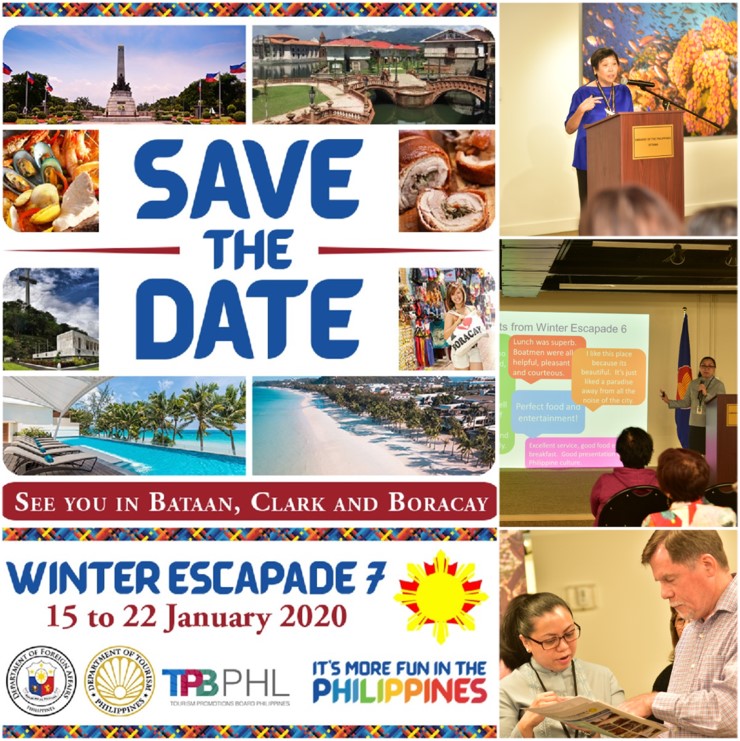 Ottawa — The Philippine Embassy in Ottawa officially launched the seventh season of Winter Escapade – It's More Fun in the Philippines (WE-IMFITPH) in Ottawa on August 12, 2019.
Members of the local community, including previous Winter Escapade participants, gathered at the Embassy's Mindanao Hall for a presentation on Winter Escapade's latest visitor package, which will take tour participants to the heritage sites of Bagac, Bataan, Clark, Pampanga, and the singular island paradise of Boracay from 15 to 22 January 2020.
Winter Escapade is a tourism project of the Embassy and Consulates General in Canada, in cooperation with the Department of Tourism, Tourism Promotions Board, and Rajah Tours Philippines, Inc., the designated ground handler of Winter Escapade 7.
The Winter Escapade 7 itinerary will bring visitors to the renowned Las Casas Filipinas de Acuzar which was awarded Asia's most excellent destination in 2017, followed by a stop in Clark, Pampanga, for the world-famous Kapampangan cuisine, and several days of sun and sea in Boracay, voted every year by Conde Nast Traveler as one of the best islands in the world.
Since its establishment in 2013, the tour has brought more than 1,400 Canadian snowbirds to exceptional destinations in the country. Past Winter Escapade tours featured sites in the Ilocos region, Cebu, Bohol, Albay, Negros, Davao, and Palawan.
In the last six years, the tour has expanded to accommodating participants from outside Canada, including the United States, United Kingdom, South Africa, Israel, and locals from the Philippines.
Ambassador to Canada Petronila Garcia welcomed guests to the launching and invited them to join her and the Philippine Consuls General in Canada for another memorable journey as they leave the Canadian winter behind.
"Every year, Winter Escapade brings visitors to the best of Philippine nature, culture, and cuisine, tied together by the unrivaled warmth of Filipino hospitality," she remarked.
Information on Winter Escapade is available at the tour's official website www.winterescapadeph.com and Facebook Page @WinterEscapadePH.
For more information, visit https://www.ottawape.dfa.gov.ph, 
https://www.philembassy.ca or https://www.facebook.com/PHinCanada.