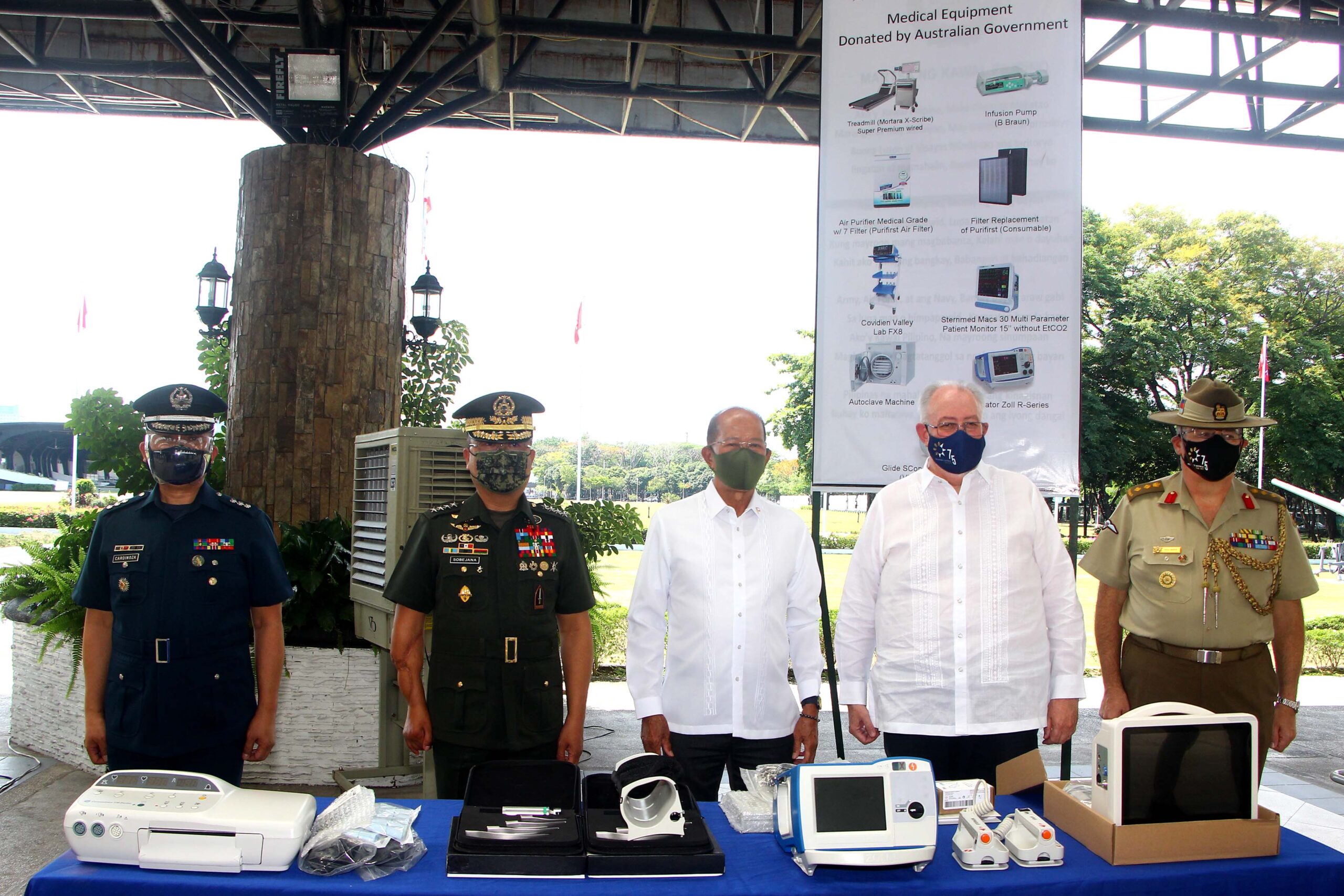 Australia provided additional support to the Armed Forces of the Philippines (AFP) with another donation of hospital and personal protective equipment valued at P70 million (AUD 2 million).
This brings total Australian assistance to the AFP's COVID-19 response for military personnel and dependents to P105 million (AUD 3 million).
In May 2020, Australia supported the expansion of the Victoriano Luna Medical Center- AFP Medical Center (VLMC) infectious ward to handle COVID-19 cases with a P35 million (AUD 1 million) grant.
With this new  assistance, Australia has increased the capacity of AFP Health Service Command and its health service centers to deal with the spike in COVID cases in Manila and regional centres.
This package of support benefits AFP's regional health service centres in the Central Command (Cebu), Western Command (Palawan), Eastern Mindanao Command (Davao), and Western Mindanao Command (Zamboanga City); as well as support the further expansion of the VLMC infectious disease ward.
Australian Ambassador to the Philippines Steven J. Robinson AO said, "Through the Enhanced Defence Cooperation, Australia is providing this additional assistance to the AFP in the spirit of mateship and bayanihan.   COVID-19 may have disrupted our normal defence training and other exercises, but it has demonstrated that whatever challenges we face, we can rely on the deep respect and camaraderie between our respective armed forces. Throughout this health crisis, we collaborated with the AFP to find innovative means to support the immediate and most relevant needs of AFP and its defence personnel.  They  are carrying out such a challenging role during this pandemic, and as a true friend and partner, Australia stands ready to support the AFP and the AFP Health Service Command."
—
Stay updated with news and information from the Australian Embassy in the Philippines by visiting their website at https://philippines.embassy.gov.au.