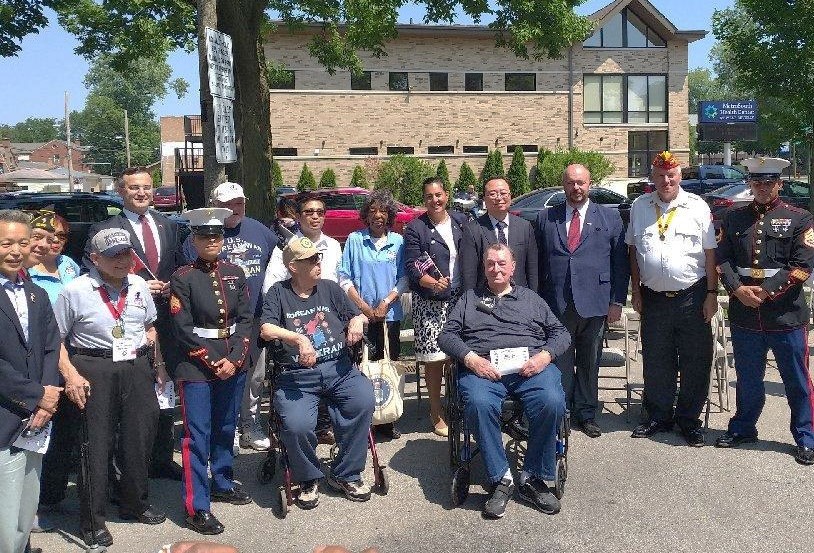 Chicago — A solemn ceremony commemorating the 66th anniversary of the signing of the Korean War Armistice was held at the Korean War Memorial in Kennedy Park, Chicago on July 30, 2019.
The Kennedy Park memorial, dedicated in September 1988, is one of the first monuments built in the U.S. honoring America's involvement in the Korean War.
Organized by the Windy City Veterans Association and Filipino American Veterans of Illinois (FAVI), the solemn occasion saw the attendance of South Korean Consul General to Chicago Young Sok Kim, Turkish Consul General to Chicago Umut Acar, Honorary Consul of Belgium to Chicago Paul Van Halteren of Belgium, Philippine Consulate General in Chicago Deputy Consul General Romulo Victor M. Israel Jr., Illinois Department of Veterans Affairs Acting Director Linda Chapa LaVia, Illinois Joining Forces Foundation (IJF) Director and retired General Stephen Curda, together with tens of Korean War veterans and FAVI members, as well as of Chicago Nightingales, led by Rose San Diego, representing the Filipino community.
Deputy Consul General Israel highlighted the significant contribution of the Philippines through the Philippine Expeditionary Forces to Korea (PEFTOK) despite the country's struggles coming out of WWII. This clearly showed the Philippines' resolve to stand with other freedom-loving countries in defense of democracy, peace, and liberty.
The event likewise brought out the importance of the Korean War for the United States, which proved its willingness to fight for its values anywhere in the world. It also shed light on the positive force of international cooperation, as the concerted efforts of 16 countries under the United Nations led to a highly developed South Korean economy and thriving democracy.
With a campaign for the award of Congressional Gold Medal to combat veterans of the Korean War still ongoing, the Korean War should no longer be a "forgotten war."
The Consulate General encourages Filipino community members in Chicago to come out in support of such events to remember and pay tribute to Filipino American war veterans.
—
For more information, visit https://www.chicagopcg.dfa.gov.ph,
https://www.chicagopcg.com orhttps://www.facebook.com/PHinChicago/.