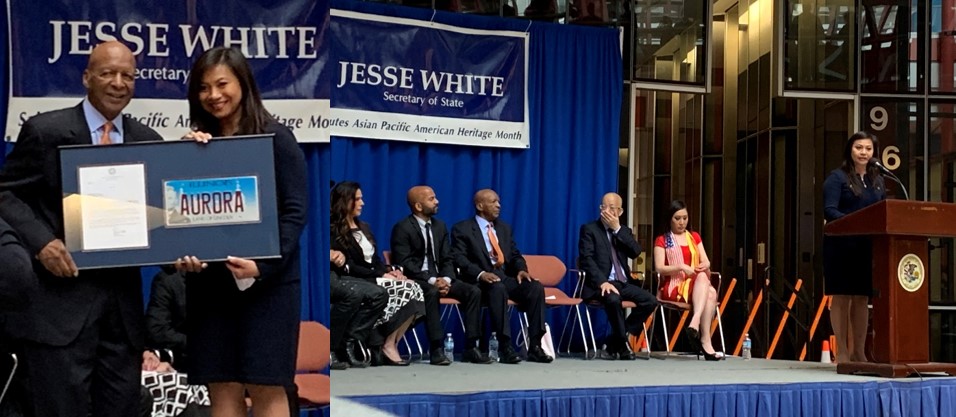 Chicago – As part of the celebration of Asian Pacific American Heritage Month, two distinguished Filipino-Americans were recognized by Illinois State Secretary Jesse White on May 21, 2019 for their achievements in their respective fields.
Atty. Aurora Abella-Austriaco was awarded the Judge Laura Cha-Yu Liu Trailblazer Award. She is a shareholder at Valentine, Austriaco and Bueschel P.C., a woman-owned law firm. Atty.  Abella-Austriaco is the first Asian-American president of the Chicago Bar Association, a founding member of the Filipino American Bar Association and a current member of the Asian American Bar Association.
She has been recognized as a "Leading Lawyer" in real estate law and consumer law, having been included in the "Top 10 Women Consumer Law" attorneys, "Top 100 under 50 Diverse Executive Leaders" by Diversity MBA Magazine, "100 Women of Influence in Chicago" by Today's Chicago Woman, and "100 Women Making a Difference".
In her remarks, Atty. Abella-Austriaco advocated for access to justice for minorities, recognizing the struggles they continued to face. She paid tribute to Judge Laura Cha-Yu Liu, who broke barriers by serving as an appellate court judge and public official in Illinois. She also quoted Maya Angelou, who said, "We all should know that diversity makes for a rich tapestry, and we must understand that all the threads of the tapestry are equal in value no matter what their color."
Elsie Sy-Niebar also received the Community Service Award representing the Filipino community. She is an assistant to the Commissioner of Chicago's Department of Human Services and editor of VIA Times. The multi-awarded journalist also served as president of the Chicago Philippine Press Club.
Secretary White noted that the awardees have contributed significantly with their leadership and standard of excellence to their communities and the state of Illinois. He paid tribute to the ambitious ventures, personal triumphs and accomplishments of Asian-Americans in Illinois.
Other awardees included Ajay Naidu (Excellence in Performing Arts Award), Shahida Khan (Humanitarian Excellence Award), and The Zhou Brothers (Excellence in Creative Arts Award).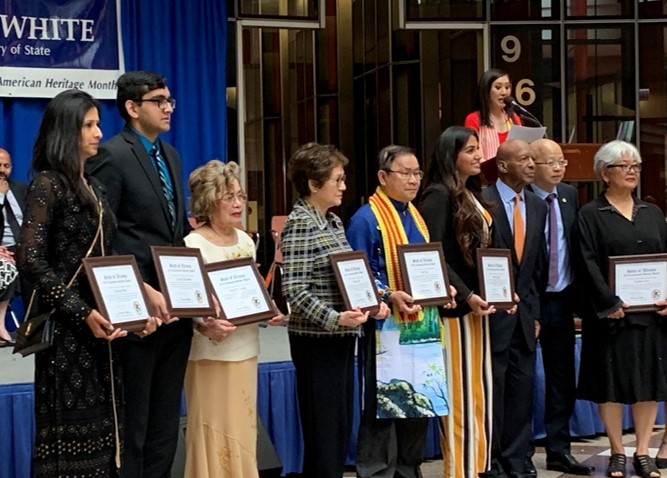 The Philippine Consulate General in Chicago congratulated the awardees for their important achievements and the worthiness of their advocacies. The Consulate General also called on Secretary White together with spouses Ben and Yoly Zoleta, members of the Asian American Advisory Council 2019 representing the Filipino community.
The Consulate General graced the occasion with representatives from the Consulates of China, Korea, Pakistan, Thailand and Nepal and the members of the Asian Pacific American community.
—
For more information, visit www.chicagopcg.dfa.gov.ph, www.chicagopcg.com
or https://www.facebook.com/PHinChicago.