The Sound of a Good Investment Plays at Keyland Corporation's and Ascott Group's scenic Citadines Benavidez Makati
What's the next step after success is reached? Strive to become even more successful.
Like success, earnings and assets aren't supposed to be left quietly sitting at a corner. Its potential should be utilized to its fullest, making it reach even greater heights.
Currently, it's a promising time to invest because the Philippine GDP is projected to increase at a range of 6.5% to 7.5%. For people earning in dollars or euros, the opportunity to invest increases because of the devaluation of the peso.
There is a variety of investments to choose from—there's the stock market, insurance plans, and a string of businesses options. There's also real estate—which not only appreciates, but simultaneously offers a reward for the hard work put into owning it.
The market of real estate is promising for upward growth what with the need for the fusion of the luxury of a hotel and the touch of a home, usually sought after by vacationers, staycationers, and business travelers. Factors to include when looking for a good property to invest on are its location, its developers and management, and its potential for appreciation.
At the Center of Luxury
Citadines Benavidez Makati is the centerpiece of 110 Benavidez developed by prime movers in real estate: Keyland Corporation and The Ascott Limited.
Keyland Corporation is behind practical and reliable developments such as Casa de Sequoia, Signa Designer Residences, and Southkey Place. Their expertise extends to multi-functional structures including Keyland Plaza, Keyland Centre, and Keyland Ayala Building.
The Ascott Limited, on the other hand, is a member of CapitaLand. It is one of the leading international serviced residence owner-operators with more than 300 properties in over 100 cities spanning more than 25 countries across Americas, Asia Pacific, Europe, and the Middle East.
To date, Ascott is largest international serviced residence owner-operation in the Philippines with 14 properties (7 are under development) with over 2,900 units in Metro Manila and Cebu and is set to achieve the target units by 2020.
"As a global operator, there are criteria and benchmarks set when forging local partnerships. Ascott builds relationships with local partners that have a strong presence and more importantly, partners that share the same values and commitment to deliver properties that could meet its standards. Keyland Corporation is not only a remarkable and well-established developer in the Philippines, but is passionate about the brand and project," affirms The Ascott Limited's Regional General Manager.
A Marriage of Great Minds
When local and global ingenuity forges—a masterpiece begins. The Ascott Limited's Singaporean heritage combined with the Philippines' inherent instincts on great hospitality gives value to both guests and business partners.
A contemporary and luxurious sanctuary is brought to life with essential amenities, including a roof top infinity pool, pampering the dweller. Citadines Benavidez Makati offers potential residents Studio Units (ranging from 7.5M), 1-Bedroom Units (ranging from PHP 12.5M), and 2-Bedroom Units (ranging from PHP 15 M).
Sophisticated living goes outside its walls, as it is located at the busy and lively Legaspi Village, Makati, a meeting point of top establishments for both business and pleasure including Landmark, Greenbelt, Glorietta, Zuellig, and The Enterprise Center as well as a variety of independent dining, beauty, and fitness establishments.
This is a trademark of The Ascott Limited, whose properties under its three award-winning brands—Ascott, Somerset, and Citadines—are located at prime locations, making living for the resident, seamless and its potential for appreciation, big.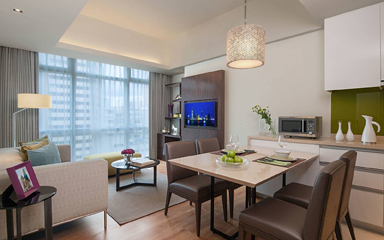 It's Time to Invest in the Future of Luxury
"When you invest in Citadines Benavidez Makati, you invest in a worry-free investment. Worry-free meaning as a tenant, resident, or investor, practically everything is taken care of. We've spoiled our clients from the meticulously designed furniture, the management and marketing of the unit, to the prime location of the property" shares Keyland Corporation Director and President Lito Montinola.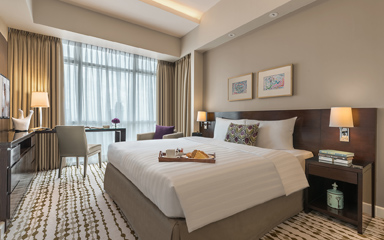 With the longevity and expertise of the pillars involved in the project, investors can be assured investing in a unit is the right decision. Beyond the purchase, the marketing and management, and operation of the development will be comprehensively taken cared of by none other than the Ascott Group, a group that has been bringing the gold standard of global living for more than 30 years. The reputation and proficiency of the Ascott Group assures buyers consistent bookings of their units as well as other earnings from other features of the condominium. This offers the investor promising returns from the property's profit sharing ranging from 6-8% per annum.*
Indeed, the sound of a good investment only gets clearer as the completion of Citadines Benavidez Makati gets nearer.
For more information on key land, visit www.110benavidez.com or contact 772-6280