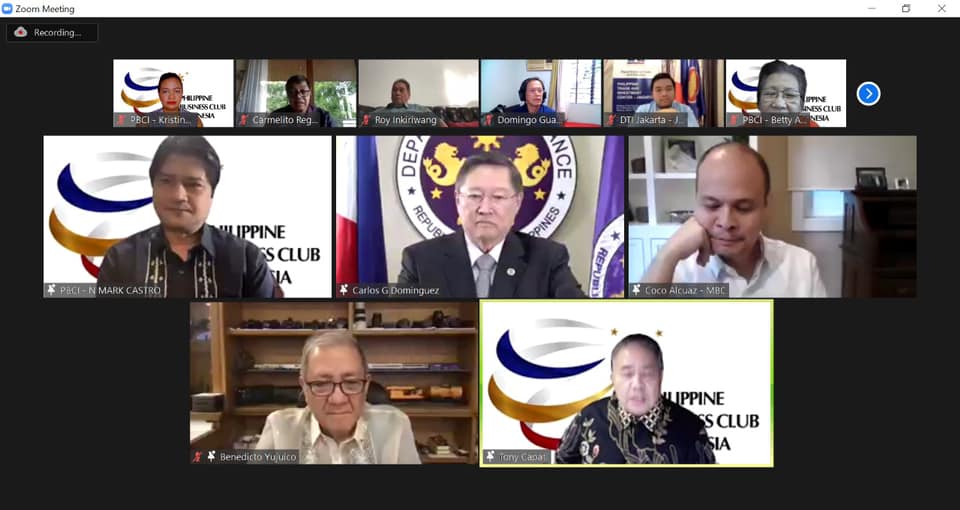 Finance Secretary Carlos Dominguez III identified technology and halal as potential areas for trade and investment collaboration with Indonesia in a move that signals the country's commitment to deepening bilateral relations with the largest economy in Southeast Asia.
"The best way forward for the region is to resume integration and cooperation in earnest. We are each other's best allies in recovery. We create products for each other's consumers," he said during a keynote speech for the PH Economic Outlook 2021 organized by the Philippine Business Club Indonesia (PBCI) last 25 March.
Sec. Dominguez stressed that the Philippines is looking at possible partnerships with Indonesia to expand its growing halal footprint. The two countries can also find areas for collaboration in expanding their respective startup ecosystems.
"As we all prepare to reemerge from the brighter end of the tunnel, the Philippines looks forward to more comprehensive dialogues with our partners in the ASEAN. A more dynamic regional partnership will enhance our recovery efforts," he added.
 "I urge the Indonesian business community to take a much closer look at investment opportunities in the Philippines. I hope that our strong fundamentals, fiscal stamina, pro-business environment, and effective governance will continue to make us a promising investment destination," the Finance Secretary concluded.   
Despite the challenges presented by the pandemic, the PBCI reports that Indonesian companies stand ready to explore opportunities for collaboration with their Philippine counterparts.
"What has become evident, however, is the visible fact that our economies are so integrated that we need to take a closer look that trade and investments are anchored towards such diagram and that nationalistic policies hurt everyone more than it helps," Antonio B. Capati, Chairman, PBCI said during the opening remarks.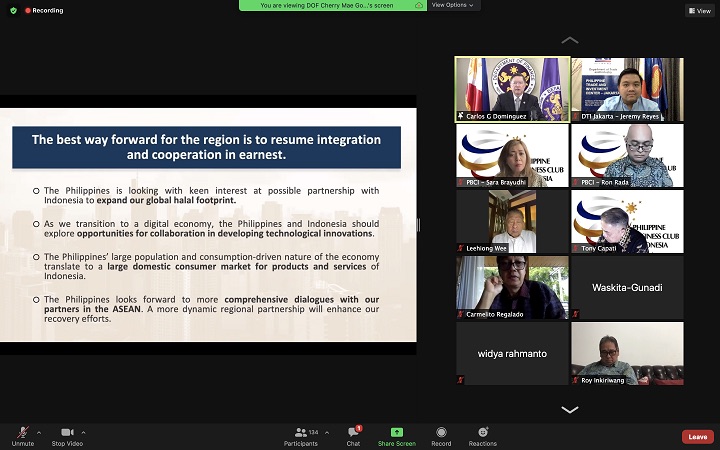 The Philippine Trade and Investment Center (PTIC) – Jakarta, the overseas office of the Department of Trade and Industry (DTI) led by Commercial Attaché Jeremiah C. Reyes, has been working closely with public and private entities to deepen trade and investment relations between the two countries.
Indonesia is the Philippines 9th major trading partner in 2020, accounting for USD 5.95B in bilateral merchandise trade, preliminary data show. The webinar was attended by Ambassador Leehiong Wee, Ambassador Benedicto Yujuico, President of the Philippine Chamber of Commerce & Industry, Coco Alcuaz, Executive Director of the Makati Business Club, and the Honorable Minister Yasonna Laoly, Indonesia's Ministry of Law & Human Rights. The virtual event is the culmination of a three-part economic series organized by the PBCI.
—
Stay updated with news and information from the Department of Trade and Industry by visiting their website at dti.gov.ph.