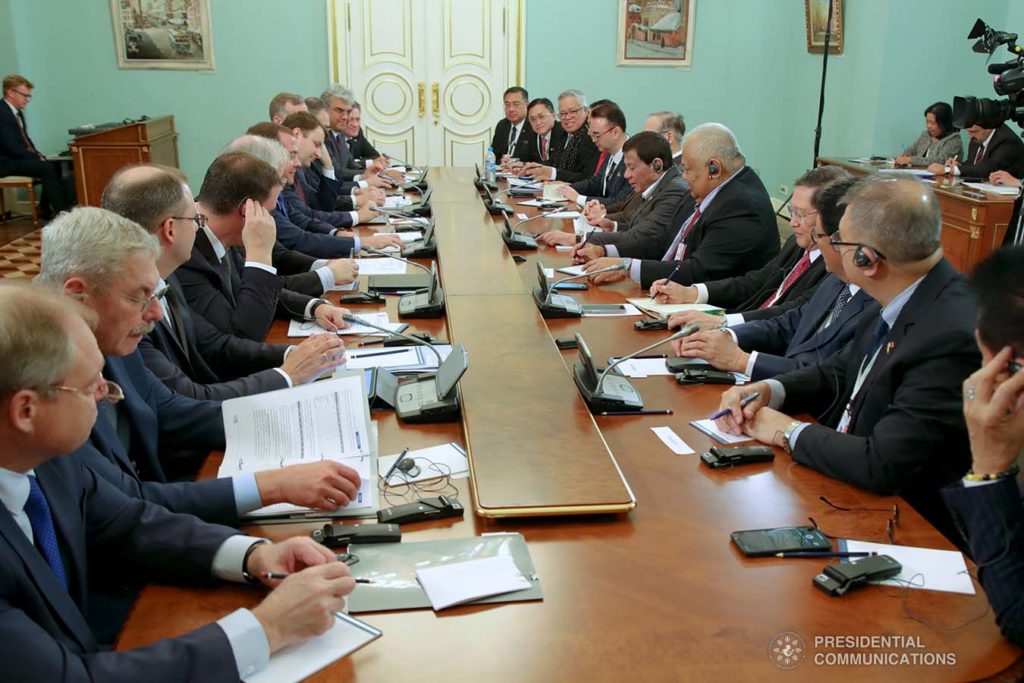 MOSCOW, Russia—President Rodrigo Roa Duterte expressed optimism Wednesday for a closer relation with Russia as both countries sow the seeds of greater cooperation accelerated by his first Russia trip two years ago.
"In 2017, during my first visit to Russia, we successfully set the foundation for a closer bilateral cooperation. Since then, we have been — we have seen the remarkable progress in our engagement including such strategic areas as defense and security," President Duterte said in his opening remarks during a bilateral meeting with Russian Prime Minister Dmitry Medvedev at the Prime Minister's Office here.
President Duterte noted that the port call of BRP Tarlac in Vladivostok in 2018, the first-ever for a Philippine Navy ship, was a historic milestone that demostrates closer ties between the two countries.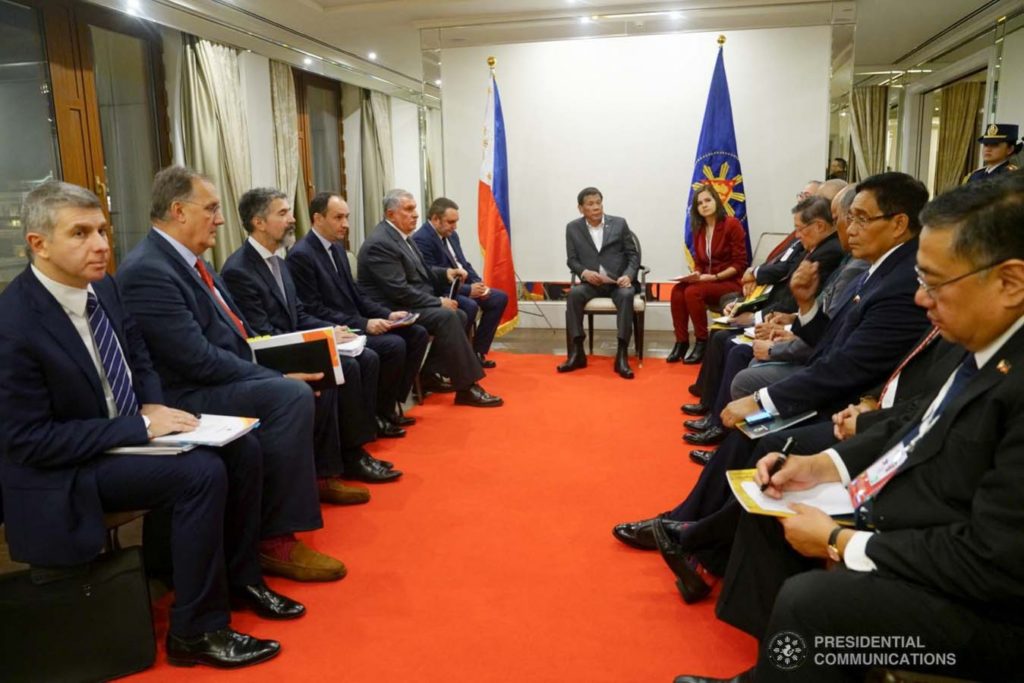 It was not the norm just a few years back for a Philippine warship to come to Russia but the Philippines and Russia did it, he said.
Also, further cooperation in various areas has started especially on trade, investments, defense and security, energy, and science and technology, he noted as he vowed to sustain the momentum for cooperation.
"I am confident we'll succeed as I see strong commitment and will from both sides to bring our relation to an even greater level. Thank you, Your Excellency for another opportunity to discuss and open more avenues for cooperation," the President said.
In his separate remarks, Prime Minister Medvedev underscored the positive developments in the Philippine-Russia relations.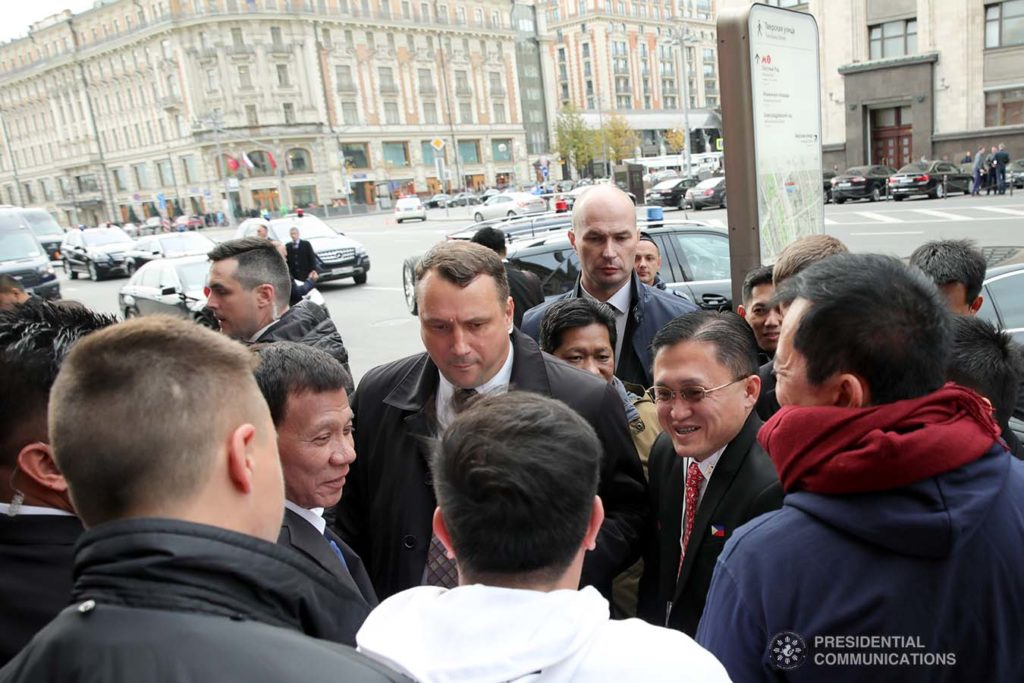 He noted that in less two years, the trade between the two countries grew further and that President Duterte always advocated for the development of trade and economic relations.
He renewed Russia's interests in continuing various projects such as in transportation, energy and agriculture sectors as well as humanitarian endeavors.
Wednesday's meeting was not the first for the two leaders. They saw each other at the sidelines of the East Asia Summit back in 2016 in Vientiane, Laos, and in the Philippines in 2017. They could once again meet soon at the East Asia Summit in Thailand.
Also on Wednesday, President Duterte met with the officials of Rosneft Oil Co. in a courtesy call led by Igor Sechin, the company's chief executive officer (CEO).
Also present in their meeting at the Four Seasons Hotel here were Zeljko Runje, Vice President for Offshore Projects of Rosneft; Didier Casimiro, Vice President for Refining, Petrochemical, Commerce and Logistics of Rosneft; and Boris Kovalchuk, Chief Executive Officer of Inter RAO.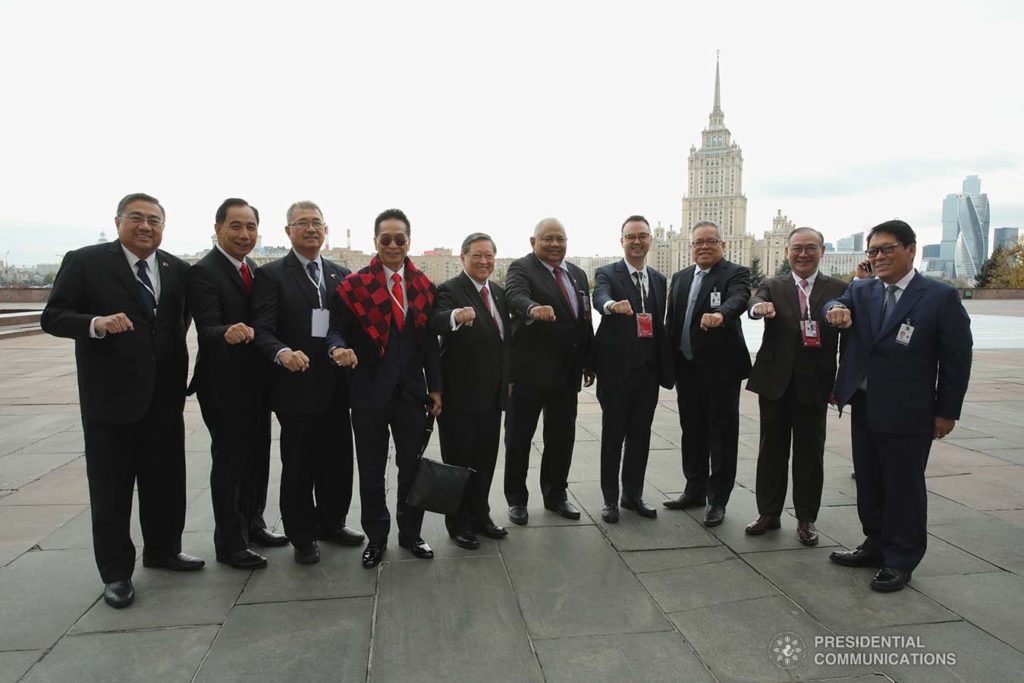 The President was accompanied by Foreign Affairs Secretary Teodoro Locsin Jr., Executive Secretary Salvador Medialdea, Finance Secretary Carlos Dominguez III, Defense Secretary Delfin Lorenzana, Energy Secretary Alfonso Cusi, National Security Adviser Hermogenes Esperon Jr., Senator Christopher Lawrence "Bong" Go, and Philippine Ambassador to the Russian Federation Carlos Sorreta.
Rosneft, according to its website, is the leader in the Russian oil sector and the largest global public oil and gas corporation. The company is engaged on exploration and appraisal of hydrocarbon fields, production of oil, gas and gas condensate, and offshore field development projects, among others.